Facts about Uganda and Why visit Uganda?
Are you planning your Uganda safari all ready to do gorilla trekking, chimpanzee trekking, wildlife tour, cultural tour or birding safari? Whatever your interest and reason for a Uganda safari, it is important that you plan well and have enough facts for a great Uganda experience.
Location of Uganda
Uganda borders with Tanzania and Rwanda to the south, the Democratic Republic of Congo (DRC) to the west, South Sudan to the north and Kenya to the east.
Uganda lies across the Equator at the shores of Lake Victoria – the largest lake in Africa and second largest fresh water body in the world. The Ssese Islands and other small islands in Lake Victoria lie within Uganda's borders giving one the much needed African beach holiday experience away from the bustle of the cities. Rwenzori mountains are snow capped even when astride the Equator.
Uganda is geographically a small country almost the size of United Kingdom or the state of Oregon in the US, with a land surface of 236,040 square kilometers making it possible for one to visit numerous attractions in one visit. This makes it possible for you to have a Uganda safari doing many activities like gorilla trekking, wildlife safaris, birding safaris in a short 10 days in the Uganda.
Uganda Climate
Uganda's climate allows you to visit any time of the year. Uganda is a tropical country and much of it lies on the African plateau between 900-1,500 meters above sea level. This gives Uganda a pleasant tropical climate, with temperatures averaging between 21 and 28 degrees Celsius during the day and between 12 and 18 degrees Celsius at night making it great for your gorilla trekking, wildlife safaris and birding tour throughout the year.
The hottest months are from December to February, with 28 to 30 degrees Celsius. The rainy seasons are from April to May and October to November, it can rain for a short while in Uganda before the sun comes out so do not hesitate to visit even during the 'rainy' months, so do not hesitant to book your gorilla safari, wildlife safari or birding safari. For those wanting to hike in the Rwenzori, the periods of December to February are advised or June to August. The Karamoja region which is home to Pian UPe game reserve, Bokora-Matheniko game reserve and Kidepo valley national park has one rainy season which runs from May – Sept.
 Gorilla trekking, Wildlife safaris and Scenery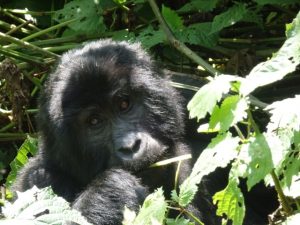 Uganda is 'The Pearl of Africa', a name given by Winston Churchill because of its rare natural beauty, freshness, and vibrant spirit. It is not difficult to see why the great man, who had traversed Kenya and served in Sudan and South Africa, was captivated by Uganda in particular.
Uganda is where great savannas of Kenya and Tanzania and the vast tropical rain-forests of Congo and Rwanda meet. Uganda has amazing features of attraction with 10 national parks hosting the big five and primates, 13 game reserves with several forests. More than half of the world's Gorillas are in Uganda, along with Chimpanzees and Golden monkeys, the mighty Nile with its source on Lake Victoria in Jinja which is a setting for some of the world's best white water rafting. You find the snow-capped Rwenzori Mountains, the Virunga Volcanoes, and Mount Elgon, all with spectacular hiking opportunities and gorgeous scenery. Uganda is home to small and big beautiful lakes; Lake Victoria, Lake Bunyonyi, Lake Mutanda, Lake Albert, Lake George, Lake Edward, Lake Kyoga etc. and numerous Crater lakes found in the Albertine region. The Ssese Islands found in Kalangala district on Lake Victoria consist of 84 islands that make for a perfect getaway to unique and quiet pristine beaches.
Uganda is an irresistible country, which is a great safari destination winning numerous accolades from the international travel media. You will be blown away by the different scenery and landscapes offered by this country.
Uganda Culture and People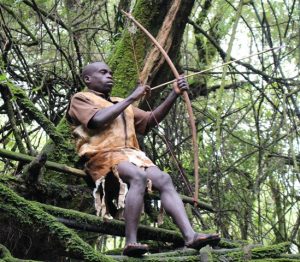 Uganda has a multitude of cultural tourism sites and events reflecting the diversity of over 40 tribes. The country has many chiefdom's and kingdoms with a rich history from the past. They have no political powers but have cultural influence, some of these are active while others are inactive. The country's most ancient inhabitants, confined to the hilly southwest are the Batwa.
The earlier inhabitants left behind a rich legacy of rock paintings, such as those at the Nyero Rock Shelter near Kumi. The current Kingdoms are mainly Bantu – kingdoms of Buganda, Bunyoro, Busoga and Tooro. According to tradition, these centuries old kingdoms arose from the medieval kingdoms of Batembuzi and Bacwezi.
Is Uganda safe?
Kampala is the capital city of Uganda located about 40 Kilometers from Entebbe International Airport where most tourists arrive. Kampala is a modern cosmopolitan city, which reflects the ongoing economic growth and political stability that has characterized Uganda. Kampala is famous for its active nightlife, diversity of cultures and culinary variety.
Uganda has the reputation as 'Africa's friendliest Country', with a tradition of hospitality and a remarkably low level of crime and hassle directed at tourists. You are however encouraged to be cautious just like in any other destination. Experience Ugandans warmness of heart, enjoy the amazing cuisine with a constant supply of organic fresh  vegetable and fruits., and learn about their rich cultural heritage.
At Kagera Safaris we will arrange your African holiday safari to Uganda according to your interests; Gorilla trekking & Chimp trekking, wildlife tours, Birding safaris, Culture and community safaris, Photography, Water rafting, Mountain Hiking/mountaineering or Forest Hikes? Do you prefer a 'calm' safari or an adventurous safari? Whatever it is, you will find it here!