"The Twa", as they are sometimes called are a minority ethnic group found in Uganda, Rwanda, DR Congo who lived in the forests. They are known as the oldest inhabitants in these areas. Until the early 1991, the Mgahinga Gorilla National Park in Uganda was one of the homes to the Batwa people who were co-existing with the wildlife in this park before it was gazzetted to protect Gorillas and golden monkeys.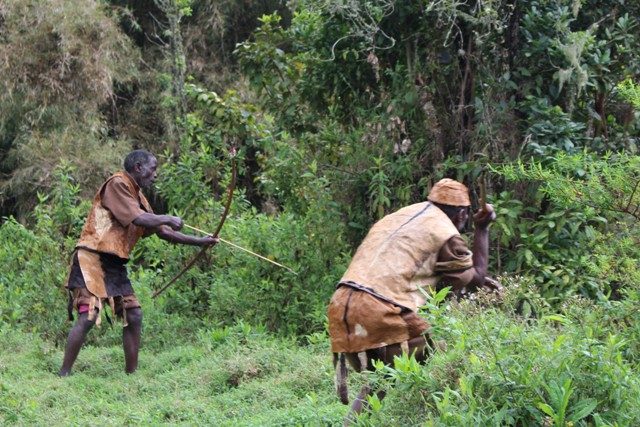 Totally oblivious and ignorant about the modern ways of life, the former hunter gatherers struggled to adjust to living outside of the forest. However, as part of their rehabilitation and cultural conservation in harmony with tourism, the Uganda Wildlife Authority with support from the United States Agency for International Development (USAID) and the Netherlands's Embassy enacted the now popular Batwa trail, through which the Twa are kept in touch with their roots by sharing their rich culture and history with the tourists at the Mgahinga Gorilla National Park.
The trail, which is a trip into the depths of the forest led by Batwa guides gives one an insight of the forest through the eyes of its first people. The trip begins with a prayer to Biheeko, the Batwa god of the forest, believed to offer protection to the people especially before any hunting trips. In the course of the trail, the guides point out different medicinal plants and their uses, demonstrate hunting, honey harvesting and other food gathering skills. They also show off how they made fire in the past by rubbing two dry sticks against each other, making bamboo cups among other mesmerizing snippets and folklore of the ancient Twa lifestyle.
A visit to the underground Garamba cave beneath Mt. Mgahinga is the epitome of the Batwa trail. This is where the Batwa king lived. The palace comprises royal courts, administrative courts, a granary, an armory among other compartments. Usually the trail ends with storytelling together with cultural song and dance presentations by the Batwa women. Some proceeds from the Batwa trail go into supporting development projects for the Batwa people like education and healthcare as they adjust to the ways of modern life, while the rest is used to pay the Twa guides that conduct these tours which are a bittersweet experience to them. You can choose to add the Batwa trail on your Uganda safari itinerary.