Location of Rwanda
Rwanda is a land locked country in east- central Africa covering an area of 26,338 sq. km (10,170 sq mi). In comparison, Rwanda is slightly smaller than the state of Maryland in USA. Rwanda borders Uganda in the north, Tanzania in the east, Burundi in the south and Democratic Republic of the Congo (the former Zaire) in the west & North West.
Rwanda's Climate
Rwanda enjoys a pleasant tropical highland climate due to its high altitude with overlapping hills. Temperatures vary considerably because of the variations in altitude from region to region. In Kigali, on the central plateau, the average temperature is 21°c (70°f). A long rainy season lasts from February to May and a short one from November through December.
Rwanda tourism – Wildlife, Gorillas, and Scenery
Many tourists choose to visit Rwanda yearly because of its great scenery of rain forests and several undulating hills, the beautiful culture and people, and the different wildlife especially the endangered Mountain gorillas. A lot of other people choose the hiking opportunities of the Virunga volcanoes especially Mt Bisoke and Mt Karisimbi. These visits are usually organised as Rwanda safaris which include gorilla trekking safaris, wildlife tours, chimpanzee trekking safaris, hiking opportunities and cultural tours especially in the eastern and northern parts of the country. The main activity of them all being the famous gorilla trekking in Volcanoes national park.
Rwanda protected its wildlife four national parks of
These parks are home to elephants, Giraffes, bush bucks, hippopotamuses, buffalo, lions, zebras, leopards, monkeys, mountain gorillas, golden monkeys and chimpanzees, several species of monkeys, jackals, hyena, antelope, crocodiles etc. There is a variety of birds in the national parks and agricultural lands with Nyungwe forest and volcanoes national park being home to Albertine Rift endemics.
Rwanda lies on the great East African plateau, between the water systems of the Nile and Congo rivers. To the west of the divide, the land drops sharply to Lake Kivu in the Great Rift Valley; to the east, the land falls gradually across the central plateaus—to the swamps and lakes on the country's eastern border. Almost all of Rwanda is at least 1,000 m (3,300 ft) above sea level; the central plateau is between 1,500 and 2,000 m (4,950–6,600 ft) high. In the northwest on the border with the DR Congo are the volcanic Virunga Mountains; the highest peak, Mt. Karisimbi is at 4,519 m/14,826 ft. Lake Kivu at 1,460 m (4,790 ft) above sea level, drains into Lake Tanganyika through the sharply descending Ruzizi River in the east of Rwanda. The Kagera River, which forms much of Rwanda's eastern border, flows into Lake Victoria – the largest fresh water lake in African shared between Tanzania, Uganda, and Kenya.
Rwanda Tourism – People, Culture & Language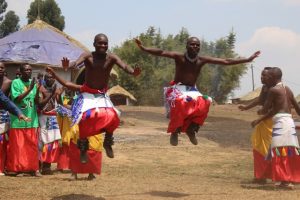 The official languages of Rwanda are Kinyarwanda, French, and English. However, the main language spoken widely in Rwanda is Kinyarwanda, a member of the Bantu language family – regardless of the part of country you are in the Rwandans will communicate in Kinyarwanda. The population of Rwanda was comprised mainly of three main people groups; agriculturalist, pastoral people and hunter gatherers who lived in the forests also known as the Batwa. Currently most of Rwandans live in the rural areas and are engaged in some kind of agricultural activities.
Safety & Security
There is a remarkably low level of crime in Rwanda generally. You are however encouraged to be cautious just like in any other destination. Kigali is the capital city of Rwanda served by Kigali International Airport (sometimes called – Kanombe international airport) where most tourists arrive. Kigali is also known as the cleanest city Africa with little or no traffic jams like most other African cities.
Distance from Kigali to major Cities and tourist attractions
Distance from Kigali to Nyungwe forest National Park is around 225 Km and takes around 5 hours. This is because of the winding road where you will drive mostly 50 km/h. The road also has lots of trucks continuing to DR Congo and Burundi.
Distance from Kigali to Volcanoes national park is 80 Km and takes about 2 hours. The reason is that the road is winding with so many corners. You will most likely drive at 40 km/h most of the way. The heavy trucks carrying merchandise also contribute to the slow movement.
Distance from Kigali to Akagera National Park is about 120 Km and takes about 2 hours 30 minutes. Akagera national park is located in Eastern Rwanda on the border with Tanzania. The terrain is generally more flat compared to other parts of the country.
Distance from Kigali to Butare (Huye) is 142 Km and takes about 3 hours. Butare (Huye) is on the way to Nyungwe forest. It is a major stopover because it houses the Ethnographic museum and the national University of Rwanda.
Distance from Butare to Cyangugu is 155 (southern Lake Kivu shore) takes about 3 hours. Cyangugu located on the southern shore of Lake Kivu sometimes provides accommodations for people exploring Nyungwe forest for chimpanzee trekking, canopy walk and Colobus trekking.
Distance from Ruhengeri (Musanze) to Gisenyi (northern Lake Kivu shore) is 62 Km and takes about 1 hour. This is a more straight with few corners. It generally does not have too much traffic.
Distance from Kigali to Kibuye (mid Lake Kivu shore) is 130 Km and takes about 3 hours. Kibuye is an excellent weekend gateway from Kigali. The drive is mainly pleasant with manageable traffic and hills.
Kagera Safaris will arrange your African vacation to Rwanda according to your interests; gorilla trekking in Rwanda, Bird watching, Culture and community experiences, Mammals, Nature & Photography, Mountain Hiking or Forest Hikes.