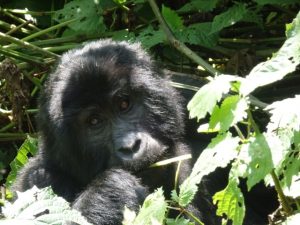 Gorilla trekking is by far the most rewarding and sought after experience for anyone traveling to Rwanda. This is to inform you at going forward the price of the gorilla permit which was currently at $750 has now been increased to $1500 according to Rwanda Development Board where the country's tourism arm lies. For a time now most Rwanda safaris will include gorilla trekking/gorilla safari in Rwanda's Volcano National park located in the northern province of Rwanda. We have been involved in arranging gorilla safaris for people who want to track and experience these endangered species in the wild and we will continue. .
The new gorilla fees are effective immediately but will not affect those clients who had booked for their gorilla trekking safaris earlier. In addition to the hike in the gorilla permit fees, the Rwanda Development Board has introduced a new exclusive package for tourists who wish to book an entire gorilla family at $15,000. This will ensure that the gorilla trekking experience will be even more exclusive with personalized guided services for the clients.
In a bid to encourage visits to the other national parks of Nyungwe forest national park and Akagera national park, they have introduced a discount for tourists who visit these two parks. Whoever visits any of the two parks and adds on gorilla trekking in Volcanoes national park, they will receive a discount of 30% on their gorilla permit. To further grow the conference tourism which has taken off in the recent past in Kigali, tourists who chose to do pre or post tours to trek gorillas will be eligible to a 15% discount.
To note is that mountain gorillas are only found in Democratic Republic of Congo, Rwanda and Uganda and can not survive in Zoos. Those found in zoos are the low land gorillas and not the mountain gorillas. Each of the countries where gorilla trekking happens has a gorilla permit fee attached which the person has to purchase before they can be part of this activity.
Gorilla trekking Safaris in Rwanda
3 Days Rwanda gorilla and Golden monkey Trekking