On this 9 days Rwanda cultural and gorilla safari experience the authentic Rwandan culture and heritage coupled with the amazing gorilla trekking experience. The drive to the countryside of Rwanda will grant you beautiful views of the Rwandan landscape the land of a thousand hills. You will visit Akagera national park and thereafter a pastoral cultural home to engage in activities surrounding the cow.
Safari Highlights
Game drive
Cultural and community experiences
Boat ride
Gorilla tracking
Photography moments
Itinerary 
Day 1: Arrival for a cultural experience of Rwanda
Today you start the amazing experience touring Rwanda on this wildlife and gorilla safari. Kagera Safaris driver guide will pick you up from your hotel or at the Kigali international airport on your arrival.
Drive time – 20 minutes
Day 2: Kigali City Tour and Reconciliation village
You will start the morning with a tour of the genocide reconciliation village outside of Kigali city and hear the stories of genocide survivors as they live alongside the perpetrators. If any time is lest after this experience, visit the Kigali genocide memorial, Kandt museum and shop for art and crafts.
B, L & D
Day 3: Transfer to Akagera National Park | boat safari
After breakfast, you will visit the remaining sites you might have missed in Kigali. You then start the journey to Akagera National Park located in eastern Rwanda with stopovers for photography and washrooms. When you arrive at the park, check in to your lodge and order lunch. After lunch, join the boat safari on Lake Ihema in search of Crocodiles, Hippos, several bird species and occasional Elephants and Buffaloes near the shores.
Drive time – 2 hours 30 minutes  or Helicopter ( Augusta) – 30 minutes
B, L & D
Day 4: Game drive and boat safari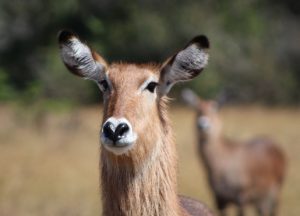 Leave for a whole day game drive in the northern part of the park where we look out for some of the large mammals in this area. They include Elephants, Giraffes, Zebras, Buffaloes, Impalas, Waterbucks, the elusive Leopard, Rhinos and the re-introduced lions. You will take the lake shore track which has a higher concentration of animals until you arrive at the northern plains.
While on this game drive, there are designated areas for picnic and toilets to ease one self.
Previously, there was a human-wildlife conflict in this area which was solved by fencing one side of the park near communities.
B, L & D
Day 5: Visit a homestead for a Rwandan cultural experience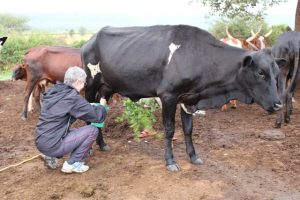 Eastern Rwanda is relatively flatter than most of the country and preferred by the pastoralists. We will visit a homestead of cattle keepers and engage in the different activities. We start early morning with milking cows with hands as opposed to machines. The herdsman will guide you on how to soothe the cow and milk it. After the session, you set the cows for the days grazing. You also have lessons on how milk is converted traditionally into different products like ghee and yoghurt.
B, L & D
Day 6: Transfer to Volcanoes national park
After breakfast, you transfer to the volcanoes national park. The park is located in northern Rwanda about 2 hours 30 minutes drive from Kigali. You have several photography opportunities as you travel north to the volcanoes. We will arrive to the lodge later that evening ready for the gorilla hike the next day.
Drive time –  6 hours Or Helicopter (Robinson) –  35 minutes
B, L & D
Day 7: Gorilla trekking in Volcanoes national park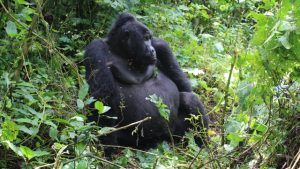 Have an early breakfast and transfer to the gorilla briefings area at the park headquarters in Kinigi. After briefing, you will be given a gorilla family and allocated a ranger guide to lead your group in the forest. Your driver guide will advise on whether you need to drive abit before you start on the trail head to the jungles of the Virunga Volcano.
This experience in the wild is like no other and one you will remember the rest of your life when you come face to face with a mountain gorilla family. You can only spend one hour  locating them after which you start the trek back.
B, L & D
Day 8: Gorilla Guardians Village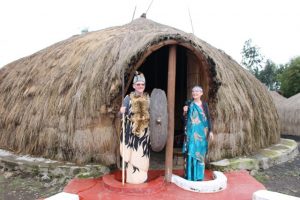 Today we will transfer to the gorilla guardians village which was formerly known as Iby'iwacu cultural village. Part of the day will be spent here learning about how the Rwandan people lived in their community traditionally which is climaxed by experience of having a King and Queen. Enjoy a traditional dance performed by the group, and learn about how they made traditional beer and local cuisines.
The other part of the day will be spent in the community where you will visit a village home and be part of their daily life. You will prepare a meal together with them and after enjoy eating this same meal.
B, L & D
Day 9: End of the Rwanda Cultural Experience Safari
We hope its been worthwhile exploring Rwandan cultural heritage and community experiences with an addition of game drive and mountain gorillas in Rwanda.  After a late breakfast, we shall transfer to your hotel in Kigali or the airport for your flight back home.
Drive time –  2 hours 30 minutes Or Helicopter (Robinson) –  35 minutes
B & L