Experience an abundance of wildlife, scenery, and cultural experiences on this 15 day Uganda Safari. For most people mountain gorilla trekking and chimpanzee tracking are the highlight of this safari. There are amazing opportunities of seeing numerous exotic animals like Rhinos, lions, hippos, buffaloes, leopard, elephants, and several species of birds. Enjoy the thundering Murchison Falls and the crater lakes is the western and southwestern of the country. This journey will bring you close to nature and culture – Uganda, the Pearl of Africa!
Safari Highlights:
Rhino tracking at Ziwa Rhino Sanctuary
Game drives in Murchison Falls, Queen Elizabeth and Lake Mburo National Parks
Boat cruises in Murchison Falls and Queen Elizabeth National Parks
Chimpanzee tracking in Kibale National Park
Nature walk in Bigodi Swamp
Crater Lakes
Tree Climbing Lions of Ishasha
Gorilla tracking in Bwindi Impenetrable forest
Boat ride in Lake Mburo National Park
Photo session at the Equator
Day 1: Arrival to the Pearl of Africa
On your arrival, Kagera Safaris representative will welcome you to Uganda at Entebbe airport and transfer you to your hotel in Kampala. Enjoy the breeze from Lake Victoria – 2nd largest lake in the world.
Journey time – 1 hour
Accommodation
Up market – Kampala Serena
Mid range – Hilton Garden Hotel
Day 2:  Rhino Tracking at Ziwa Rhino Sanctuary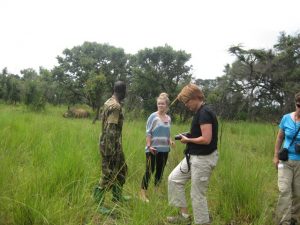 Have an early breakfast and depart for Murchison Falls National Park. The journey is a magical adventure with a stopover at Ziwa Rhino sanctuary route to track Rhinos. Your ranger guide will brief you after which you proceed to trek Rhinos in the sanctuary.
Depending on the location of your lodge, after this fulfilling experience and photo session, we proceed to the 'top of the falls' where River Nile is forced through a 7-meter gorge with a thunderous fall. Proceed to your lodge for the night.
Journey time – 4 hours
Accommodation
Up market – Paraa Safari Lodge
Mid range – Fort Murchison
Day 3: Game drive and Boat Safari on River Nile
Murchison Falls National park is the biggest in Uganda and offers fulfilling game viewing. The game drives start early morning right after breakfast which increases the chances of sighting different animals especially the predators that tend to go into hiding during the heat of the day. The game drive happen in the northern bank of River Nile, where we look out for giraffes, elephants, hartebeest, Buffaloes, Leopards, Lions and different bird species.
In the after-noon, the safari will continue on River Nile – Nile boat safari towards the mighty Murchison falls. The relaxed boat safari provides more opportunities for spotting a variety of animals and birds and falls from. You have an opportunity to watch the falls from below.
Day 4: Drive to the Chimps in Kibale Forest NP
Today we depart for the home of Chimpanzee in Kibale National Park. Kibale forest is home to 13 species of primates with the main attraction being chimpanzee tracking and bird watching. The journey to this tropical forest passes villages and colorful road markets. Lunch will en route or packed.
Journey time – 7 hours
Accommodation
Up market – Papaya Lake Lodge
Mid range – Turaco Tree tops
Day 5: Chimpanzee tracking in their natural habitat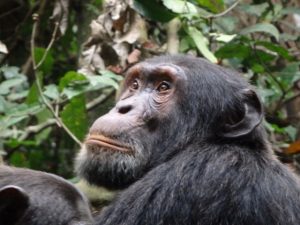 Chimpanzee tracking is a fulfilling adventure that takes you deep in the tropical forests with streams of water and abundant wildlife. You will start with a briefing from the ranger guide about your chimp trek. On your trek, you might have sightings of red-tailed monkeys, black-and white Columbus monkeys,butterflies, and birds calling from the canopies. With the help of your ranger guide, you will locate the chimps. Enjoy picture moments and watch them as they play, groom, and feed.
After lunch visit Bigodi swamp – a community project known for its rich diversity of birds and primates depending on the availability of time. This community project is involved in providing employment for youth through tour guiding, some of the proceeds go into establishment of schools and teachers pay.
Day 6: Transfer to Queen Elizabeth National Park
Today after breakfast, our wildlife tour continues to Queen Elizabeth National Park. Enjoy views of several crater lakes and the mystical Rwenzori Mountain ranges. On arrival in the park, have lunch and take a boat safari on Kazinga channel. The boat safari is a great way to enjoy water, animals, birds and photography.
Journey time – 2 hours
Accommodation
Up market – Mweya Safari Lodge
Mid range – Twin Lakes Safari Lodge
Day 7: Game drive and transfer to Ishasha sector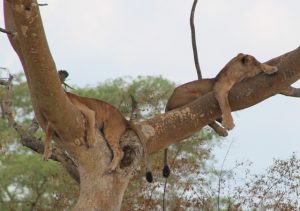 The animals in their different families, clans, and groups are out starting on their day. Watch the animals in their natural habitat and notice the difference with those caged in zoos. You will do this mostly from the Kasenyi plains where there is the large Kob mating ground. Look out for Elephants, Lions, Leapard, Waterbucks, Buffaloes, and several colorful birds.
After this experience, we drive to watch them and proceed to Ishasha, famed for the tree-climbing lions. It is not easy to sight these but we shall mount a search with the help of rangers. Lunch will be a picnic or at the lodge.
Journey time – 2 hours
Accommodation
Up market – Ishasha wilderness camp
Mid range – Bwindi Jungle lodge
Day 8: Expedition to the Gorillas in Bwindi Forest
Today we start journey to the home of the gentle giants of Bwindi – Mountain gorillas. The journey takes us through the terraced hills of Kigezi highlands. Lunch will be along the way or at the lodge depending on time of arrival. Take your well-deserved rest at your hotel in the lodge.
Journey time – 2 hours
Accommodation
Up market – Buhoma Lodge
Mid range – Haven Lodge
Day 9: Mountain Gorilla trekking
Mountain gorillas are true gentle giants found in Bwindi impenetrable forest and Mgahinga gorilla national park in Uganda. Bwindi impenetrable forestis abounding with life hosting species of birds, butterflies, primates, mammals, and trees. Your ranger guide will guide you to in conjunction with early trackers to the enormous and rare mountain gorillas deep in the jungles of Bwindi. The trekking experience takes anything from on hour (rarely) to about 8 hours to accomplish,  you only have one hour with gorillas to capture your finest moment. For those not interested in gorilla tracking can take a community village walk or short guided forest walk.
Day 10: Transfer to Lake Bunyonyi
As you reminisce on your gorilla experiences we depart for Lake Bunyonyi, the 2nd deepest lake in Africa. Enjoy stunning scenery – interlocking hills terraced by the locals as they practice farming named the "Switzerland of Africa" by Churchill, the great British diplomat.
Journey time – 2 hours
Accommodation
Midrange – BirdsNest@Bunyonyi
Day 11: Lake Bunyonyi Islands
Today after a good night sleep, wake up and enjoy the rays of the sun over Lake Bunyonyi. It is surrounded by beautiful hills terraced by the locals as they grow potatoes and other crops for their food and excess for sale.
Take a canoe ride to some of the 29 Islands that will give you an overview of the cultural and history of the area. Most notable is the story of the 'punishment island' your guide will share this story while on your  boat ride.
In the afternoon, you can dive in the lake for a swim, go bird watching, or hike up a steep hill for more views of the lake and its islands. Alternatively you can set by the lake shores and enjoy reading a book.
Day 12: Journey to the home of Zebras – Lake Mburo national park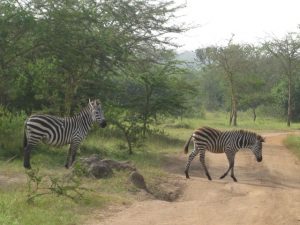 Lake Mburo National Park is a small gem in south western Uganda – en route to you pass through beautiful landscapes, plantations, and farms.
Our lunch will be at Igongo cultural Museum- exhibiting the life of the native people of the area.We will in the park later that afternoon and take a boat trip on Lake Mburo.
Journey time – 4 hours
Accommodation
Up market – Mihingo Lodge
Mid range – Rwakobo Rock
Day 13: Transfer to Kampala via Equator Monument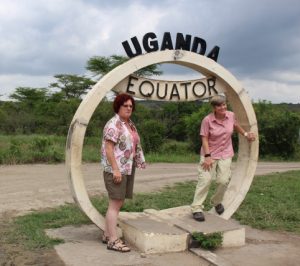 After an early breakfast, we take a game drive and proceed to Kampala, with a stopover at the famous Equator line. Have lunch in the city or Equator depending on arrival time and proceed to Jinja.
Journey time – 4 hours
Accommodation
Up market – Wild waters Lodge
Mid range – Haven Lodge
Day 14: Discover River Nile – White water Rafting
In Jinja, the Nile finds its origin; visit the Source of River Nile where it starts its 4000 km journey through Africa.  Your driver guide will transfer you to the starting point of the water rafting where you will find other people waiting for an adventure filled day.
You shall have a whole days rafting experience on River Nile. You will go through half the rapids before lunch and the other half after lunch. There is an option for half day rafting and you choose to rest in the afternoon or choose any of the optional activities.
Optional activities
Quad bike safari, bungee jumping, horseback safari, kayaking
Day 15: End of the Classic African Safari
We hope you had a fantastic time in the Pearl of Africa both in the wild and with the people of Uganda. Buy souvenirs and transfer to the airport.
Gorilla trekking tips
Bwindi impenetrable national park requires hiking,  you should pace yourself and drink plenty of water.
Eating, drinking and smoking near the gorillas is forbidden. Your ranger guide will communicate a designated time and place for such.
We encourage you to carry a rain poncho
Waterproof walking shoes or hiking boots are essential.
Gardening gloves for protection against stinging plants
Long trousers and long-sleeved sweaters or shirts while in the forest to avoid insect stings.
Photography is permitted, although you must not use flash
Porters are available to help you carry your day pack for a minimum fee of $20 or 50,000 Ugx