Kibale National Park is an attractive park in Uganda with varied tracts of tropical rain forest and a multiplicity of animals located in western Uganda slightly off the Equator. The annual temperature ranges between 14-27C and is generally cool. It is the ultimate place for chimpanzee trekking in Uganda.
It is known as the "primate capital of East Africa" with 13 different primate species. Kibale forest is home to more than 1,450 chimpanzee protected within its borders of 795km2 area covered. It is by far the best place to see Chimps in East Africa. The chimpanzees have been habituated for over 26 years giving you a chance to see the great apes in their natural environment. Children have to be 15 years and above to track the Chimpanzees. If younger they can opt to see chimpanzees at Ngamba Island Chimpanzee Sanctuary located off Lake Victoria in Entebbe – there is a raised platform where visitors can view the chimps as they come from the forest for their midday snacks.
The forest's varied altitude supports different habitats; woodland, Savannah, wet tropical forest and semi-deciduous dry tropical forest which gives the park opportunity to host different wildlife that reside in the different habitats.
Wildlife in Kibale National Park
Animals in Kibale national park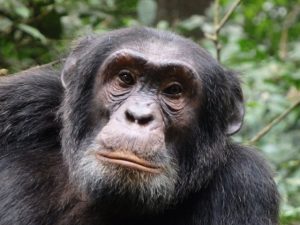 The mammal species in Kibale forest are estimated at 60 and include leopards, Duikers, Forest Elephants, Forest Buffaloes, Golden cats, Warthogs, and Bush Pigs. Generally animals found in the forest are shy and more aggressive maybe because of the vegetation as also because fewer people visit the parks compared to savannah parks that are usually teeming with people. On a lucky day you might sight a few Elephants, Buffaloes or Bush Pigs but normally you will only find their footprints because they tend to move away when they detect activity in the forest.
The main attraction in the forest is searching for chimpanzees with activities of chimpanzee trekking and chimpanzee habituation experience being the reason why most people visit Kibale national park. The park is host to 13 primate species that include; bush babies, L'Hoest's monkey, red colobus monkey, red-tailed monkey, black-and-white colobus monkey, grey-cheeked mangabey, olive baboon, blue monkey, Vervet monkeys and Potto.
Birds in Kibale National Park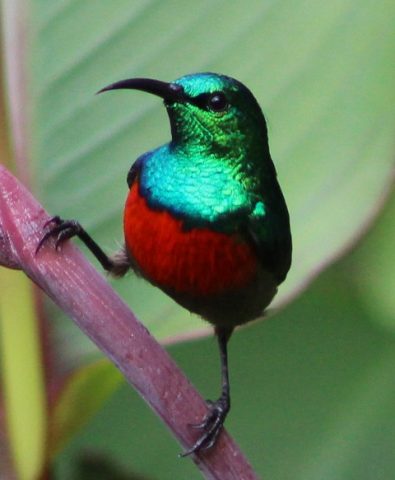 Kibale forest is a prime birding spot and is home to over 375 bird species including six endemic to the Albertine Rift area. It is an excellent birding spot because of its varied habitat and dense vegetation that give birds a safe haven and plenty of food to feed on. Birding usually happens early in the morning and late evenings for the nocturnal birds.
Green breasted Pitta is one of the main attraction for birders visiting the park. Other bird species to look out for include; Red-chested owlet, Purple breasted sunbird, African Grey Parrot, Blue-breasted Kingfisher, Crowned Eagle, little Greenbul, Black Bee eater, White-naped pigeon, andScaly-breasted Illadopsis,Western bronze-napped Pigeon, Nahan's Francolin, Yellow-throated Nicator, White-headed Wood-hoopoe, Red Headed malimbe , Yellow-spotted barbet , Dusky-blue Flycatcher etc.
Amphibians and Butterflies in Kibale National Park
The park is home to over 250 species of butterflies, several reptiles, and amphibians. You need to be keen to spot the reptiles and amphibians but the butterflies will be 'all over the place'. As you hike through the forest in search of chimpanzees and other primates, enjoy sighting the different colourful butterflies.
Safaris and Activities in Kibale National Park
Chimpanzee Trekking in Kibale National Park
Chimpanzees are the prime attraction for many visiting Kibale national park. Chimpanzee trekking has been happening in Kibale forest since 1993. Chimpanzee trekking is done twice a day i.e. early morning at 8am and afternoon at 2pm, therefore you have an opportunity to choose which time is conducive for you but morning is highly recommended. You will meet for briefing from the ranger guide before the trek starts to hear and learn about the expectations while in the forest and about other wildlife in the park. Trackers go before you and search for where the chimps nested the previous night and where they are located, they then relay this information to your ranger guide to lead you towards their location – remember the Chimps keep moving so they give the rangers information on the go. You need to be ready to walk long distances and carry along rain poncho because in a tropical forest it can rain anytime. Other items include long sleeved shirt and pants, comfortable waterproof boots, binoculars, camera, insect repellant.
Chimpanzee Habituation Experience in Kibale National Park
Chimpanzees are habituated over a period of 2 years before they get used to humans and then chimp tracking can begin. The CHEX (Chimpanzee habituation experience) happens every morning, a visitor goes along with the rangers and research staff and watch chimps leaving their overnight nests before they start their daily activities, feeding, hunting, copulating, breastfeeding, patrolling and resting. When this process is repeated over time, the Chimps get used to humans and that family is included on those that can be tracked.
Bird watching in Kibale National Park
Birding in Kibale forest is a rewarding experience, bird walks start at 7am every morning but you need to book early so the rangers are expecting you. The park is home to a variety of birds including the Albertine rift endemics. Morning focus for any birder in Kibale forest is to search for the Green breasted pitta. Other species includeGrey-throated FlycatcherGrey-winged Robin, Crested Flycatcher,Blue shouldered Robin Chat, Yellow-spotted Barbet, Black-billed Turaco, White-naped Pigeon, Red-chested Fluff tail, White-collared Olive-backWhite-bellied, Masked Apalis, Nahan's Francolin, Tiny Sunbird, and many more.
Nature and Hiking walks
The forest is rich in variety and the chimpanzee trekking may not give you enough time to take in all that the forest offers because you are focused on location the chimps. There is an option of a 12km hike through the forest. Here you are able to spot more variety of birds and animals. On a lucky day, you may encounter bush pigs, Duikers, and Elephants. This is available in the dry season (December – February and June – September) because the wet season most of the trail is impassable. There is also an option of night walks to see the nocturnal when the other forest inhabitants rest. The rangers use powerful torches to seek nocturnal such as bush baby, hyrax, potto and occasionally serval cat and civet. These walks last 2.5 hours and leave at 7pm.
Community walks and Cultural experiences
There are several community initiatives and cultural experiences to engage in once you visit Kibale forest. Bigodi Wetland sanctuary is a community initiative to preserve the rich eco system along the wetland. The wetland is a birders haven with about 138 species. Magombe swamp which hosts eight species of primates. All these are under the management of the community. Visit a women's project, where you can purchase handmade crafts to support them. Prepare, and or enjoy a traditional meal at Tinka's place. Visit a local school.
Routes to Kibale National Park
You can access the park from Entebbe International airport for scheduled/charter flights to Kasese Airstrip which is an hour from Kibale national park or drive from Kampala via Fortportal to Kibale forest ( recommended direct route). Alternatively, Kampala – Mbarara – Kibale forest via Ibanda (in case you have a stopover there for an activity) and finally from Queen Elizabeth national park – Kasese – Fortportal – Kibale forest or Queen Elizabeth national park – Kasese – Kasekende craters – Kibale national park.
Kibale national park Safari Lodges and Camps
Fortportal Area
Kyaninga Lodge
Mountains of the moon Hotel
Rwenzori View Guest house
The Dutchess
Northern Sector
Papaya Safari Lodge
Ndali Lodge
In the park
Southern Sector
Turaco Treetops
Chimpanzee Guest house
Kibale forest camp
Isunga Lodge
Uganda tours to Kibale National Park
3 days chimpanzee safari to Kibale Forest National Park
6 days chimpanzee trekking and wildlife safari