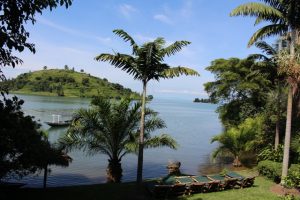 Lake Kivu is located in western Rwanda and is shared with Democratic Republic of Congo with beautiful beaches, great tropical weather, and beautiful scenery. The lake provides the ideal place for rest and recuperation while on your safari in Rwanda. Some of the activities on the lake include, sunbathing, swimming, and water sports like Kayaking, wind surfing & canoeing.
You can visit lake Kivu as part of your Rwanda safari itinerary or for a weekend if you work and live in Rwanda. It is an extraordinarily beautiful inland sea enclosed by steep, green terraced hills and Islands. It is easily accessible from Kigali and all the national parks i.e. Volcanoes national park (Rwanda gorilla safaris, golden monkey trekking, birding & hiking), Nyungwe forest national park (chimpanzee tracking, colobus monkeys, canopy walk and birding), and Akagera national park (game drives, boat trips & birding). It is located on the tourism circuit making it an ideal stopover while you explore Rwanda.
Lake Kivu covers most of the western border of Rwanda with main tourist areas being Gisenyi, Kibuye, and Cyangugu, which lie along the lakes shores.
Gisenyi is the most developed of the sites and is less than an hour's drive from the volcanoes national park and is about 2.5 hours drive from Kigali. It is set on a sandy beach lined with swaying palms and colonial-era hotels. Here you are able to find both the upmarket hotels and the budget ones.
Kibuye is located between Gisenyi and Cyangugu in the center along the shores of Lake Kivu. It has tourist activities centered on a modern lake-shore guesthouse overlooking pine-covered hills, and boat trips from here to Gisenyi.
Cyangugu is the least developed for tourism and different from the other two. It is the closest to Nyungwe Forest, with great community engagements and beautiful views of Congo but limited lake activities except the fishermen.
As you interact with the people on the shores, you will quickly notice how they are generally laid back exhibiting the phrase 'hakuna matata' to its fullest. Fishermen ply the water in dugout canoes on their usual routine of laying their nets for a possible catch of fish. This sell to various hotels and restaurants in town, some is taken to as far as Kigali and the rest is smoked by ladies on the shores for local consumption. You can choose to take a boat ride in the traditional dugout canoes and listen to the 'sea stories" of the fishermen and even participate in the fishing. The place is teaming with water birds like pelicans sailing, Grey crowned cranes, pied and malachite kingfishers above the shore waiting to catch their next meal.