Uganda is home to several primate species and the famous being the two great apes; Mountain gorillas and Chimpanzees. This trip will bring you face to face with these great apes in the rainforests of Kibale national park and the Bwindi impenetrable national park for chimpanzee trekking and gorilla trekking.
Safari highlights:
Chimpanzee trekking
Nature walk in Bigodi Swamp
Crater Lakes
Gorilla trekking
Itinerary
Day 1: Welcome to the Pearl of Africa

On arrival at Entebbe international Airport, a representative of Kagera Safaris will be eagerly waiting to receive you and transfer you to your hotel. Most flights arrive in the afternoon or night and by this time it is too late to drive to the national park. You will therefore arrive and spend the night and prepare to live the next day.
Drive time – 20 minutes
Day 2: Transfer to the home of chimpanzees

After a breakfast you will be ready to leave for Kibale forest – the primate capital of primates. The trip takes you through the countryside arriving at your lodge later that afternoon after stop over for lunch in the beautiful Fort portal. After you arrive at your lodge, you will have enough time to explore the area nearby or simply enjoy a coffee as you read a book.
Drive time – 5 hours Or Scheduled Flight – 1 hour 50 minutes
B, L & D
Day 3: Chimpanzee trekking in Kibale forest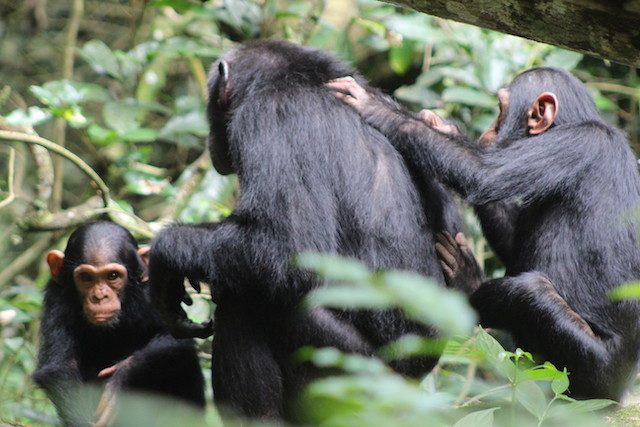 After an early breakfast, you will be transferred for briefing before you start your chimpanzee trek. Your experienced ranger guide will lead you through the tropical forest for an unforgettable and rewarding experience in search of man's closest relatives the Chimpanzees. When you locate them, you are only allowed 1 hour with them before you start the hike out of the forest. 
After lunch, you will take a Swamp walk in Bigodi community – proceeds from this help in community development. This walk through the wetland will bring you close to nature. You might have sightings of red tailed monkeys, Mangabeys, several bird species and butterflies. You will also have an opportunity to visit the community and have a coffee experience, banana brewing, basketry, and conversations with the medicine man.
PS: You have an option of a chimpanzee habituation experience. This activity allows you to spend more time in the forest learning more about the life of chimps, their habitat, food etc.
B, L & D
Day 4: Transfer to Bwindi impenetrable forest for Gorilla trekking

Today after breakfast, you will start the journey to Bwindi Impenetrable National Park – the home to half the world's remaining mountain gorillas. Bwindi impenetrable forest is a UNESCO World Heritage Site hosting numerous tree species, birdlife, primates, mammals, insects etc. The journey will give you beautiful times as you enjoy the scenery and depending on the sector of Bwindi you will track in, you might drive through the park.
Drive time – 5 hours
B, L & D
Day 5: Uganda Gorilla Trekking
Gorillas are amazing creatures, with so much energy yet gentle therefore  known as the gentle giants.  After an early breakfast,  your driver guide will transfer you to the briefing area from where you are allocated gorilla families and a ranger guide to lead your in the forest. The ranger guide will give a brief about your time in the forest, after this you will be divided into different groups to trek a specified gorilla family.
Once you locate the gorillas with help of your guide and trackers, you are allowed to stay with them for only one hour. The gorilla trek can take anything from few minutes to several hours depending on where they nested the previous night. We advise that you take along a porter to help with your day pack and also assist you as you walk through the steep areas in the forest. 
B, L & D
Day 6: End of your Uganda Primates Safari
We hope you have had a fantastic time and restful night after the gorilla trek. This marks the end of your Uganda primates Safari.
B, L & D
Drive time – 9 hours OR Scheduled Flight – 1 hour 50 minutes