Chimpanzee trekking in Uganda – Kibale Forest National Park is one of the most attractive national parks in Uganda with varied tracts of tropical rain forest and several animals. The park covers 795 km2 of rain forest, swamps, rivers and few areas of grassland. It is home to more than 1,450 chimpanzees protected inside the park and in total thirteen primate species. Children have to be 15 years and above to able to track the Chimpanzees, if you have children below 15 years they can engage in an educative forest walk.
This 3 days chimpanzee trekking safari will bring you on a chimp trek inside kibale forest. There are 2 times for trekking opportunities per day i.e. morning or afternoon. You are allowed to stay with the chimps for a maximum of one hour after locating them.
Safari highlights
Chimpanzee tracking in Kibale National Park
Community Walk in Bigodi Swamp
Itinerary
Day 1: Transfer from Kampala to Kibale National Park
Leave Kampala for chimpanzee trekking in Kibale forest. Your driver guide will pick you up at the airport or hotel and transfer you to your lodge. As you drive through the countryside, enjoy the remarkable landscapes, traditional homes and catch glimpses of the different striking bird species. Have a stopover for lunch in Fort portal town – the tourism capital of Uganda because of the beautiful landscapes and attractions. You will arrive at your lodging for the night in the Crater lakes region.
Alternatively you can take a flight to the Kasese airstrip from where you will be picked up and transferred to the lodge.
Drive time – 5 hours OR Scheduled Flight – 1 hour 35 minutes
B, L & D
Day 2: Chimpanzees trekking in Kibale national park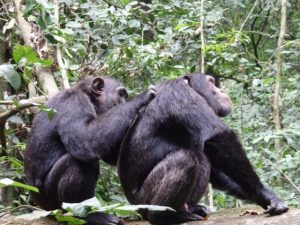 Your driver guide will transfer you to the briefing place right after breakfast, he will then hand in your details and permits for registration and allocation of chimpanzee community to trek. You will then be allocated to a chimpanzee community and your ranger guide will lead you on the trek in search of this great ape. Watch the chimpanzees in their natural habitat, as they swing from the branches in the canopy high above the forest floor, feed, play and rest.
In the afternoon, explore the Bigodi village. You have opportunity to visit a swamp with abundant butterflies, plants, animals and spectacular birds like Great Blue Turaco and will be of great interest to birders. After this experience you will take a village walk that will lead you to the Coffee experience, banana bear making, busked making and traditional healer.
B, L & D
Day 3: End of the Uganda chimpanzee trekking tour
We hope you enjoyed your time in Uganda's countryside and watching the Chimpanzees in their home. Kagera Safaris driver guide will transfer you to Entebbe international airport after breakfast or to the airstrip for your return flight.
Drive time – 5 hours OR Scheduled Flight – 1 hour 35 minutes
B & L
Uganda Chimpanzee trekking safaris
6 Days Uganda Gorilla and Chimpanzee trekking safari