The 21-day safari will give you a true Uganda experience. Experience Ugandans in their everyday errands and ice it up with plenty of wildlife and scenic landscapes. You will have rich culture engagements where you will have opportunities of cooking the tribal delicacies, participate in tribal dances, and purchase or make crafts. These experiences will have Gorilla, and Chimp trekking experiences, several waters falls, boat cruises, and game drives that will bring you close to Rhinos, Lions, Hippos, Buffaloes, Elephants and several bird species thrown in to spice up your cultural tour.
Safari highlights
Cultural engagements
Rhino tracking
Game drives
Boat cruises
Chimpanzee tracking
Crater Lakes
Tree Climbing Lions
Gorilla tracking
Equator
Itinerary
Day 1: Arrival to Uganda
You will be received by our friendly guide at Entebbe international airport and transferred to your hotel for the much needed rest. Depending on time of arrival, you will either overnight in Entebbe or Kampala.
Drive time –  1,5 hours
Day 2: Transfer to Boomu women's group Via Ziwa Rhino Sanctuary
We will start journey to Masindi with a stopover at the Ziwa Rhino Sanctuary where you will track Rhinos. This sanctuary is home to several bird species, mammals, and reptile. The ranger guide will give you a short briefing before you can start the walk.
After this experience of tracking the Rhinos, we proceed to overnight at Boomu women's camp near Murchison falls national park. The Boomu Women's Group was formed in 1999 by subsistence farmers from the villages with the aim of reducing poverty and malnutrition, and using proceeds to contribute to tuition for school going children.
Drive time –  4 hours

Day 3: Cultural Experience at Boomu Women's Group
Today after our breakfast, we will receive briefing from Edna the proprietor of Boomu women's group on the activities for the day. Some of the activities include, the scenic village tour which tells of the everyday rural life. Together with other women, they will show you various crops and give you an experience in the garden and later a visit to the village blacksmith. You will later return to Boomu for lunch but you have an option of eating in a home where you will enjoy storytellers share tales about customs and the local way of life. Depending on interests and time a visit to the nursery school, a cooking demonstration or a basket weaving class will be arranged on request. 

Transfer to Murchison falls National park
Drive time –  1 hour
Day 4: Game drive & Boat Safari
After an early breakfast go for a game drive on the northern bank of the Nile, the animals to look out for include; Giraffes, Elephants, the elusive leopard, Spotted Hyena, cape buffaloes, Jacksons hartebeest, water bucks, Oribis, buffaloes, Uganda Kob, Lions and an amazing arena of bird species.
In the afternoon, the safari will continue on river Nile with a boat ride for game viewing at close quarters as they come to water and also for those based in the water or at the shores of the river. We are likely to see several animals as they come to the Nile to quench their thirst and the residents like Hippos and crocodiles. There is also an amazing array of water birds for those interested in the bird life.
Day 5: Transfer to Hoima – Bunyoro Kingdom Tour
After our breakfast we start journey to discover some of the history of Bunyoro Kitara Kingdom which once governed up to present day Tanzania and Rwanda in the 1800's. We will learn about one of the more famous last kings of Bunyoro – Omukama Kabalenga. He was a great strategist who fought to maintain and even gain new grounds for his Kingdom.
Drive time –  1 hour
Day 6: Cultural Tour in Bunyoro Kingdom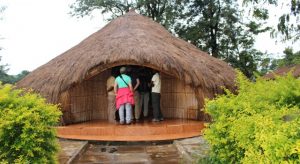 Today we will spend the day exploring most of the kingdom cultural significant areas. We shall visit the current palace where the Omukama resides to learn more about the Bunyoro Kingdom. In addition we shall visit the royal tombs and learn of the different Kings buried there and the rituals surrounding burial of Kings in Bunyoro Kingdoms. We will also enjoy traditional music and dance later on to which you are encouraged to join in.
B, L & D
Day 7: Transfer to Tooro Kingdom
Tooro Kingdom was originally part of Bunyoro; a prince against the fathers wish founded it. The languages and practices are very close with a few changes over time especially in the dialect and some cultural practices. We will arrive in Fort portal in time for lunch and have the afternoon at leisure.
Drive time – 5 hours
Day 8: The Stunning Fort portal Town – History & Culture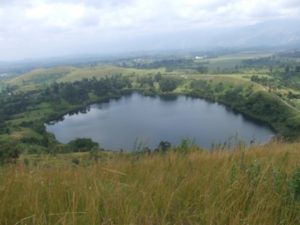 After an early breakfast, we will take a tour of the famous 'Amabere Ga Nyina Mwiru' – a cultural site with intriguing historical beliefs. Together with this cultural site, you can hike up nyakasura hill to view three crater views. After this fascinating experience, we will have time to visit the palace and learn more about the culture and history of Tooro Kingdom.
We will have opportunity to engage in cooking and eating the traditional Tooro food like 'firinda' and others. Depending on the day of the week, we have opportunity to visit a weekly village market with its colorful array of fruits, vegetables and clothing. Here we shall also enjoy the traditional music and dance from Tooro.
Day 9: Transfer to Kibale national  park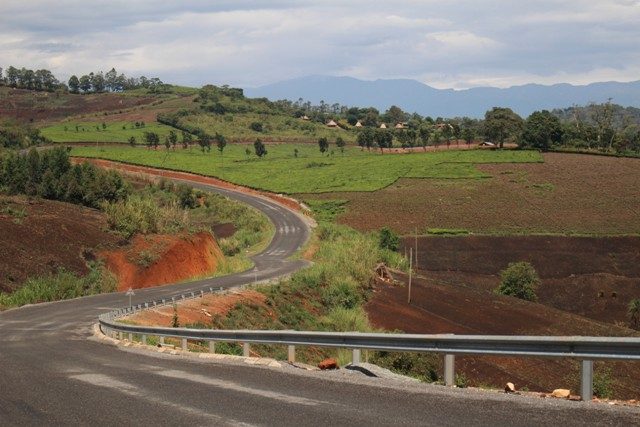 Today after our morning breakfast, we will transfer to Kibale national park to experience the chimpanzee in the primate capital of East Africa and the community living adjacent to the park. We shall check in to our lodge and transfer for a culture experience in the adjacent community. The tour allows you to have a coffee experience in a home, banana bear brewing, basketry, medicine man etc.
Income from this activity is invested in education, health, sanitation and improving the livelihood of local residents. It is also used to help raise awareness of the value of biodiversity through music, dance, and drama performances at local schools.
Drive time –  1 hour
Day 10: Chimpanzee tracking in Kibale National Park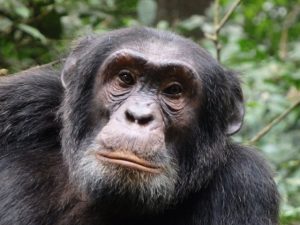 Today morning after breakfast, your driver guide will transfer you to the briefing point in the park before you can start your chimp trek. After your briefing from the ranger guide, you will be allocated a community of chimps to visit after which you will enter the forest where you will spend the morning depending on where the chimps nested the previous night.
Once you locate the chimpanzees, you are allowed one hour in their presence after which you start the hike back to the briefing area or your driver guide will pick you. You will then be dropped at the lodge for lunch for a relaxed afternoon or visit again to the community.
Day 11: Culture Encounter with Kikorongo Women Community
After an early morning breakfast, we tranfer to Queen Elizabeth national park. Our first stop will be a visit to the Kikorongo Women community. Kikorongo means "too much sunshine" in the Lukonzo language and this is because it located by the Equator line giving it the ultimate tropical climate. While here the activities to engage in include; dance, music, drama, and traditional fire making, which can be accompanied by a short craft workshop enjoyed before or after the performance. You can also engage in craft making especially natural dyeing of the materials.
Drive time –  2 hours
Day 12: Game drives and Boat Safari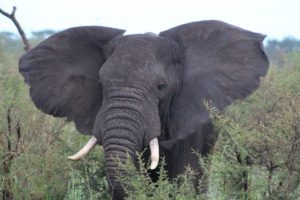 The day begins early, we go towards the mating ground of Uganda Kobs in search of different game especially the Lions who prey on the numerous Uganda Kob in the area. We are likely to see Warthogs, Elephants, and Buffaloes etc. on our way. We return to the hotel in time for lunch.
In the afternoon, we take a boat safari on the Kazinga Channel; enjoy watching the crocodiles bask in the sun plus numerous Hippos – Kazinga Channel known to have the highest concentration of Hippos in the world over! We will look out for the amazing bird life along the shores.
Day 13: Transfer to Mgahinga Gorilla national park
We awake to a relaxed morning, after breakfast we leave for Mgahinga gorilla national park for gorilla tracking and cultural experiences. This fulfilling journey takes us through the Kigezi highlands with great scenery of terraced hills. Part of the journey will be on a road which will offer you our famed 'African massage' before joining a tarmacked road. We will carry packed lunch to have at a stopover along the way.
Drive time –  5 hour
Day 14:  Gorilla trekking in Mgahinga gorilla national park
The experience meeting Gorillas for some people is one of the major highlights in addition to the cultural experiences on this 3 weeks trip. It is magical experience when you encounter these gentle giants.
Your driver guide will transfer you to the briefing point early morning to listen to your ranger guide before you start the gorilla trek. After the briefing,  the trek with help of porters who will carry your day pack if you need them. The tracking takes anything between 1 hour to 4 hours depending on where the gorillas nested the previous night, once you sight them, you are allowed to stay in their presence for 1 hour. Enjoy the views of the virunga volcanoes as you track the gorillas. It is a worthwhile undertaking as you observe them closely while they eat, play and rest.
Day 15:  Golden monkey trekking in Mgahinga gorilla national park
After an early morning breakfast, your driver guide will transfer you to the briefing point from where you start the golden monkey trekking. Just like yesterday, the ranger guide will offer information about the golden monkey trekking experience and expectations of how to behave while in the field.
After the briefing from the ranger guide, you will start the golden monkey trek into the forest. The golden monkeys are endemic to the Virunga Volcanoes. They are often in the bamboo section of the forest because they love to feed on the bamboo shoots when in season. The Golden monkeys generally move faster than gorillas which means that you need to be fit ready to follow them as they forage for food.
Day 16:  Batwa cultural trail in Mgahinga gorilla national park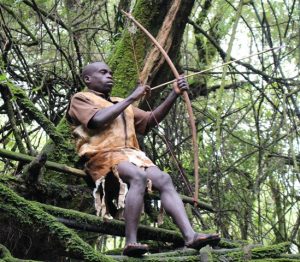 The Batwa are an indigenous tribe that lived in the forest and depended on it for livelihood, as hunter-gatherers. When Mgahinga gorilla national park was gazetted for conservation, the Batwa and other people who lived in the park left it and went to the community. However the Batwa struggled because unlike the other tribes who were involved in crop cultivation, the Batwa depended on the forest entirely.
In partnership with Uganda wildlife authority, the Batwa were allowed to visit the forest as guides and also to collect herbal medicines. Today you have an opportunity to experience their life in the forest with the Batwa guides sharing their life and in turn earning an income for themselves and their families. You have an entire day in the park learning on how they lived in the forest alongside the animals, the food they ate, the customs and medicinal plants.
Day 17: Transfer to Ankole
After these experiences in Mgahinga gorilla national park, we start journey to Ankole which is a different tribal areas with different culture. They are both cattle keepers and cultivators. You will learn much about the cow and all the rituals surrounding it and how it responds to the herdsman plus the names given to different cows.
Day 18: Community tourism in this village
We shall start with early morning starts milking of the long horned Ankole cows with guidance from the herdsman. After this experience, return to the homestead for breakfast and later take a village walk to interact more.
Learn more about their lifestyle, food, and their other native habits. In the evening, you can enjoy traditional dancing and singing of a non-professional local group. You have opportunities of visiting a primary school to interact with the children in that school.
Day 19 : Transfer to Kampala
Today you transfer to Kampala city to have a brief experience of the Buganda culture and city tour. We will arrive later that afternoon after a stopover at the equator for lunch. After lunch we proceed to the hotel for rest as we prepare for the next day's experience in the city.
Drive time –  5 hours
Day 20: Buganda Kingdom trail and Kampala city tour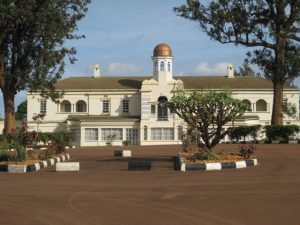 Today we will spend time exploring Buganda Kingdom, one of the kingdoms still active to date but without political powers. Today you will spend the day exploring Kampala visiting mostly the Buganda sites but also other areas of interest in Kampala. You will visit the Buganda kingdom official palace known as the Lubiri and the parliament known as Bulange. After this experience, you will proceed to Kasubi tombs – a UNESCO world heritage site which is the burial ground for some of the Buganda kings.
Our last experience will be visiting a homestead where will learn how to prepare 'luwombo', a traditional delicacy of steamed gravy of either chicken, beef, ground nuts or fish. You will be able to participate in cooking a traditional meal and thereafter enjoy it while learning about different aspects of the Kiganda culture.
Day 21: Transfer to Entebbe International Airport
Last minute souvenir shopping and transfer to Entebbe International Airport. Thank you for choosing to experience Uganda with us. We hope you carry back only good memories interacting with different people in their communities.