This 12 days Rwanda and Uganda gorilla tour will give you an experience of some of the prime wildlife experiences in both countries. The two countries host some of the remaining mountain gorillas found in the wild in the whole world. They each offer a different experience while on the gorilla and chimp trekking experiences because of the terrain and vegetation in the two countries. And lastly you will have an experience of Queen Elizabeth national park for some big game experiences and to break the journey to Kibale national park.
Safari Highlights
Chimp trekking
Canopy Walk
Gorilla trekking
Boat trips
Game drive
Itinerary
Day 1: Arrival in Kigali for the Rwanda and Uganda Gorilla tour
Kagera safaris driver guide will pick you up from Kigali international airport and transferred to your hotel. Depending on your time of arrival, you can take a Kigali city tour of selected sites before retiring to your hotel later on.
Drive time – 20 minutes
Kigali Serena / Kigali Marriott
Day 2: Transfer to Nyungwe forest national park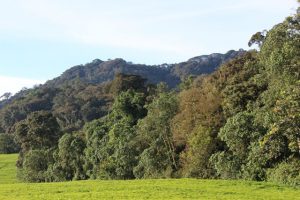 This morning after breakfast, your naturalist guide will start the journey with you to Nyungwe forest national park for the chimpanzee trekking and canopy walk experience.
Depending on your interest, we can have a stopover at Nyanza for the Kings Palace experience or ethnographic museum in Huye for an experience on the history and culture of the Rwandan people. Notice because of the journey ahead you can only stop at one of them to avoid a rushed trip to your lodge later that evening.
Drive time – 5 hours Or Helicopter (Robinson/ Augusta) – 45 minutes/ 35 minutes
B, L & D
One & Only Nyungwe House
Day 3: Chimpanzee trekking and Canopy walk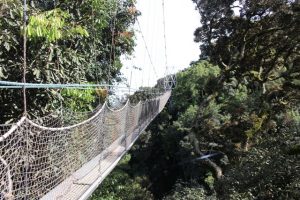 Chimpanzee trekking starts early morning, in fact you are expected to be at the briefing place at 5.00 am. This may require that you leave your hotel room as early as 4.30am. On arrival at the briefing point, you will assemble and listen to the ranger guide. After this, you will be assigned a trekking team to start at either Uwinka or Cyamudongo trail heads. The canopy walk will be right after the chimp trek or in the afternoon in case you prefer to rest before taking it depending on location of hotel/lodge.
Nyungwe forest is home to 13 primates and they offer colobus monkey trekking as a separate experience. If you are interested in botany, the flora in Nyungwe comes as an added bonus; you will also have a chance to view the other inhabitants of the forest.
B, L & D
One & Only Nyungwe House
Day 4: Transfer to Volcanoes national park
In the morning after checking out from the lodge, we leave for volcanoes national park where we prepare for gorilla tracking the next day. The journey to the park is through the winding roads because of the many hills. Enjoy the scenery of Lake Kivu in the back drop as you drive up to volcanoes national park for a date with the gorillas.
Drive time – 6 hours Or Helicopter (Robinson) – 35 minutes
B, L & D
Sabyinyo Silverback Lodge / Virunga Lodge
Day 5: Gorilla trekking in volcanoes national park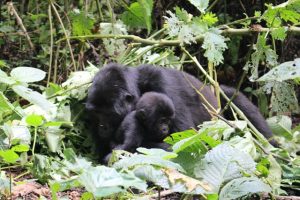 Gorilla trekking is the ultimate bucket list experience for many people that travel to Rwanda. Volcanoes national park protects the steep slopes of this magnificent mountain range where gorilla tracking happens. After an early breakfast, we leave at 6:30 am for the briefing before beginning the gorilla trek at 7 am.
Enjoy the park with its different vegetation from the evergreen and bamboo forest, open grassland, swamp and heath. The highlight of your hike will be spending an hour with the remarkably peaceful gorillas as they go about their daily life, feeding, playing, resting, and raising their young. Come prepared to get deep in the jungles for an experience of a life time.
B, L & D
Sabyinyo Silverback Lodge / Virunga Lodge
Day 6: Transfer to Uganda's Bwindi Impenetrable national park
Today we transfer to Uganda through the Cyanika border post to Bwindi impenetrable forest. The drive to the Ugandan border from Musanze is less than an hours drive. After crossing, we continue our trip through the rolling hills of Kigezi to our lodge for overnight in Bwindi impenetrable national park.
Drive time – 4 hours
B, L & D
Clouds Mt Gorilla Lodge / Gorilla Heights
Day 7: Gorilla trekking in Uganda
Early in the morning, the driver guide will pick you up from the camp and drive to the park office at 7 am for briefing and then begin gorilla trekking at 8 am. The head ranger guide will give general briefing and later distribute into different groups depending on the gorilla group you will track. In your group, you might receive further briefing before setting off with your team of guides and porters. Even if you are an experienced hiker, you are advised to take along a porter to help especially on the steep slopes as you hike and also carry your lunch pack. The trek can take anything from minutes to several hours depending on where the gorillas nested the previous night. The experience is unforgettable spending an hour watching these amazing creatures.
B, L & D
Clouds Mt Gorilla Lodge / Gorilla Heights
Day 8: Transfer to Queen Elizabeth national park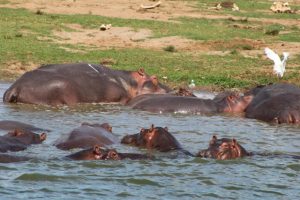 We leave for Queen Elizabeth national park after relaxation from all the gorilla trekking of the past days. Your naturalist guide will continue with you to this beautiful park nestled between the escarpment and the Rwenzori Mountains.
Drive time – 4 hours
B, L & D
Kyambura Gorge Lodge/ Katara Lodge/ Mweya Safari Lodge
Day 9: Game drive & Boat Safari
Start the day early with a morning game drive towards the mating ground of the Uganda Kob in the Kasenyi plains in search of the lions. Look out for Lions, warthogs, elephants, Kobs, water bucks, buffaloes etc.
Use the afternoon to take a boat safari on Kazinga channel which connects Lake George and Lake Edward. Our likely sightings include buffaloes and elephants that come for an afternoon drink together with hippos and crocodiles that make it their home. There is a bird sanctuary on the channel with several species of birds which will keep you on the look out as your guide describes each of them and some of their characteristics.
B, L & D
Kyambura Gorge Lodge/ Katara Lodge/ Mweya Safari Lodge
Day 10: Transfer to Kibale national park
After this experience, we start journey to Kibale national park. The drive is through the beautiful crater area with lakes and views of the Rwenzori Mountains.
Drive time – 2 hours
B, L & D
Kyaninga Lodge / Ndali Lodge / Primate Lodge
Day 11: Chimpanzee trekking in Kibale national park
Kibale national park covers an area of about 795 km2. It is one of Uganda's most gorgeous tropical forest being home to 12 primates. After breakfast, you will be transferred to Kanyanchu visitor center for a briefing before the chimpanzee trekking. You will then be divided into smaller groups and joined by your ranger guide depending on the chimp community to visit. While on this trek, you might encounter other primates like the black & white colobus monkey, grey cheeked mangabey, red-tailed monkey etc. and several butterflies.
Lunch will be at the lodge after trekking or a homestead that offers traditional local foods. After lunch, visit Bigodi swamp an initiative by the community to conserve the swamp and trees with several primates and birds.
B, L & D
Kyaninga Lodge / Ndali Lodge / Primate Lodge
Day 12: End of your Rwanda and Uganda Gorilla Tour
After breakfast, your Kagera safaris driver guide will transfer you to Entebbe airport for your outbound flight . This will mark the end of your Rwanda and Uganda gorilla safari. We hope you had an amazing time in the wild watching the various primates, mammals and birds. You are welcome back to explore these countries.
Drive time – 5 hours Or Scheduled Flight – 1 hour 35 minutes
B & L