Safari Highlights:
Chimpanzee tracking
Nature walk in Bigodi Swamp
Game drives
Boat cruise
Crater Lakes
Tree Climbing Lions of Ishasha
Gorilla tracking
Itinerary
Day 1: Welcome to the Pearl of Africa
Today on arrival at the Airport, a representative of Kagera Safaris will be eagerly waiting to receive you and transfer you to your hotel in Entebbe for overnight. You will have dinner depending on time of arrival.
Drive time – 20 minutes
Day 2: Transfer to Kibale national park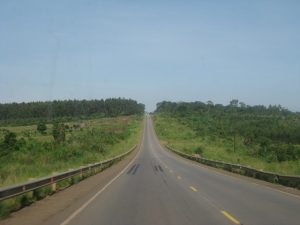 Today your driver guide will pick you from your hotel after breakfast to start journey to the primate capital of primates – Kibale forest. The drive is through Uganda's countryside with past lots of agricultural lands, homesteads, road side fruit and vegetable markets and forests. A part from these fascinating sights the only stopovers will be for the washrooms and stretching whenever you need to.
You will have lunch in the beautiful Fort portal town with spectacular landscapes of the Rwenzori mountains in the back ground and ever green lawns. From here you will proceed to your lodge ready for chimpanzee trekking the next day.
Alternatively you can take a scheduled flight from Entebbe International airport to Kasese Airstrip from where you will be transferred to your lodge.
Drive time – 5 hours Or Scheduled Flight – 1 hour 35 minutes
B, L & D
Day 3: Chimpanzee trekking in Kibale national park
Today is the Chimpanzee tracking day in the primate capital of the world – Kibale National Park. After your breakfast, your naturalist guide will transfer you to the briefing point before the chimpanzee trek. The experienced ranger guide will take you through a briefing on what to expect and how to conduct yourself in the forest.
After the briefing, you will start the hike through the tropical forest for an unforgettable and rewarding experience in search of man's closest relatives the Chimpanzees. You are allowed 1 hour in their presence after locating them.
After lunch, take a Swamp walk in Bigodi community – proceeds from this help in community development. In the addition to the swamp you will visit different homes for coffee experience, banana brewing experience, basketry and traditional medicine.
B, L & D
Day 4: Transfer to Queen Elizabeth National Park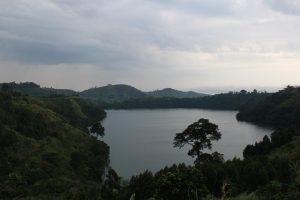 This Uganda primate safari continues to Queen Elizabeth National Park passing through Crater lakes region (depending on road condition) and enjoying views of the Rwenzori mountain ranges. You have an option of having a late breakfast and then preparing to leave after this.
You can choose to have a 'free' afternoon at your lodge where you choose to relax and rest Or take a game drive through the park before proceeding to your lodge or you take an afternoon village walk around your lodge.
Drive time – 2 hours
B, L & D
Day 5: Game drive and Boat Safari in Queen Elizabeth national park
Africa is home to a vast, unrivalled number of species living in the wild. Queen Elizabeth national park has the highest biodiversity of any protected area in Africa. The best times for game viewing is morning when the predators are looking out for prey and before they go back into hiding. You will be using a car that allows the roof to open up to maximise opportunities of watching the game. Enjoy the exotic and rare species which include Elephants, Lions, Leopards, Buffaloes, and Uganda Kobs etc.
In the afternoon enjoy a launch cruise on Kazinga Channel – towards Lake Edward where you will watch different wild animals that come to its waters and those that live therein and numerous species of birds.
B, L & D
Day 6: Transfer to Ishasha sector for tree climbing Lions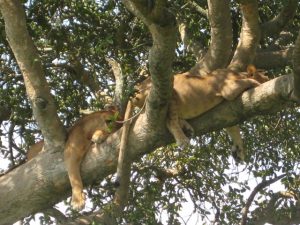 Ishasha is the southern sector of Queen Elizabeth national park famous for the tree-climbing lions. After their meals these predators like to climb fig trees to rest, experience the winds but also easily watch their prey as because of the high savanna grass. Today morning after a late breakfast, you will leave for Ishasha sector for the lions, the different bird species and other mammals.
B, L & D
Day 7: Safari to the mountain gorillas in Bwindi Forest
Today after breakfast, leave for Bwindi Impenetrable National Park – the home of half the world's remaining mountain gorillas and a UNESCO World Heritage Site.
If you missed seeing the lions the previous day, you can choose to do another game drive through the park in search of these incredible creatures – the tree climbing lions of Ishasha.
Drive time – 2 hours
B, L & D
Day 8:  Gorilla trekking in Uganda
The ultimate safari experience in the 'jungles of Africa', is spending the day with the gigantic gentle mountain gorillas in the the impenetrable forest. The adventure hiking through Bwindi impenetrable forest in search of gorillas is a unique experience. You will start with a briefing from the ranger guides after which you are divided into group to track different gorilla families.
You will then hike the forest in search of the gorillas with the leading of a ranger guide. Once you locate the gorillas with your ranger guide, observe them for an hour after which you will start the walk out of the forest.
B, L & D
Day 9: Transfer to Lake Mburo national park
After the exhilarating experience in Bwindi Impenetrable forest coming face to face with the gorillas, your driver guide will pick you up after breakfast to start the journey to the calm and beautiful Lake Mburo National Park. Enjoy the winding roads from the Kigezi region with stopovers for pictures.
Once you arrive at the park, you can choose to take a boat trip on Lake Mburo or take a nature walk/ walking safari with a ranger guide. After this experience you will retire to your lodge the much needed rest.
Drive time – 4 hours
B, L & D
Day 10:  End of your Ugandan Primates Safari
Your driver guide will pick you after breakfast for a short game drive before exiting the park. Today you drive back to Kampala. You will drive out of the park and stop over a the Equator monument for lunch, souvenirs and photo sessions in both the north and southern hemispheres.
This will mark the end to your Uganda primate safari, thank you for exploring Uganda with us. We hope you had an amazing time and will encourage others to visit the Pearl of Africa.
Drive time – 4 hours
B, L & D