Mgahinga gorilla national park is located in south western Uganda on the border with Rwanda and DR Congo. It is the smallest of all Uganda national parks but filled with engaging activities for any outdoor enthusiastic visitor. All the 3 Virunga volcanoes in Uganda are found in this park and open for hiking opportunities. On this tour you will trek mountain gorillas and golden monkeys, walk in the footsteps of the Batwa, and hike a volcano of your choice. With extended days you can hike all the three volcanoes or alternatively you can choose hiking over the other activities.
Safari Highlights
Gorilla trekking
Golden monkey trekking
Batwa cultural trail
Hike Muhavura or Gahinga or Sabyinyo
Itinerary
Day 1: Arrival in Kigali – Rwanda
On arrival in Kigali, our professional guide will welcome you and transfer you to your hotel. Depending on time of arrival, you have an opportunity for a tour of Kigali City visiting the genocide memorial, Kandt house and the city. You will then check in your hotel as you prepare to depart to Kisoro-Uganda the next day.
Journey time – 30 minutes
Meal plan – Breakfast, lunch & Dinner
Accommodation
Up market – Kigali Mariotte
Mid range – Heaven Lodge
Budget – Classic Hotel
Day 2: Transfer to Kisoro, Uganda – Mgahinga Gorilla National Park
Today after your breakfast your driver guide will transfer you to Kisoro – Uganda at the base of the Virunga Volcanoes. Enjoy the winding roads of the 'thousand hills' and magnificent views of the Volcanoes. You will spend the afternoon at leisure in preparation for all the trekking and hiking in the days to come.
Journey time – 4 hours
Meal plan – Breakfast, lunch & Dinner
Accommodation
Up market – Mt Gahinga Lodge
Mid range – Lake Mulehe Safari Lodge
Budget – Lake Chahafi Resort
Day 3: Gorilla trekking in Mgahinga Gorilla national park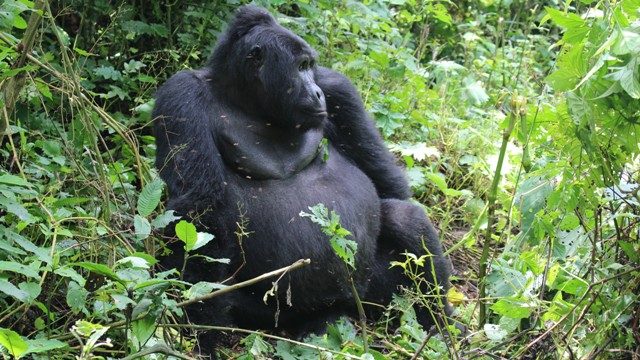 Mgahinga gorilla national park was primarily protected because of mountain gorillas and golden monkeys among other wildlife. Today you will be transferred to the briefing point inside the park to learn about how to behave and interact with the gorillas in the wild. Your driver guide will drop off at the  briefing place for the gorilla trekking.
The ranger guide will then lead you to start your gorilla trek in the park. After hiking some distance depending on the location of the gorillas, you will sight them and spend up to 1 hour with them before you start your descent back to the briefing point and later your lodge. The experience in this jungle and meeting these enormous creatures will stay with you for life.
B, L & D
Day 4: Golden Monkey trekking
After an early morning breakfast, your driver guide will transfer you to the briefing point where the golden monkey trekking starts. Just like the previous day, you receive a briefing from the ranger guide and later start your hike up Mgahinga national park in search of the golden monkeys, which are only in the Virunga Volcanoes.
Generally golden monkeys are swift in their movements unlike the gorillas and you will follow them as they move to feed. They love bamboo shoots compared to any other vegetation for feeding. The first part of the hike is through the secondary forest and shrubs but as you go deeper into the forest you will get in the bamboo sections where you will start hearing sounds and see movements of these amazing creatures. However
B, L & D
Day 5: Walk in the footsteps of the Batwa
The Batwa are an indigenous tribe that lived in the forest and depended on it for livelihood because they were hunter-gatherers. However over time other people groups started influencing the Batwa using them to do unsustainable poaching therefore the government decided to move them out of the forest all together.
This morning, you will be transferred to the briefing area by your driver guide. You will receive briefing from the Batwa taking you on this trail with interoperation from the ranger guide. Today you will meet some of the Batwa and they will take you through the forest and how they lived and depended on it. This tour takes you through the Batwa trail showing you how they co-existed with the wildlife and raised families.
B, L & D
Day 6: Hike Sabyinyo or Muhavura or Gahinga Volcanoes
Mt Gahinga which is 3474 metres above sea level or 11,400 feet offers a gentler hike through the bamboo forest and marshy craters at the peak. The lower slopes are rich with forest birds and the marshes near the summit are home to bushbuck and elusive duiker. This is shared between Uganda and Rwanda. This takes approximately 6 hours.
Mt Muhabura – 4127 metres above sea level or 13540 feet is the most challenging peak in the park. The hike will take most of the day, but the adventurous are rewarded with great sense of accomplishment and – on a good day – spectacular views of Uganda, Rwanda and DR Congo. This is shared between Uganda and Rwanda. This takes approximately 8 hours.
Mt Sabyinyo – 3674 metres above sea level or 12050 feet is the most dramatic climb. At some point you will depend entirely on the wooden stairs up the steep slopes and therefore you will let go of the climbing sticks. On arrival at the peak you will successfully be in all the 3 countries at ago i.e. Uganda, Rwanda and DR Congo. This takes approximately 9 hours to climb up and down in favorable weather.
B, L & D
Day 7: Departure via Kigali – Rwanda
We hope you have had an adventure filled stay exploring Mgahinga gorilla national park. Today morning after your breakfast, the driver guide will transfer you to Kigali city and you proceed to the airport for your flight home. Thank you for visiting Uganda with us.
B & L
General hiking and Gorilla trekking tips
Mountain gorillas live at high altitude and this may cause difficulties for some visitors. You should pace yourself and drink plenty of water.
Rain gear because the weather can be unpredictable, you can generally expect both sun and rainfall during the day.
Carry a day pack with food and water but remember that eating, drinking and smoking near the gorillas is forbidden – designated time and place will be communicated.
Warm clothing is advised especially early morning or evenings and the trekking is done at high altitude
Recommended clothing is long trousers and long sleeved sweaters or shirts while in the forest to avoid insect stings.
Water proof hiking boots are essential
Photography is permitted, although you must not use flash
Porters are available to help you carry your day pack for a small charge.
Tour includes
Gorilla trekking permit
Golden Monkey Trekking
Batwa trail
Hiking
Park entrance fees
Ground transport
Bottled water in the safari vehicle
Full board accommodation
Service of an English-speaking driver guide
All mentioned activities except for the optional ones
Tour excludes
Extras at the accommodation i.e. drinks, telephone, laundry etc.
Tips to porters and driver/ guide
Insurance
Other Uganda Hiking & Primate Safaris
4 Days Uganda Gorilla and Golden Monkey Safari