Rwanda's Volcanoes National Park stands out as the ultimate destination for embarking on a once-in-a-lifetime adventure to witness the awe-inspiring mountain gorillas in their natural habitat. Here's why Volcanoes National Park is widely regarded as the best place for a gorilla safari in Rwanda.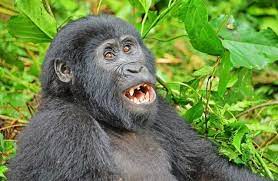 Home to a Significant Gorilla Population
Volcanoes National Park is renowned for its robust and well-protected population of mountain gorillas. These magnificent creatures, with their striking silverbacks, playful juveniles, and graceful females, find their sanctuary in the lush forests of this national park.
Remarkable Conservation Efforts
The park's dedication to conservation is evident in its successful efforts to safeguard these endangered primates. Through anti-poaching patrols, community engagement, and habitat preservation, Volcanoes National Park has played a pivotal role in the global conservation of mountain gorillas.
Scenic Beauty and Biodiversity
Beyond gorilla trekking, the park offers a stunning backdrop of mist-covered volcanoes, dense forests, and a rich tapestry of biodiversity. As you trek through this captivating landscape, you'll encounter a wide range of wildlife, including golden monkeys, various bird species, and unique flora.
Trekking Opportunities for All Levels
Volcanoes National Park caters to both novice and experienced trekkers. The park's diverse terrain allows for trekking experiences of varying lengths and difficulties. Whether you're a seasoned adventurer or a first-time trekker, there's a gorilla group and trekking route suitable for you.
Expert Guides and Trackers
Your Rwanda gorilla safari experience is made unforgettable by the knowledge and expertise of the park's guides and trackers. They possess an intimate understanding of the gorillas' behavior and the terrain, ensuring your safety and enhancing your encounter.
Immersive Cultural Experiences
Volcanoes National Park offers more than just gorilla safari in Rwanda. You can also immerse yourself in Rwandan culture by visiting nearby communities and learning about their traditions and way of life. These cultural interactions add depth to your safari experience.
Responsible Tourism
Rwanda is dedicated to responsible and sustainable tourism. The country has implemented strict regulations to limit the number of visitors to the gorillas each day, ensuring minimal disturbance to their natural habitat.
Accessibility
Volcanoes National Park's proximity to Kigali, the capital city of Rwanda, makes it easily accessible. A scenic drive of just a few hours allows you to transition from the bustling city to the tranquil wilderness of the park.
In conclusion, Volcanoes National Park in Rwanda offers an unparalleled gorilla safari experience. Its exceptional gorilla population, commitment to conservation, stunning landscapes, and cultural encounters make it the premier destination for those seeking a truly transformative adventure with the world's most magnificent primates. Plan your Gorilla Safari in Rwanda with Kagera Safaris Ltd