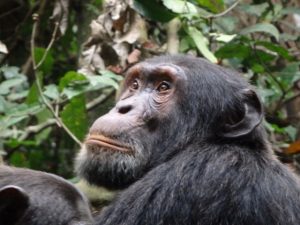 For a 776 square kilometer piece of land, Kibale Forest National Park is a concentrate of nature located in Kabarole District, in western Uganda; overflowing with flora and fauna, with life, color, sound and activity offering the perfect Uganda safari destination. The park offers the best chimpanzee trekking and chimpanzee habituation experiences, great birding with unique birds like the Green breasted Pitta and numerous butterflies. The park is an assortment of a tropical rain forest, Savanna and Woodland, surrounded by crater areas, near Queen Elizabeth National Park and the Rwenzori Mountains.
The Park is famous for its primate diversity and therefore known as the Primate capital of the world. The primates in this park include; Blue Monkeys, Chimpanzees, Grey Cheeked Mangabeys, Red Colobus Monkeys, L'Hoest's Monkey, Black and White Colobus, Red Tailed Monkey, Olive Baboon, Bush Baby and Potto are the among the primates whose presence in Kibale contribute to the diversity the park. Chimp tracking and the habituation experience are must do activities while at this site. Chimp tracking is limited to 6 people per group with morning, mid morning and afternoon departure for trekking. There is an opportunity of a night guided tour where there are chances of sighting the nocturnal primates and birds such as the Bush Baby and Potto, the African Civet, Common Genet, and the Thomas Galagos.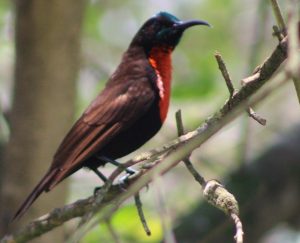 While the primates are where Kibale Forest National Park's story starts, they are not where it ends. For birders, botanists, and butterfly enthusiasts, Kibale National Park is a botanical, bird and butterfly hub. Kibale forest is home to 325 bird species which include;  the Tinker bird, The Green Breasted Pitta, Chestnut Winged Starling, White Naped Pigeon, African Pitta, Tiny Sunbirds, Scarlet chested sunbird, Woodland Wobbler, and Joyful Greybull. Remember to pack your binoculars as these will be handy in guiding your eyes to the birds whose songs echo in the tropical rain forest. For the butterfly lovers, 250 species await you in this forest. The botanist too is not left out because of the diversity in vegetation, from the various tree species, undergrowth, shrubs, and herbs to relish on a forest walk.
While Game drives offer a convenient Safari experience in many of Uganda's national parks, Kibale Forest National Park's acreage, foliage and wildlife is explored on foot making this a 'safari on foot'. What then does a safari on foot entail? A hike, nature walk or a night guided tour are the ways in which you can explore the park. It is by hiking to the crater lakes or through the forest that you might encounter some of animals which are usually difficult to sight. Among these are the Honey Badgers, Elephants, Forest Hogs and even the Golden Cat.
Taking hikes and nature walks in Kibale Forest National Park without exploring the Bigodi Wetlands would leave a loophole in your adventure. With Palms that sway as if in worship of your curious presence and 138 bird species dotting the sky and trees at this site, it would only be polite to beckon to nature's invitation to the beauty that awaits you at Bigodi wetland. If not for the palms and numerous bird species, at least for the Sitatungas found here although rare to sight.
Wildlife, bountiful botanical diversity, birds and butterflies are not all Kibale has to offer; a rich Ugandan cultural and day to day life experience of her citizens is another experience to choose from. Remember to carry a rain poncho and water proof boots. You may need to tuck your pants in your boots to prevent safari ants from biting you. Buckle your boots and explore the adventure that Kibale Forest National Park is!
Some of the Safaris to Kibale National Park
2 Day Uganda Chimpanzee Trekking Safari
3 Days Chimpanzee Trekking Safari in Kibale National Park