Five lakes, Acacia woodland, an assortment of wildlife, woody gorges and rocky ranges are a sneak peek at what Lake Mburo National park is. Sights and sounds are not all this park has to offer but an experience that will stay with you for ages; an experience that can fit in a two day safari or three day safari if that is all you have to spare. It is the smallest park in Uganda with 260 square kilometer acreage yet conveniently accessible and located close to many other sites worth visiting like the Igongo Cultural Center and the Equator. Have you packed your bags and set out to this picturesque site as your choice destination? Well then, here are the top five activities for you to do at Lake Mburo National Park.
Game drives and wildlife viewing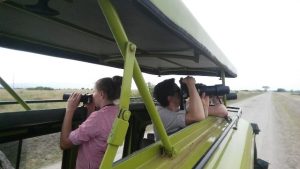 The park is home to 69 mammal species among which are Antelopes, Common Duiker, Defassa Waterbuck, Bofor, Impalas, Buffalos, Bush pigs, Giraffes, Eland, and Zebras. You may explore the wild by hiking, on horseback a safari option only offered at Lake Mburo, bike riding through the rocky rough terrain or a day or nocturnal game drive. The beauty about the variety of means available to explore wildlife at this park, is that the adventure is not only in what you see but also how you see it. The biking safari is a challenging thrill for the cyclists because of the uneven terrain and the horse back safari is a welcome break from the sound of running engines. On a nocturnal drive, there is a chance to see porcupines, bush babies and even leopards! In all this, it is advised that you are guided by an armed Uganda Wildlife Authority (UWA) game ranger to point out birds or mammals you may miss.
Birding in Lake Mburo National park
With 350 bird species found in Lake Mburo National Park, birding is a must do activity. The park is the smallest savannah park in Uganda but has a variety of birds that are easy to see. You have opportunities for forest birds, savannah birds and water birds on Lake Mburo.
The birds in this park include; Red-winged Francolin, Blue-spotted Wood Dove, Brown Parrot, Barefaced Go-away bird, Blue Quails, White-headed and Black-billed Barbet, Greenwood Hoopoe, Blue-breasted and Shining-blue Kingfishers, Lilac-breasted Roller, African-grey Hornbill, Grey Woodpeckers. Wing-snapping Cisticolas, Red-necked spurfowl, Black-bellied Bustard, African-wattled Plover Rufous napped and Flappet larks, Rufous-chested Swallow ,Yellow-throated Longclaw, Black-winged Bishop, Chubb's & Carruther's Cisticolas, the Lesser and Great Swamp Warblers, Black Crake, Common Squacco, Striated, Black-headed,  Herons, Great White and Pink-backed Pelicans,  African Fish Eagleetc.  Warukiri, Miriti, the Rubanga Forest as well as the platform above the salt lick have been acclaimed as being the best birding spots at Lake Mburo National Park.
Guided Nature walks
The park has a bounty of tracks to tread on a nature walk provided you walk in the company of an armed Uganda Wildlife Authority guide. With the hilly terrain of Lake Mburo National Park, a walk to the hilltops to get a panoramic view of the park is one of the nature walk trails available. If taken in the morning, you will chance upon hyenas heading back to their dens, colorful birds and butterflies flying fleetingly all over the park. For a morning nature walk, viewing animals at the salt lick is an ideal one hour experience. There is a safe platform from which to view and take photos without disrupting the animals into running away from sight.  You can also head to and through Rubanga forest but this will require prior notice to the Uganda Wildlife Authority personnel. This forest comes alive with 40 bird species and tree species like the Fig, Palm, Acacia and Markhamia trees, a reward to a birder and botanist.
A boat ride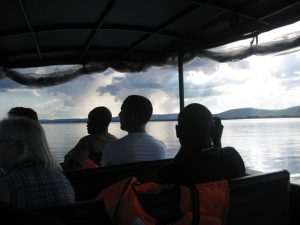 Crocodiles crawling into the water, hippos dunking themselves in the lake to escape the heat at high noon, zebras, antelopes, and buffaloes coming for refreshment during the dry season are sights that await you while on a boat ride. Being up close with these animals in their habitat is one of the best experiences a boat ride can give.
Remember to carry your binoculars and bird book because of the water birds in this vicinity. The no 1 attraction is the elusive African Finfoot and the beautiful Malachite Kingfisher & Pied Kingfisher fishing.
Fishing
While the Park is called Lake Mburo National Park, Mburo is not the only lake here. There are 5 lakes in total but Lake Mburo is the largest of them all. A safari to this lake-filled national park would be incomplete without a fishing expedition or experience. Mazinga has been set aside as the designated fishing spot because it is crocodile and hippo free. For one enthusiastic about sports fishing, it can be done here albeit with a license. The tilapia is a local favorite and one likely to be your catch among the 6 fish species in the lake. You could have your tilapia prepared for you at your place of residence while at the park.
Some of the Safaris to Lake Mburo National Park
2 Days Lake Mburo Wildlife Safari
12 Days Uganda Primates and Wildlife Safari
5 Days Uganda Gorilla Trekking and Lake Mburo Safari
13 Days Uganda Savannah Birding Safari