Uganda is the source of Rive Nile – the world's longest river from where the Nile starts its 4000 mile journey to the Mediterranean sea through to Sudan and Egypt. The source of river Nile is located in Jinja about 1,5 hours from Kampala, the capital city of Uganda. We offer one day Jinja trips for this excursion from the city. Jinja is a hive of many other touristic activities for anyone interested in a weekend gateway from the bustle of the city including all year white water rafting, Kayaking, Jet boating, bungee jumping to kiss the Nile, Squad biking, horse riding by the shores of the Nile etc.
The Nile starts its journey to Egypt from Lake Victoria in Jinja town – eastern Uganda. When you drive out to the source of the Nile, your first encounter are the beautiful gardens in the vicinity. Next is the several craft shops with mostly African pieces sourced from all over the country. You can then visit and photograph several monuments which have a historical attachment to the Nile. For example, Mahatma Gandhi requested that some of his ashes be sprinkled in the Nile after cremation along many other rivers in the world.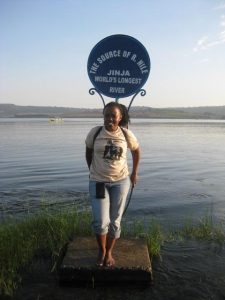 Once on the shores of River Nile, you will take a motorized traditional boat to where the river waters 'start' separating from the lake waters, the spot is clearly marked with a sign post. Over the years because of several dam constructions down stream along the Nile, the water levels have increased up stream making it sometimes impossible to step on the slab by the signpost for photos. However you are still able to take them while in the boat with the sign in the back ground. In the dry seasons when the rains are scanty it is sometimes possible to step on the slab for personal photos. There is amazing scenery all along the Nile as it curves through Uganda with sections through communities where you have sightings of fishermen, gardens along the Nile and homes with energetic beautiful children often excited to see boats on the water. Other sections simply have hotels and factories especially those near the source of the Nile.
Another big section of river Nile is through the protected area of the Murchison falls national park and Karuma falls which is inaccessible by boat or walking because of the huge rocks and falls. Inside the Murchison falls national park, there are great boat trips offered both by the park on Victoria Nile to the bottom of Murchison falls.
Uganda tours to Jinja
1 Day Jinja Tour, Sezibwa falls and Mabira forest Hike
2 Day Jinja Tour and White Water Rafting
Uganda Cities Tour – 4 Days
5 Days Water Rafting, Sipi Falls and Hiking Mt Elgon