At Kagera Safaris, we are commited to providing memorable African Expressions for travelers in Uganda, Kenya, Rwanda, and Tanzania. We do this through personalised holidays with professional exclusive guiding services. We organise tailored itineraries ranging from gorilla safaris, chimpanzee trekking, wildlife safaris, birding tours and community experiences. We are your go to DMC to handle all your on ground activities so that you can focus on marketing.
We want travelers to enjoy the safari destinations without destroying them. We are committed to having the community benefit from tourism through hosting guests and giving part of our profits to organisations that are community focused. Through community tours, we get to employ local site guides, engage in community activities, purchase items from the communities, and support community-managed projects by allocating a portion of our profits to women's groups, local schools, organisations helping children etc.
Because of our interest in community engagement and responsible travel, we dicided to put aside $20 per person that travels with us. In line with this, every end of/beginning of year we add up money from all the people that have traveled with us and we give it towards different projects that are having an impact in their communities. We focus on projects that support children and those that are directly involved in conservation.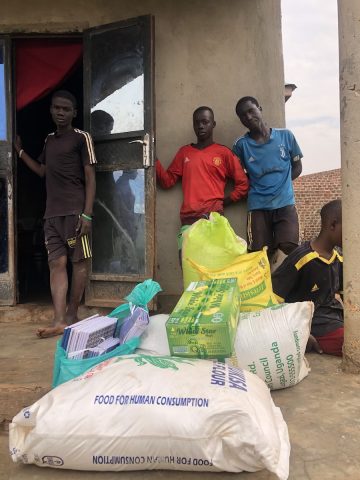 It is from this background that we gave towards Save wildlife Uganda founded by Eric Ndorere. Eric started a community center where locals can be sensitized about the benefits of preserving their environment and co-exist with life. Local women do basketry and crafts which they sell in the craft centre. We contributed basket weaving materials to the women who make these handcrafted materials for self-support. They have many other projects including lion lights, giving goats to families.
We also gave food and scholastic materials to Community Initiative for Children at Risk. We bought books, pens, and pencils among others for the school children. This project provides safe accommodation for the children who are abandoned by their families or those living with ailing grandparents that are unable of taking care of them. Such children would otherwise end up on the streets without an education and possibly doing drugs. The project provides a home for them and alongside this, provides an education, healthcare and opportunities for them to develop their talents in music and sports especially football.
We are very grateful to each one of you that travels with Kagera Safaris. Your money goes a long way – providing employment to those who work in the travel industry and more to the communities who are sometimes on the fringes of society. Together we shall continue to engage and give back for conservation in the long term.