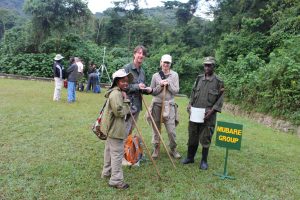 Backpacks and walking sticks, hiking shoes and long sleeves; that was us in the heart of Bwindi impenetrable forest as we waited for briefing from our guide. This was part of the longer Uganda safari where we had already taken a wildlife safari in Murchison falls national park, gone Rhino trekking in Ziwa rhino sanctuary, chimp trekking in Kibale national park, game drives in Queen Elizabeth national park and sighting of the tree climbing lions in Ishasha before the highlight of our Uganda tour – gorilla trekking in Bwindi impenetrable national park.
Beneath our clothes were hearts stomping our chests in a cocktail of fright and anticipation. A few hands trembled as they laced their shoes, nervous chit chat here and there and sheer excitement for others was the ambience preceding our gorilla trekking venture. Our guide's voice shot through our preparatory emotions to take us through a brief orientation. We were not to have sustained eye contact with our evolutionary cousins; to them this was a challenge, almost provocative. Our group was to walk in a single file led by the guide, and we were to keep at least seven meters away from the gorillas. Any contact with them was unacceptable because we would easily infect them with diseases from the germs we had.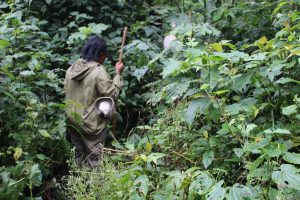 He, our guide, told us we had at least four to six hours in which to find the gorillas. Setting our minds to the task ahead of us, the hike began. The path was clear at fast but with time we went off the trail because the gorillas do not walk in one definite direction that can be followed by a clear foot path. Our journey became more of walking and whipping bushes out of the way at the same time. One had to watch their step and take in the rich green vegetation simultaneously in a single stride. Every branch I had to push aside to clear my way was a constant reminder that I had left behind the comfort of watching Uganda's wildlife in the convenience of a savanna game drive. This was a safari on foot we would have to bear the pain as we would enjoy the gain, I told myself.
Nature, in its gentleness is something better enjoyed in meditative silence and it was in silence that we walked. For some it was out of anxiety or a way of paying homage to the vast beauty we were hiking through or just the dire need to save one's breath for the long hours ahead of us. And there it was! It was not the forest or the wild pigs we had been warned about, it was not the mountain elephant or buffalo but a gorilla! In ten minutes we had seen it! I stifled a squeal at how enormous it was with its gaze fixed on us miniature intruders. We had been warned not to have sustained eye contact yet these were not eyes to look past in a hurry. The rest of my team did not seem thrilled by how quick we had found a gorilla. They had wanted a longer trek something painstaking with a Silverback reward but their cameras were in action capturing and recording our encounter for posterity. The guide then told us that this gorilla would lead us to others I figured that must have been the news my colleagues were longing to hear.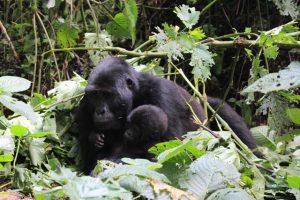 A few times a year, gorilla trekkers find the gorillas after long hour of trekking because they have wandered far away in search for food. I had hoped that amidst profuse perspiration and intense exhaustion I would not experience that. This to me was the luckiest trek ever! Our first encounter had rejuvenated a few panting bodies to move further and find more.  Our next find was the Silverback, every gorilla trekker's reward. He sat in majestic grandeur yet looked at us with almost maternal mildness. I shifted my focus to the young gorillas around him that had before our arrival been involved in what seemed like a sibling fight. They rolled over each other running through the forest with infant excitement. One of the gorillas poked and tried to play with one of the trekkers on my team, yet he could not touch them back especially not under the Silverback's keen gaze lest he get mauled. They seemed to communicate through touch; pats on the back and constantly rolling around in hugs. The Silverback was a multitasking dominant male who had all this while been keeping an eye on the little ones and on us at the same time. The baby and mother bonding and care was one of my highlights.
Watching them go about their daily lives through the shrub network reminded me of my childhood. We often peeped through our neighbors' windows to spy on their breakfast menu or tell how long it would be before our playmate joined us at our morning ritual of hide and seek. This often earned us a spanking for breaching our neighbors' right to privacy yet how often we repeated it. Was I breaching this family's privacy? Whether I was or not, I hoped they would be hospitable enough to let us pry on their pure family unity a little longer.
From my experience, these are some of the considerations before you embark on gorilla trekking
Get a gorilla trekking permit through your tour operator, wear preferably water proof hiking shoes because your feet may get soaked when it rains and it often does and some routes are soggy. Carry a rain poncho, insect repellant, wear long sleeved shirts and pants to avoid being cut by the vegetation and listen to your guide. The age requirement for gorilla trekking starts at 15years and above and if you are unable by virtue of physical disability to hike through Bwindi Impenetrable forest, there are stretchers carried by porters available at a fee; tips depending on the service are acceptable.