Game drives are a highlight of your visit to the Savannah national parks while on your wildlife safaris. Game drives can also be incorporated in your other Uganda and Rwanda safaris like the gorilla trekking, birding safari and cultural safari itineraries by adding extra days to a Savannah national park. They provide the best way to explore the numerous national parks in the custom-made safari vehicles i.e. Safari vans, Land cruisers and the larger coaster buses which are comfortable enough while on safari. In Uganda, the Savannah national parks are Queen Elizabeth National Park, Murchison Falls National Park, Kidepo Valley National Park, and Lake Mburo National Park. In Rwanda, games drives are only done in Akagera National Park which has opportunities of sighting the different animals while in the comfort of the safari cars.
Where to go for game drives
1. Queen Elizabeth national park
Queen Elizabeth National Park found in western Uganda has the greatest biodiversity of any area recorded in all of Africa and is Uganda's most visited national park. This national park boasts of over 600 bird species, which is the highest of any protected area in Uganda and East Africa. The southern sector of the park known as Ishasha is home to the tree climbing lions – often found relaxing in the fig trees after the night and early morning hunting. There are many theories as to why they choose to climb the trees, you can engage your driver guide to learn about some of the possible reasons. The drive between 'the main' Queen Elizabeth i.e. Mweya Peninsular and Ishasha takes about 2 hours depending on the stopovers after sighting different animals en route. The park is home to over 95 mammal species of which some can be seen while on a game drive in the Kasenyi plains, crater area and Ishasha. Some of the big mammals include Lions, Elephants, Buffaloes, Leopards, Hyenas, bush pigs, Warthog, water bucks, bush bucks and Hippos. It is also home to six monkey species which include the beautiful black and white colobus monkey, baboon and Chimpanzees in Kyambura gorge.
2. Murchison Falls national park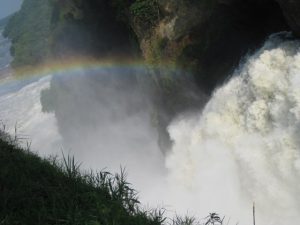 Murchison Falls National Park is the largest national park in Uganda with a stunning semi-arid habitat for a variety of wildlife which make for amazing game drive experience. The game drives mostly happen in the Delta area near Lake Albert but the entire northern bank of river Nile is great for game drives especially early mornings and evening for possible sightings of predators like lions, hyenas and Leopards. The park has numerous tracks which you can take as you search for the animals in the area. Murchison falls NP hosts the meandering Victoria Nile with its source in Jinja off Lake Victoria and the thundering Murchison falls which fall about 43 meters and an almost resident rainbow at the 'Top of the falls'. It is Uganda's oldest park and largest national park supporting herds of Elephants, Cape Buffaloes, and Antelopes, Giraffes, Lions, Leopards and many others It is also home to a rich bird life and was named number nine best birding spot in Africa.
3. Lake Mburo national park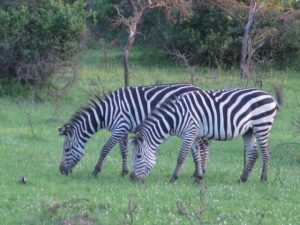 Lake Mburo National Park is the smallest of the Savannah parks in Uganda and the only park with an entire lake within its borders. Game drives in Lake Mburo are not long compared to other parks because of its small size. Many prefer to have walking safaris in this park as opposed to game drives. The other option to game drives are the horse rides and cycling tours in the park past the various animals grazing or resting. Even with its small size, it is surprisingly home to a diversity of plants and animals protecting several species of mammals and birds. It is also the only home to the Impala in Uganda. The iconic animal of Lake Mburo has to be the Zebra with all its beauty and calmness. More mammals to look out for include the Giraffes, Buffalos, Antelopes, Leopards, and Hyenas which are most seen during a night game drive.
4. Kidepo Valley national park
Kidepo Valley National Park is a hidden treasure offering visitors a beautiful wild experience in Uganda. It is semi-desert with two seasonal rivers namely Kidepo and Narus in the rainy season. It was voted as one of the best parks to visit in Africa by CNN travel with such beautiful sunrises and sunsets across the scenery. It has one of the largest prides of lions and herds of buffaloes. It is home to over 77 mammal species can be seen. During the rains you are able to easily find animals all over the park and in the dry season you move towards the water points. The Kidepo valley is all dry during the dry season and a pleasure to visit and walk through the sand which is usually the river bed during the rains. While on a game drive in Kidepo valley national park, you have chances of sighting Lions, buffaloes, giraffes, Zebras, Cheetahs, Kobs, Elands etc.
Wildlife Safaris in Uganda
3 Days Murchison Falls Wildlife Safari & Rhino Tracking
3 Days Queen Elizabeth Park Wildlife Tour Uganda
6 days Uganda Gorilla and Wildlife Safari