This 6 day Rwanda primate safari will give you a chance to participate in two premium wildlife activities in Rwanda; Rwanda Gorilla trekking and Rwanda chimpanzee trekking. Both hikes can be challenging depending on where the chimpanzee or gorillas nested the previous night. The Chimp trekking differs from gorilla trekking because the sightings are a bit more sporadic and rushed. You will also enjoy the Colobus monkey trekking and Golden monkey trekking. 
Safari Highlights 
Kigali City Tour
Chimpanzee trekking
Canopy Walk
Colobus monkey tracking
Gorilla tracking
Golden monkey tracking
Gorilla Guardians village
Optional – Dian Fossey grave Or Visit to the Caves
Itinerary for Rwanda Primate Safari
Day 1: Arrival for Rwanda Primates Safari
Today you arrive for your 6 day Rwanda primates safari. Our driver guide will be at the airport to pick you up and transfer you to your hotel after which you take on a Kigali city tour depending on your arrival time. Some of the sites to visit include Kigali genocide memorial, Kandt Museum and the craft market. If your arrival is in the morning or early afternoon you will start on city tour before transfer to your hotel and if arrival is late afternoon then you will be directly transferred to your hotel.
Drive time – 20 minutes
Day 2: Transfer to Nyungwe forest national park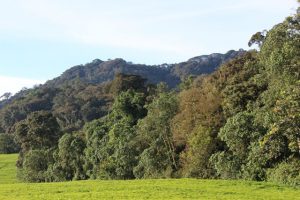 The journey from Kigali to Nyungwe forest national park will keep you a wake as you enjoy the various scenery. Nyungwe forest is located in southern Rwanda en route to Burundi and some parts of the Congo. The tour to Nyungwe forest will start early morning after your breakfast with our first short stopover in Nyanza before proceeding to Huye to tour the ethnographic museum. In Nyanza district there is an opportunity to visit the Kings palace museum which is an alternative to the ethnographic museum. You can discuss with your driver guide on which of the museums to stop at depending on your interests. They both share Rwanda's cultural history but the ethnographic museum has more items and wide coverage. Arrive in Nyungwe forest later in that evening and proceed to our lodge for overnight.
Drive time –  5 hours Or Helicopter (Robinson/ Augusta) – 45 minutes/ 35 minutes
B, L & D
Day 3: Rwanda Chimpanzee trekking & Canopy walk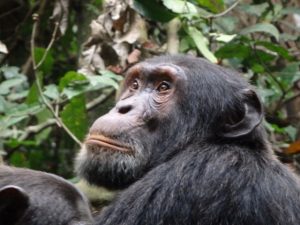 Chimpanzee trekking is an intimate experience with the forest and its inhabitants. Your driver guide will transfer you from your lodge to the briefing area in the forest where you are expected as early as 5.00 am. You will either be at the Uwinka trail head or the Cyamudongo trail head. The ranger guide will share chimpanzee trekking tips for you while in the forest.  The forest is rich with botanical diversity and home to 13 species of primates including Ruwenzori colobus, L'Hoest's monkeys, Red-tailed monkeys, silver monkey, grey cheeked mangabey etc.,about 300 bird species with a number of Albertine rift endemics and several butterfly species.
In the afternoon – take the canopy walk trail from the Uwinka trail head. Enjoy the views of the forest from this walk.
B, L & D
Day 4: Colobus Monkey Trekking and Transfer to Volcanoes national park
Today after breakfast, return to Nyungwe forest for Colobus monkey tracking. Just like chimpanzee trekking, you will have a briefing from the community guide and later visit the forest. You are allowed one hour of watching the Colobus monkeys as they feed, play and groom each other. 
After this experience, leave for Volcanoes national park in the Virunga region. Enjoy the winding roads and scenery of "a thousand hills" driving along Lake Kivu. Arrive at your hotel later that evening. 
Drive time –  6 hours Or Helicopter (Robinson) –  35 minutes
B, L & D
Day 5: Gorilla trekking in Volcanoes national park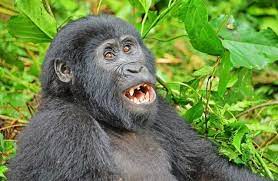 Gorilla tracking in volcanoes national park will be your highlight on this 6 days Rwanda primates safari. The experience coming face to face with the gentle giants in their natural habitat will remain with you forever. After an early morning breakfast, you will carry your day pack and the driver guide will transfer you to the briefing point. Your ranger guide in communication to earlier trackers will lead you to where the gorillas are. The trek can last from an hour to several hours depending on where the gorillas nested the previous night – you need to be relatively fit to enjoy this experience.
After the Rwanda gorilla tracking experience, visit the Gorilla guardians village (Ibyi'wacu village). Learn about the Rwandan culture and engage in some of the activities. 
B, L & D
Day 6: Golden Monkey Tracking and End of 6 day Rwanda Primates Safari
Wake up with memories of the previous day in the jungle with mountain gorillas. Today, you will return to the park for an experience watching the golden monkeys. After the briefing from the ranger guides, drive to the starting point and leave for the trek. Just like gorillas, you are allowed one hour in the presence of the golden monkeys. They are more active than gorillas but will give you a fulfilling experience. 
After this experience, return to the lodge to freshen up, have lunch and then leave for Kigali for your return flight home to your hotel.
Drive time –  2 hours 30 minutes Or Helicopter (Robinson) –  35 minutes
B & L