Mgahinga gorilla national park is home to the Virunga volcanoes shared with Rwanda and DR Congo and home to the Virunga. It is the smallest of all Uganda national parks but filled with engaging activities for any outdoor enthusiast. On this gorilla trekking and golden monkey trekking safari you will be able to explore the beauty of this park. If you are interested in hiking any of the Volcanoes i.e. Sabyinyo, Gahinga and Muhavura, you can choose to extend your  stay. It takes a day to hike to the top of each of these Volcanoes. You can also extend your stay if you want to embark on the Batwa trail in this park giving you a glimpse of how they lived and co-existed with wild animals in this park.
Safari Highlights
Gorilla trekking
Golden monkey trekking
Scenery
Itinerary
Day 1: Transfer to Mgahinga Gorilla National Park
Today after your breakfast your driver guide will transfer you to Kisoro – Uganda at the base of the Virunga Volcanoes. Enjoy the winding roads of the 'thousand hills' and magnificent views of the Volcanoes. Depending on the time you arrive, you will spend some time at leisure in preparation for all the trekking and hiking in the days to come.
Alternatively, you can take a flight from Entebbe to Kisoro airstrip. Please note that these are morning flights due to weather conditions of Kisoro area.
Driver time – 8 hours Or Scheduled Flight 1 hr 50 minutes
4 hours via Kigali
B, L & D
Day 2: Gorilla trekking in Mgahinga Gorilla national park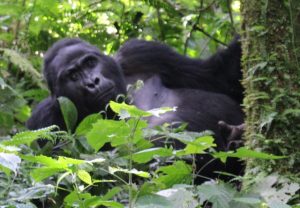 Mgahinga gorilla national park was primarily protected as a conservation measure to the endangered mountain gorillas and golden monkeys among other wildlife. Today you will be transferred to the briefing point inside the park to learn about how to behave and interact with the gorillas in the wild. The ranger guide will then lead you to start your gorilla trek in the park. After hiking some distance depending on the location of the gorillas, you will sight them and spend up to 1 hour with them watching them interact with each other and have their feeding and siesta time .
After your one hour with the gorillas, you will then start your descent back to the briefing point and later your lodge. The experience in this jungle and meeting these enormous creatures will stay with you for life even as you take in the beautiful scenery in his area.
B, L & D
Day 3: Golden Monkey trekking in Mgahinga gorilla national park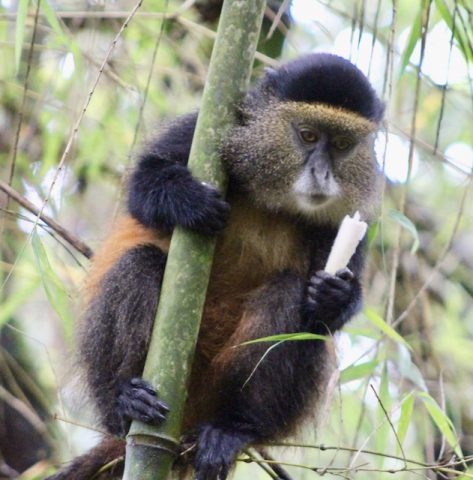 You will return to the park for your golden monkey trekking. Just like the previous day, you receive a briefing from the ranger guide who will share information on what to expect while in the Virunga volcanoes searching for the golden monkeys. After this short brief, you will start your hike up in search of the golden monkeys.
Porters are available for those interested and an enforcement officer will join you to help in case you meet the wild buffaloes and Elephants which can be dangerous. Golden monkeys are swift in their movements unlike the gorillas and you will follow them as they feed. They love feeding on bamboo shoots among other foods like fruits, vegetation and sometimes ants.
You are only allowed to spend 1 hour with the golden monkeys before you start your descent back to the starting point and continue the journey to your lodge or any other activity you have organised for the day.
B, L & D
Day 4: Departure via Kigali or Entebbe
We hope you had an adventure filled stay exploring Mgahinga gorilla national park. Today morning after your breakfast, the driver guide will transfer you to Kigali city and you proceed to the airport for your flight home. Thank you for visiting Uganda with us.
Driver time – 8 hours Or Scheduled Flight 1 hr 50 minutes
4 hours via Kigali
B & L