This 3 days Rwanda chimpanzee trekking safari will give you an intimate experience of tracking chimpanzees in Nyungwe forest national park. Nyungwe forest national park is located in south western Rwanda with great scenic views surrounded by tea plantations. Nyungwe forest is among the few remaining intact tropical forests in Africa. It is home to the Chimpanzees and the largest troops of colobus monkeys found any where else.
Depending on your interests – in addition you can have colobus monkey trekking, forest hikes to waterfalls, Rwanda birding safari. For this particular safari, it is organised specifically for chimpanzee trekking and canopy walk. However depending on the available time on the last day – you can choose to add an extra activity before traveling back to Kigali.
Safari Highlights
Ethnographic museum
Rwanda Chimpanzee trekking
Canopy Walk
3 Days Rwanda Chimpanzee trekking Itinerary
Day 1: Transfer to Nyungwe forest via Ethnographic Museum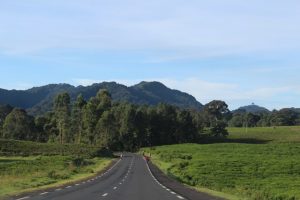 You will depart from Kigali to Nyungwe forest preferably early morning after your breakfast so that we have enough time for stopover at the ethnographic museum in Huye. The ethnographic museum which is also the national museum of Rwanda showcases the historic and cultural aspects of Rwanda through the ages. It has materials and guides to take you through the rich Rwandan culture and history. We will have lunch after the museum experience before continuing on our journey to Nyungwe forest . The roads to Nyungwe after Huye are mostly winding which will give you amazing views of the famous 'thousand hills'. You will be arriving at your lodge not too far from the nyungwe forest later that evening ready to take on the chimpanzee trekking the next day.
Drive time – 5 hours Or Helicopter (Robinson/ Augusta) – 45 minutes/ 35 minutes
L & D
Day 2: Chimpanzee Tracking & Canopy Walk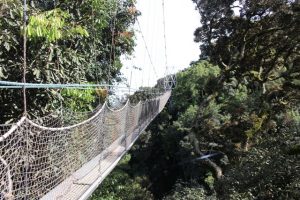 Rwanda Chimpanzee trekking in Nyungwe forest national park starts very early in the morning and so this requires that you leave your lodge as early as 5.00 am to make it to the briefing area. Nyungwe forest has two main trail heads where Chimpanzee trekking happens i.e. Uwinka trail and another at Cyamudongo section. The forest is rich in botanical diversity hosting over 200 species of trees and flowering plants, 13 species of primates including, colobus monkeys, vervet monkeys, red-tailed monkey, 300 bird species with several Albertine rift endemics and several species of butterflies. If it is Cyamudongo, it requires you to drive out for a certain distance and your driver guide will transfer you to the starting point. After the chimp trekking, there is a canopy walk or return to the lodge for the needed time of relaxation and take the canopy walk later in the afternoon.
B, L & D
Day 3: Travel to Kigali from chimpanzee trekking in Nyungwe forest
Today after your breakfast, you start journey back to Kigali from the amazing 3 day chimpanzee trekking safari. You have an option of doing a colobus monkey trekking before embarking on this journey. If interested in this, please let us know in time so we book for the same. Take the last photos of the beautiful Nyungwe forest and transfer to Kigali international airport or your hotel.
Drive time – 5 hours Or Helicopter (Robinson/ Augusta) – 45 minutes/ 35 minutes
L & D