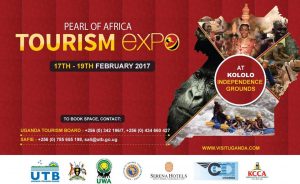 It is Happy Tourism Year from Uganda to you! As new as that sounds, that is what 2017 is bound to be in Uganda. Honorable Ephraim Kamuntu, the Minister of Tourism, Wildlife and Antiquities declared that this will be a year for tourism development for Uganda. It may have been preceded by the International Year of Sustainable Tourism for Development as declared by the United Nations General Assembly and is coming to life in Uganda the home of activities such as gorilla trekking, chimpanzee trekking, wildlife safaris, birding safaris, cultural tours and adventure. January has been the month in which the announcement was made but February will be the debut of tourism activity in particular, the PEARL OF AFRICA TOURISM EXPO! And more is yet to come.
The PEARL OF AFRICA TOURISM EXPO is set to take place from 17-19th February 2017 at the Kololo Independence Grounds and entrance is absolutely free of charge. If you are learning of the expo for the first time, it is important to note it is actually happening for the third time and is organized by the Uganda Tourism Board. Yes, it is time to catch up on the two years you have missed already. This year's theme is Tourism is everybody's business.  The message it sends serves to eradicate the notion that tourism is for foreigners only. Steps have been taken to make tourism more inclusive of both the local and foreign tourists.
The event is open to the general public, youth planning to open tourism clubs and will be a basket of lots of helpful information from different stakeholders to guide you in your decisions. The expo visitors will have a familiarization tour from 6th February ahead of the D-day. The tour will involve activities at the Nile like visiting the source and water rafting. Folklore, traditional dances, poetry and abundant information from the various tourism bodies and organizations is what you can expect and save room for so much more.
Uganda has recently been recognized as number 4 on the top ten leading destinations to be visited in 2017 by Rough Guides a leading travel publisher in the UK. Looking from left to right, there is every reason for you to book a trip to and around Uganda. From the "orange" dust, to the best sweet bananas, from the Rwenzori Mountains to the national parks, from having grasshoppers for snacks to eating Rolexes, there is every reason to pack your bags, buckle your hiking shoes and get soaked into the beauty that Uganda is. Imagine Uganda's beauty served as a meal; have a one day tour of the capital; Kampala for a starter, a safari to Queen Elizabeth National Park, Lake Mburo, Kidepo Valley National Park or Bwindi Impenetrable Forest for your main course, and savor our culture, traditional food and dance at Ndere Centre for dessert.  Mark your calendars and Happy Tourism year from Kagera Safaris to you!