The First AFRICA BIRDING EXPO In Uganda It's here and happening! Uganda birding fraternity together with Uganda tourism board has organized the first Africa Birding Expo, an event that is first for not only Uganda, but Africa as well. Uganda has many tourist attractions which include, birding tours, gorilla tours, wildlife safaris, cultural experiences and adventure travel that make it the best travel destination in Africa. The Africa birding expo draws inspiration from the Birders Glastonbury, an annual British Birding Expo according to afk insider. It is set to take place from 18th to 20th November 2016 and the venue is the Botanical Gardens in Entebbe. While travel writers and other avi tourists have arrived before the expo, birding will go on even after the Africa birding Expo for those that arrive after this. The Africa Birding Expo is a groundbreaking event that will pronounce birding as one of Uganda's best tourist activities and the best birding destination. So, what should birders expect? Simply put, 1061 bird species, over half of Africa's bird species in Uganda. In addition to the Albertine rift endemics, which are on many birders wish list, you have several other species from the different bird habitats found in Uganda.
On a birding safari in Uganda, expect to see some of these bird species and more, shoebill, African Finfoot, Abyssinian Ground Hornbill, Papyrus Yellow Warbler, Carruthers' Cisticola, Papyrus Gonolek, Yellow-billed Oxpecker, Blue-headed, Orange-tufted, Purple breasted, Tiny, Beautiful, Malachite and Regal Sunbird, Strange Weaver, Rwenzori Turaco, Rwenzori, Standard-winged and Bates Nightjar, Bar-tailed Trogon, Lagden's BushShrike, Montane Masked Apalis, Grauer's Warbler, Kivu Ground Thrush, Archer's Robin-Chat, Rwenzori and Ituri Batis. Mountain Illadopses, Oriole-Finch, Montane and Collared Apalis, Handsome, Heuglin's, Nahan's, Red-winged and Forest Francolin, Stripe-breasted Tit, Nkulengu Rail and Black collared Lovebird. Red-rumped Tinkerbird, African Green broadbill, Green-breasted Pita, Spot-breasted Ibis, Hartlaub's Duck, Abyssian Ground Thrush, Uganda Woodland Warbler, Grey-throated Flycatcher, White-bellied Crested Flycatcher, Grey-headed Olive-back, Brown Twimspot, Vinaceous Dove, Chestnut-capped Flycatcher, Cassin's Spinetail, Martial Eagle, Black Bee-eater, African Skimmer, Secretary bird, Senegal Think-knee and many more.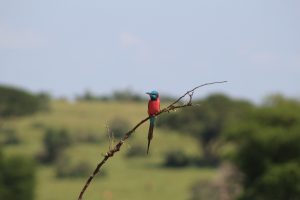 Birding requires more than visual sight of the various birds to involve searching, watching, listening, and learning of and about birds. Binoculars and other bird watching gadgets will be on sale at the Botanical Gardens to equip you with all you need for an exciting Uganda birding adventure. Uganda is truly the Pearl of Africa, the one place where "We don't wear Rolex but eat it" and a true birding paradise!