Explore Rwanda's gorgeous landscapes on an exhilarating tour and marvel at the majestic gorillas who call it home. A gorilla safari in Rwanda provides a once-in-a-lifetime opportunity to see these gentle giants in their natural habitat while also immersing yourself in the fascinating culture and rich biodiversity of this African country. It provides you with a diverse and enriching travel experience.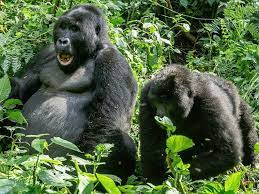 Experiences like seeing gorillas in their native habitat are quite rare. Small groups of tourists are accompanied by knowledgeable trackers and guides. They let you spend some priceless and breathtaking hours while staying just a few feet away from the friendly animals. Encounters with gorillas seem to be a life-changing experience as they let you embark on a thrilling adventure
Soul-stirring Encounters with Wildlife & Mountain Gorillas
The world's best primate tracking may be found in Rwanda, which is surrounded by rolling hills, dense forests, and imposing mountain peaks. Rwanda is home to twelve habituated mountain gorilla families, so it makes sense that most wildlife enthusiasts travel there to follow and observe these critically endangered animals up close.
Highlights:
Get insights into Dian Fossey's life and work;
Go on year-round Rwanda gorilla trekking trips;
Encounter chimpanzees, golden monkeys, and woodland birds;
Explore Akagera national park for the Big 5 and more
Explore Kigali: The Modern Heartbeat of Rwanda
Set out on a thrilling gorilla safari in Rwanda that includes a tour of the fascinating city of Kigali. It seems to be the excellent starting place for your Journey! It evolved from its turbulent past to become one of Africa's friendliest capitals. The bustling malls packed with distinctive boutiques and inviting coffee shops to lively marketplaces make Kigali the spirit of Rwanda! Its cleanliness, security, and friendliness feature create the ideal atmosphere for your gorilla safari! The city, which is tucked away among lovely hills. It has plenty of things to keep you busy for several days.
Highlights:
Immerse yourself in the lively ambiance of the Kigali Cultural Village, take part in art workshops, and listen to live music performances.
Indulge to taste the world's best Fair-Trade coffee at the Hingakwa Women's Coffee Cooperative while tasting the strong flavors.
Plan your trip to coincide with one of Kigali's exciting events such as the Kigali Film Festival, Hobe Rwanda Festival, or the Kigali Fashion Show which highlight the city's vibrant culture.
Pay respects to the somber past at the Genocide Memorial Center and remember the genocide victims.
Gorilla Safaris in Dian Fossey Gorilla Fund & Ellen DeGeneres Campus
The renowned Dian Fossey spent two decades researching the critically endangered mountain gorillas on the lush, bamboo-covered slopes of Rwanda's Virunga Volcanoes. The same settings that enthralled filmmakers for "Gorillas in the Mist" now present an exceptional opportunity for you to directly participate in the enormous work of protecting this species while also witnessing one of the most unforgettable animal encounters. You may significantly contribute to conservation efforts by going gorilla trekking and interacting with local scientists in their cutting-edge research facilities.
Highlights:
Take a fascinating 2-hour behind-the-scenes campus tour with a passionate gorilla researcher to learn more about their work and the difficulties they confront.
Spend a half-day at the Price Research Center participating in hands-on conservation projects to develop a stronger bond with gorillas and their natural environment.
Improve your comprehension of gorilla conservation through a private masterclass led by professionals in the area,
Enjoy the exhilaration of gorilla trekking while being escorted by a researcher from the Dian Fossey Gorilla Fund.
Convenient Journey Combined with Other Destination
Rwanda offers unparalleled convenience for travel. You can integrate it with several captivating destinations seamlessly. It could be the easiest and most accessible gorilla trekking experience due to its compact size and efficient transportation infrastructure. Upon arriving in the vibrant capital city of Kigali, you are just a few hours away from the legendary Volcanoes National Park, where authentic and awe-inspiring gorilla family encounters await. Furthermore, Rwanda effortlessly harmonizes with other renowned safari destinations, such as Kenya and Tanzania!
Highlights:
Seamless combination with Big Five safari destinations and enchanting island escapes.
Optimize your travel with convenient fly-in options and fully customizable itineraries tailored to your preferences and interests.
Enjoy the most accessible gorilla trekking experiences in Rwanda, that ensure a smooth and immersive encounter with the majestic creatures.
Extend your gorilla trekking adventure by venturing into neighboring countries like Uganda or the Congo. It let you unveil even more captivating wildlife and breathtaking landscapes.
Enjoy gorilla safaris with carefully crafted tour itineraries to deliver personalized custom adventures. Need a short gorilla safari tour in Rwanda? We offer a 6-day Rwanda primate safari or a longer trip covering Rwanda, Uganda, and Congo! Contact us to build your extraordinary gorilla safari adventure! We will make a rewarding tour tailored just for you and assign the best private guide for your adventure.