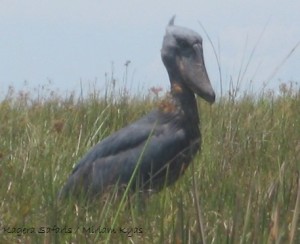 This site is the latest addition on the locations of the famous sought after Shoebill in Uganda. The Shoebill can only be found in Uganda, South Sudan, and Zambia. In all the mentioned countries the best chances of seeing this bird are in Uganda – standing at 90%. Uganda has several sites where it is possible to watch the Shoebill and we are glad that another site has been added to the list.
Makananga is a wetland bay on Lake Victoria along Kampala Masaka highway at Kamengo trading center. The drive to Makananga Wetland from Kampala takes about one hour and is through villages giving one opportunities to view people as they go about their daily chores. However along the way it is also evident that there is population explosion which is clearly fueling deforestation and encroachment on the wetland.
This site is a perfect place for birders who are interested in the endangered Shoebill and other water birds. For those not so keen on birds but are interested in the shoebill then I recommend this site. The adjacent forest is home to several bird species that nest there and visit it for food. Birds are also found in the agricultural/cultivated lands providing good bird watching spots.
Birds to look out include; Shoebill, Black-and-white casqued Hornbill, Crowned Hornbill, African Pied Hornbill, Angola Swallow, Grosbeak weaver, Weyns weaver, Great blue Turaco, Swamp Flycatcher, Olive bellied Sunbird, Grey rumped Swallow, Blue-breasted Bee-eater, Madagascar Bee-eater, African Jacana, Yellow billed duck, Knob billed ducks, Little stilts, Spur winged goose, Malachite Kingfisher, African Fish Eagle, Grey headed gulls, Spur winged Lapwing, Ruff, Squacco Heron, Spur winged tilt etc.
Kagera Safaris arranges half day birding trips to Makananga Wetland Bay. Contact us for an exciting birding safari to this site.