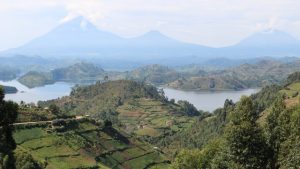 Kisoro town is a conglomerate of nature's best features; scenic landscape, mountain gorillas, golden monkeys, undulating hills, fresh water bodies and volcano peaks peering through the hazy atmosphere. In this variety of beauty is a little lake called Mutanda. It stands 14 kilometers away from Kisoro town and is huddled at the base of the three volcano peaks; Muhabura, Gahinga and Sabinyo which together make up the Mgahinga gorilla national park. A panoramic view of the peaks is what your eyes are bound to behold upon your arrival at Lake Mutanda. The destination for many travelers that set out to Kisoro is Lake Bunyonyi, making Lake Mutanda the less explored beauty yet there is every reason not to skip this scenic site when you plan your gorilla safari, birding safari or wildlife safari to Uganda.
In the expanse of its fresh waters is a bounty of activities you could engage in on your visit to Lake Mutanda. A dive into the fresh waters for a swim is a good way to start, given the fact that the water is bilharzia free. As you rise above the waters to catch your breath, your sight may glance upon fellow travelers enjoying a traditional canoe experience with the local fishermen. Though some prefer the comfort of a motor boat to soar the waters in record time, the rocky hand paddled canoe will give you the thrill of the adventure and the time you need to bird. The ibis, kingfishers, great cormorants, grey crowned crane, the weavers and the sunbird are among the species you will tick off your birding checklist upon visiting Lake Mutanda. For the fishing experience, there are some local fishermen to guide you through the typical Ugandan fishing process so you could save your catch for a bonfire grill!
Away from the water and onto the Islands, cave exploration beckons the curious mind, to learn the way the people thrived back in the day. A cultural performance of the traditional dances is often your goodbye package at the site or later in the evening after your day of adventure. It is also worth noting that the location of Lake Mutanda gives easy access to the Mgahinga Gorilla National Park because of the closeness of the two sites. The park offers your eyes the landscape view of the all the surroundings at a 360 degree gaze.
Nature walks, mountain biking and volcano climbing will only serve to make your trip to Lake Mutanda an eventful one you won't forget. There is beauty in nature, yet Lake Mutanda is by far the source of nature's beauty.