Are you thinking about taking one of the best safari tours in Africa? Why don't you add Uganda – the Pearl of Africa to your Africa safari tours bucket list?
Uganda is a beautiful country in Africa blessed with diverse landscapes and abundant wildlife species. Located in the heart of East Africa, Uganda offers safari-goers a unique and truly captivating safari experience. If you are wondering why you should embark on a journey through Uganda's captivating wilderness, continue reading this post and find out:
Exploring the Mountain Gorillas –
Uganda stands out as the home to the endangered mountain gorillas. Spot these magnificent creatures in the lush forests of Bwindi Impenetrable National Park and Mgahinga Gorilla National Park. Book the Uganda safari package and take this opportunity to trek through dense vegetation. You will come face-to-face with these gentle giants. You can observe their behavior, and hear their soft hoots which are best to experience in person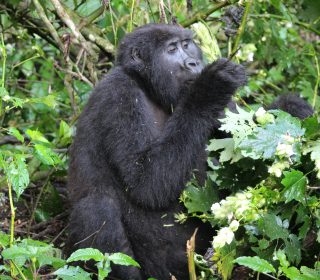 Unveiling the Spectacular Wilderness –
Apart from the mountain gorillas, Uganda safari tours take safari goers on an exploration of spectacular wilderness in the national parks. Every national park has its own unique charm and wildlife encounters. Queen Elizabeth National Park, Kidepo Valley National Park, and more are wholeheartedly welcoming you to explore their vast savannahs, teeming with iconic African wildlife species.
You can spot huge herds of elephants, giraffes roaming the plains gracefully, majestic lions on the prowl, and abundant bird species. The wildlife diversity in Uganda will leave you in awe while offering amazing opportunities for extraordinary wildlife encounters as well as photography.
Admiring the Mighty Murchison Falls –
A Uganda safari tour is incomplete without visiting the Murchison Falls National Park. In the Murchison Falls, the Nile River squeezes through a narrow gorge which makes a breathtaking spectacle as it plunges into a frothing cascade. You can take a boat safari along the Nile and see hippos, crocodiles, and water bird species.
In addition, a hiking tour to the top of the falls will give you a panoramic view that will take your breath away for sure. Murchison Falls is a true testament to Uganda's splendid natural grandeur and a must-see highlight of African safari adventure.
Connecting with the Ugandan Culture –
Apart from the wildlife, you should add an experience of rich cultural heritage to your Uganda safari package. You can interact with local communities and learn about their traditions, dance forms, and the way they live their life. Connect with the warm and welcoming UgandanS, visit traditional villages, and experience their vibrant culture. These cultural encounters will make you appreciate the country's diverse tapestry of cultures while leaving a lasting impression on your safari tour.
Spotting the Beautiful Birds –
Uganda is a picturesque paradise for bird lovers with its huge concentration of over 1,000 bird species. From the prehistoric-looking shoebill in Mabamba Swamp to the colorful Great Blue Turaco in Kibale Forest, Uganda gives bird lovers an unforgettable experience like no other. Whether you are an avid birding enthusiast or a casual observer, the varied landscapes of Uganda and expert birding guides will allow you to enjoy an avian adventure to treasure forever.
Final Conclusion –
So, you should plan an Uganda tour with Kagera Safaris and explore the perfect blend of adventure, wildlife encounters, cultural immersion, and breathtaking natural beauty. From trekking to spot the endangered mountain gorillas to exploring expansive savannahs teeming with iconic African wildlife species, our Uganda safari package will captivate your senses and give you an everlasting experience.
Browse our available Africa safari tours and itineraries and let Kagera Safaris embark on an extraordinary journey through the Pearl of Africa, where adventure and wonder are waiting to be explored at every turn.