While on your Rwanda safari you can add an experience of Rwanda cycling tour. This will give you a different feel from the car and hiking opportunities. You will explore the communities close by and benefit from exercising and enjoying the freshness from the countryside. This 2 days Twin lakes biking tour will give you more time and experience of the northern province compared to the 1 day Twin lakes cycling tour.
Itinerary
Day 1: Transfer from Musanze to the Twin Lakes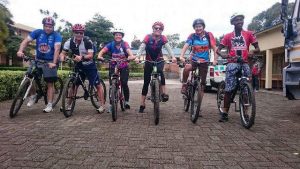 The tour starts from Musanze early morning on the first day together with your cyclist guide. You will cycle towards the twin lakes close to the border of Rwanda – Uganda namely Lake Burera and Lake Ruhondo. The cycling tour will take you through different small towns and the villages where you will have extended time interacting with the locals is this is of interest to you.  Because you have 2 days, you can afford to have stopovers and engage with the children who are usually open to interact with the riders. You will arrive at the twin lakes and order for your lunch before exploring the area further with a short hike. You can overnight in a village and get close to the people while enjoying the country side. Alternatively you have an option of staying at the beautiful Ruhondo Resort overlooking Lake Ruhondo.
Cycling distance: 50 km
Cycling time: 5 – 7 hours
Camping/ Guesthouse
Day 2: Transfer back to Musanze via Rugezi Swamp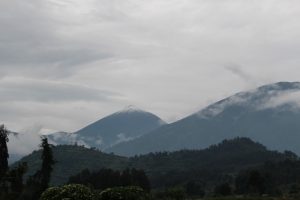 Today you will wake up with beautiful views of the Virunga Volcanoes which will offer opportunities for great photos depending on the weather. You will sight five of the Virunga volcano peaks depending on the weather. After your breakfast, you start the cycling trip with a stopover at one of the biggest swamps of in Rwanda called Rugezi swamp in case you missed it the previous day. For those who are interested in birds, you may have a few minutes to sight some birds before continuing on the trip.  Enjoy the scenery one  last time before starting the journey back to Musanze. Again you will meet lots of children who are excited at seeing cyclists in their areas. You can choose to stop by and say hello on continue on depending on the time.
Cycling distance: 55 km
Cycling time: 5 – 7 hours
Difficult: challenging
On this trip you will descend between  900 to 1000 meters whereas the climb is about 800 to 1000 meters
What to bring for Rwanda Cycling Tours
Camera
Rain jacket
Sunscreen
Water bottle