The safari activities available in Uganda are 'endless'; the high diversity of activities make Uganda a prime destination that is able to provide memorable experiences to a range of interests. Safaris include tracking Mountain Gorillas, Chimpanzees and Golden Monkeys; Bird watching – Uganda boasts of over 1050 bird species with Bwindi Impenetrable National Park named Africa's No1 Birding Spot; Game viewing – with several herds of elephants, buffaloes and the famous tree climbing lions of Ishasha; Other activities include hiking the beautiful mountains, white water rafting, canoeing, kayaking, boat safaris and cultural experiences.
Whether you prefer camping or enjoy the comfort of an incredible lodge & tented camp, our focus is on quality, professionally guided safaris. Our tour leaders together with driver guides and on-site guides across the country provide a great service. Our guides are highly experienced, passionate, enthusiastic and knowledgeable about the species in their ecosystems.
The numerous activities available will allow you to build an itinerary to suit your interests and ensure a truly memorable experience. The Kagera team has visited the destinations and accommodation we offer to make sure everything meets our high standards. Although we have sample itineraries, we aim to create custom safaris that take you "- off the beaten track -".
Below we have written short descriptions to further highlight these activities.
1. Bird watching in Uganda
Uganda was identified for birding safaris over 100 years back by Sir Frederick Jackson, former Governor of the Uganda Protectorate, and keen ornithologist, who described Uganda as a " hidden Eden…and a wonderland for birds". Uganda is home to over 1050 bird species and definitely a preferred destination for bird watching – It has 24 of the Albertine rift endemics.
Uganda's avian diversity takes over in different habitats which are home to over 1050 bird species making it a preferred destination for birders/ bird watching and the richest African birding destination. Bwindi Impenetrable National Park voted Africa's number one birding spot is home to 23 of the 24 Albertine Rift endemics found in Uganda whereas Murchison Falls National Park was voted number nine.
Uganda has the combination of West Africa vegetation, Central African and East Africa making it home to species from these areas. The habitats for birds are also numerous ranging from Lakes, rivers, wetlands and papyrus swamps, forests, savannah, agricultural lands, woodlands, rocky ridges and Afro-pine moorland.
Birding in Uganda happens both in protected areas / natural reserves and in private lands. A birding trip to Uganda will leave you with a memorable experience.
Some of the Birding Sites across the country to Choose from Include but not limited to;
Budongo Forest Reserve
Bwindi Impenetrable National Park
Kampala and Environs-Entebbe Botanical Gardens,Mabamba Wetland, Lutembe Bay
Kibale National Park
Kidepo Valley National Park
Lake Mburo National Park
Mabira Forest
Mgahinga Gorilla National Park
Mpanga Forest
Mt Elgon National Park
Queen Elizabeth National Park
Rwenzori Mountains National Park
Semuliki National Park
Tooro-Semliki Wildlife Reserve
2. Gorilla & Chimpanzee Tracking – Primate Safaris
Gorilla Tracking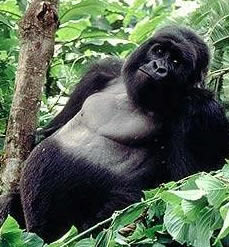 The Forests of Uganda, Rwanda and DR Congo support the last surviving families of mountain gorillas in the world. Their large size is in contrast to their calm nature and they have co-existed with humans in these forests for years.
Uganda hosts more than half the surviving gorillas and the rest are shared between Rwanda and Congo. The population of mountain gorillas is estimated at about 720 individuals. Trekking Gorillas in Bwindi Impenetrable National Park often requires stamina and patience as it can take hours of walking in the misty, dense forests – however, this in itself is an unforgettable experience. The Gorillas are often found in the undergrowth feeding on and enjoying the vegetation – grooming each other. The silverback is very protective of the family but harmless, if frustrated it will grunt and beat its chest before moving off with the females, offspring and mature males.
We are able to purchase Gorilla tracking permits for you in advance.
Chimp Tracking
Chimpanzees are man's closest relatives, they share about 99% of genes that we have and they adapt to their environment and develop tools much like humans. Visitors can track Chimpanzees in several places in Uganda: Kyambura Gorge, Kalinzu, Budongo and Kibale Forest.
Kyambura gorge is an exceptional underground forest in the middle of the otherwise savannah national park. The forest has about 20 chimps but can be difficult to spot because of the habitat. One is likely to come across Hippos and elephants as they look out for Chimps; and on rare occasions lions have been spotted in this gorge
Kalinzu forest has about 40 Chimps habituated for visitors but the entire forest is home to over 300 individuals. The rate of Chimps sighting is about 50%. The forest is a beautiful scene with dense vegetation and flowing streams. The trek requires good fitness levels. Numerous monkeys call Kalinzu forest their home.
Tracking Chimpanzees in Budongo Forest is a rewarding experience. This is the largest natural forest in East Africa and boasts the largest population of Chimpanzees in Uganda.
Finally Kibale forest – also known as the primate capital of the world offers a very large chimpanzee population (over 120 habituated chimps and 1400 in the forest) for viewing and is very popular – with as many as 6 groups tracking each day. Their success rate is around 90%. The forest is home to about 11 different primates including; black & white colobus, red-tailed monkey, red colobus monkeys, baboons,
For those with limited time and interested in Chimpanzees a visit to Ngamba Island Chimpanzee Sanctuary gives you an up close experience with Chimps. The sanctuary is an island on Lake Victoria about 30 minutes from the Entebbe pier. The Chimps are orphaned and were rescued from snares and poachers.
We are able to purchase Chimpanzee tracking permits for you in advance.
Golden Monkey Tracking
Golden Monkeys in Uganda are only found in Mgahinga National Park. These creatures are an endangered species. Tracking these small and fast creatures is not easy but can be a very rewarding experience. Along the tracking trail you will enjoy great sceneries of the volcanoes and several species of birds. You will spend an hour with the Golden Monkeys once you have spotted them.
3. Wildlife Safaris
Game drives
Game drives are a highlight in the Savanna parks, namely; Queen Elizabeth National Park, Murchison Falls National Park, Kidepo Valley National Park and Lake Mburo National Park. In these parks the tourists watch wild animals in their natural habitats – an unrivalled experience as they drive through the park in the custom made safari vehicles.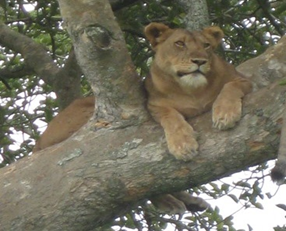 Queen Elizabeth National Park has the greatest biodiversity of any area recorded in all of Africa is Uganda's most visited park. The streams, rivers and lakes in this park connect to the river Nile which flows all the way to Egypt. The park boasts over 600 bird species which is the highest of any protected area in Africa. The southern sector of the park known as Ishasha is home to the Tree climbing Lions – often found relaxing in the fig trees. The park is also home to over 95 mammal species including Lions, Elephants, Buffaloes, Leopards, Hyenas, Warthog and Hippos. It is also home to six monkey species; the lovely black and white monkey, baboon and Chimpanzee in Kyambura gorge. No wonder it is considered to be the most varied and beautiful park in Africa.
Murchison Falls National Park is a beautiful semi-arid habitat for a variety of wildlife. It enjoys the meandering Victoria Nile with the thundering Murchison Falls where one finds a resident rainbow at the 'Top of the fall'. It is one of Uganda's oldest parks and the largest national park. The park supports herds of Elephants, Cape Buffaloes, and lots of Antelopes, Giraffes, Lions, Leopards and many others. It is also home to a rich bird life and was named number nine best birding spot in Africa.
Lake Mburo National Park is the smallest of the Savannah parks in Uganda and the only park with an entire lake. Despite its small size it is surprisingly home to a surprising diversity of plants and animals harboring several species of mammals and birds. It is one of the two parks where we find Zebras and Elands in Uganda, the other being Kidepo Valley. It is also the only home to the Impala in Uganda. More mammals to look out for include; Buffalos, Oribi, Defassa, Antelopes, Leopard and Hyenas most common at night. In Lake Mburo one is able to do horseback Safaris and guided nature walks. The African Finfoot can be found here.
Kidepo Valley National Park is indeed the hidden treasure in the Wilderness. Nestled in the north eastern corner of Uganda bordering South Sudan and Kenya, it is semi-desert with two seasonal rivers namely Kidepo and Narus that disappear in the dry season. This is by far the most beautiful and wild experience anyone can experience. It was voted as one of the best parks to visit in Africa by CNN travel. The scenery in this park is priceless especially with the sunrise and sunset. It has one of the largest prides of lions and is home to over 77 mammal species can be seen both on foot safaris and game drives.
Boat Cruise
Boat Safaris occur on the rivers and lakes located in both protected and unprotect areas. They are lead by guides with keen eye for spotting all kinds of wildlife including the aquatic bird species that love wetland and papyrus swamps.
The Kazinga Channel found in Queen Elizabeth national park connects Lakes Edward and George and is rich in wildlife. Along this channel you will find a range of mammals, birds and reptiles providing great
photographic moments as they come to the water's edge to drink, cool off or search for food.
A boat cruise along the Nile to the foot of the Murchison Falls is a rewarding experience for anyone who indulges in it. The river banks teem with a variety of mammals – elephants, hippos; monitor lizards, crocodiles and birds – African fish eagle.
Lake Mburo is a compact lake that offers a tranquil experience for those who choose a boat safari. It is home to Hippos, Crocodiles, monitor Lizards and a variety of birdlife. The two hour boat ride will allow you to enjoy this 'little' lake.
Nature Walks
Nature walks to the Top of Murchison Falls can be done after a cruise on the Nile. One can disembark the boat and take a walk up the hill to enjoy the scenery around the world's most powerful waterfalls. More foot trails are found in Kaniyo Pabindi and Rabongo Forests with sightings of numerous primates and birds. More walks are possible along the swamps especially for those in search of the Shoebill and more water birds.
Queen Elizabeth offers endless opportunities for nature walks from amongst its varied habitats. The trails range from forests to savannah and swamp walks. These include visits to Lake George in search of the semi-aquatic Sitatunga antelope and elusive Shoebill, Katwe Salt Lake to experience traditional salt mining and Kyambura gorge for a variety of primates including Chimpanzees.
Mgahinga National Park has hiking opportunities along the foothills of the Virunga volcanoes. This experience allows one to get close to nature and offers the chances of spotting forest birds along with captivating views of the surrounding lakes and agricultural villages. Those who choose this will get the chance to see a variety of wild vegetation including the bamboo forests.
Forest Walks in Bwindi can last between 2 – 5 hours which provide opportunities to see the variety of mammal species hidden in this impenetrable forest. There are ten primate species including Chimpanzees, L'Hoest, red tailed and blue monkeys; black and white colobus and the nocturnal bush babies. There is a variety of butterflies and birds – 23 Albertine Rift endemics found in Bwindi.
Guided walks in Lake Mburo National Park will explore the salt lick, a place often frequented by wildlife, where viewing is facilitated from a timber platform. A visit to Rubanga forest will offer opportunities to enjoy a variety of birds. More activities include horse riding and squad biking inside the national park.
Kibale Forest provides a rewarding day hike that lasts about 3 hours. On this hike one is likely to interact with the huge number primates and mammals found in the forest. The list of bird species in Kibale is over 375 in number. A night nature walk is available for those in search of nocturnal animals and birds like Bush babies, Pottos, Genet cats, Civets, Bats and Owls.
Nature Walks in Kidepo Valley gives the visitors close viewing of the wildlife. Animals likely to be viewed include; Elephants, Zebras, Reedbuck. The park offers a variety of scenery and trails.
The foothills of the Rwenzori Mountains offer great opportunities for nature walks that are simply breathtaking. You will traverse the forested vegetation enjoying the scenery along the way including – waterfalls, butterflies and amazing bird life.
Semuliki National Park offers nature walks to the Hot springs. The hike to the male and female hot springs offers opportunities of primate sightings along the way like red-tailed monkeys, black-and-white colobus monkeys and grey cheeked mangabey. A highlight of the hike is the opportunity to cook eggs and plantains in the female hot springs.
Enjoying the slopes of Mount Elgon in a nature walk is rewarding with views of the Karamoja plains. The walks are peaceful with Sipi falls in the vicinity. Look out for sightings of mammals and numerous bird species.
4. Cultural & Community Experiences
Cultural Trails
The Batwa Trail: The Batwa were formally known as 'Pygmies 'and they inhabited the dense forests at the foot of the Virunga for Centuries – long before the encroachment of agriculturalist, herders and establishment of national parks. They are a hunter gatherer tribe that lived in the forest and depended on it for food and medicine purposes. They were forced out of their natural habitats with no alternative land putting many of their traditions at risk as they struggled to both adapt and be accepted by the modern world. Batwa people also had a vast knowledge of forest plants, especially for medicinal purposes, they could track bees to find their hives and collect honey and had a whole range of techniques for hunting and gathering. It was customary for this knowledge to be passed on orally through dancing, song and storytelling.
Garama Cave: This is one of the caves where the Batwa King resided and fought the neighboring Bantu. The distance to the cave entrance from the park headquarters is 3 km and it takes about 4 hours to walk there. Your guide will show you how the Batwa lived and fought out of the cave. The cave is 342m in length, 14m deep and is now inhabited only by bats.
Ankore: These are from the Bantu group of people that were a mixture of Cattle keepers and Cultivators. The Ankore are comprised of two sub-groups namely the Bahima and Bairu. The Bahima were nomadic pastoralists but due to a population explosion have had to settle and raise their cattle on farmlands. They have a rich culture centered on cattle and milk products. Come and learn more about their unique lifestyle and be a part of it for some hours. The Bairu on the other hand were mainly cultivators who would derive livelihood from ploughing the land and hunting. The daily chores are centered around gardening and in the recent past started they keeping cattle. Come and experience a typical day in their life.
Bagisu lived on the slopes of mountain Elgon for centuries. They have a unique culture with several interesting practices especially rites of passage from boyhood to manhood called Imbalu. They adopted Coffee growing and this region produces some of the best coffee in the world. Come and learn more about their culture and livelihood.
Community Visits
Kagera Safaris supports community based projects which not only supports the local people but also provides travelers with an opportunity to take an active role in community life and appreciate the daily lives of the Ugandan people. You can add this program into your itinerary.
Visit Local Community / School: The walk to visit the local community can last about 2 to 3 hours in all and is not that strenuous, suitable for a more easy-going day. Along the way it takes you through local villages where stops can include a basket maker, blacksmith and school among others.
Buhoma Village Walk is the first community initiative in Uganda's eco-tourism zone. It starts and ends at the Buhoma community rest camp located at the entrance to Bwindi Impenetrable National Park. The sites along this route are: Tea/Coffee Farms, a waterfall, Distillation site of local gin, banana-beer brewing demonstration site, a traditional local medicine healer, a school, bird-watching in a community woodlot and a Batwa (pygmies) music and performance site. It takes approximately three hours to visit all the sites; however visitors are free to choose the sites of particular interest and opt for a shorter itinerary.
5. Mountain Hiking
The Rwenzori Mountains are Africa's highest mountain ranges and are a UNESCO World Heritage Site. They form a natural border between Uganda and DR Congo. The highest peak on this mountain is Margherita Peak on Mt Stanley at 5109m above sea-level which is snowcapped throughout the year. It is the third highest peak in Africa after Kilimanjaro and Mt Kenya and strenuous to climb. Various hiking opportunities are available depending on the experience you are looking for.
Hiking Mt Elgon provides opportunities to explore Caves that were left by moving lava, Jackson's Pool and different vegetation whose characteristics are dictated by altitude and rainfall. It's capped by one of the world's largest caldera. The highest peak is at Wagagai standing at 4,321m.
Climbing Volcanoes
The Virunga Volcanoes are a chain of 8 Volcanoes located in Uganda, Rwanda and DR Congo. Three of these are in Uganda's Mgahinga Gorilla National Park.
Muhavura Volcano lies at 4127 m and is the highest peak in this park. The name means "The Guide" in the language of the Batwa. The top has a crystal clear lake about 36m wide. The top of this Volcano provides panoramic views into Rwanda and Uganda – providing plenty of photographic moments. The hike takes about 8 hour's round- trip covering 12km.
Sabinyo Volcano lies at 3660m and is the second highest peak in the park. The name meaning 'Old Man's Teeth' is taken from the rugged summit divided by deep gorges. This volcano offers three challenging peaks to climb. A climb up the mountain to the peak involves walking a ridge with breath-taking drops into gorges in Rwanda and Uganda. The final hike up to the peak is steep with several ladders and scrambling. Once at the top you will be in Rwanda, the Democratic Republic of Congo and Uganda at the same time. The journey takes about eight hours round-trip to cover the 14km stretch.
Gahinga Volcano lies at 3474m and is the smallest of the Virunga Volcanoes. Its name means "Small Pile of Rocks". A hike takes you about six hours round-trip, going through a pure Bamboo forest. Gahinga once had a Crater Lake on top but time has since transformed it into a lush swamp.
White Water Rafting
Uganda is the source of the mighty river Nile (the longest river in Africa and second longest in the world) and is home to some of the best white water rafting in the world. Warm water, stunning scenery and year-round sunshine make white water rafting here unique – rafting is possible all year round. The thrill and excitement of the Nile rapids are matched by the tranquility of the pools between them and the vibrant bird and wildlife.
In Conclusion
Our safari guests can immerse themselves in Africa's broad savannahs, Culture and remarkable wildlife, knowing that every detail is taken care of by Kagera Safaris.