On this 8 days Rwanda cultural and gorilla safari experience the authentic Rwandan culture and heritage coupled with the amazing gorilla trekking experience. The drive to the countryside of Rwanda will grant you beautiful views of the Rwandan landscape the land of a thousand hills. You will visit Akagera national park and thereafter a pastoral cultural home to engage in activities surrounding the cow.
Safari Highlights
Game drives
Cultural and community experiences
Boat ride
Gorilla tracking
Photography moments
Itinerary 
Day 1: Arrival for a cultural experience of Rwanda
On arrival, you will be welcomed by our driver guide from the airport. If your flight is early morning, you will take a Kigali city tour before traveling to Akagera national park.  If in the late afternoon, you will over night in Kigali.
Meal plan – Dinner
Accommodation
Up market – Kigali Radisson Blu
Mid-range – Heaven Boutique Hotel
Budget – Yambi Hostel
Day 2: Game drive in Akagera national park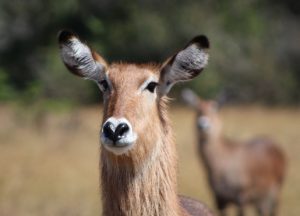 We shall start with a morning game drive in the northern part of the park where we look out for some of the large mammals in this area. They include Elephants, Giraffes, Zebras, Buffaloes and the recently re-introduce lions. There was human wildlife conflict in this area which was solved by fencing one side of the park near communities.
In the afternoon, we shall do a boat ride on Lake Ihema or you can choose to relax at the lodge. We will overnight in the park eager to experience the community the next day.
Journey time – 2 hours
Meal plan – Breakfast, Lunch & Dinner
Accommodation
Up market – Magashi Camp
Midrange –Ruzizi tented camp
Mid-range – Akagera game lodge
Day 3: Visit a homestead for a Rwandan cultural experience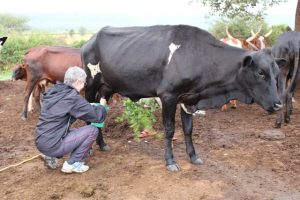 Eastern Rwanda is relatively flatter than most of the country and preferred by the pastoralists. We will visit a homestead of cattle keepers and engage in the different activities. We start early morning with milking cows with hands as opposed to machines. The herdsman will guide you on how to soothe the cow and milk it. After the session, you set the cows for the days grazing. You also have lessons on how milk is converted traditionally into different products like ghee and yoghurt.
Meal plan – Breakfast, Lunch & Dinner
Accommodation – Local Homestead or Guesthouse in the vicinity
Day 4: Transfer to Volcanoes national park
After breakfast, we relieve the cultural experiences in the homestead and transfer to the volcanoes national park. The park is located in northern Rwanda about 2 hours from Kigali. You have several photography opportunities as you travel north to the volcanoes. We will arrive to the lodge later that evening ready for the gorilla hike the next day.
Journey time – 5 hours
Meal plan – Breakfast, Lunch & Dinner
Accommodation
Up market – Five Volcanoes
Mid-range – Le Bambou gorilla lodge
Budget – Garden palace Hotel
Day 5: Gorilla trekking in Volcanoes national park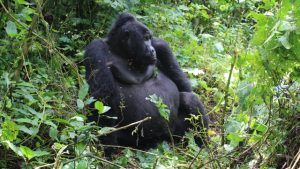 Have an early breakfast and transfer to the gorilla briefings area at the park headquarters in Kinigi. After briefing, you will be given a gorilla family and allocated a ranger guide to lead your group in the forest. Your driver guide will advise on whether you need to drive abit before you start on the trail head to the jungles of the Virunga Volcano.
This experience in the wild is like no other and  one you will remember the rest of your life when you come face to face with  a mountain gorilla family. You can only spend one hour  locating them after which you start the trek back.
Meal plan – Breakfast, Lunch & Dinner
Day 6: Gorilla Guardians Village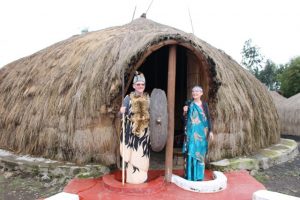 Today we will transfer to the gorilla guardians village which was formerly known as Iby'iwacu cultural village. Part of the day will be spent here learning about how the Rwandan people lived in their community traditionally which is climaxed by experience of having a King and Queen. Enjoy a traditional dance performed by the group, and learn about how they made traditional beer and local cuisines.
The other part of the day will be spent in the community where you will visit a village home and be part of their daily life. You will prepare a meal together with them and after enjoy eating this same meal.
Day 7: Lake Kivu – Fishing Village tour
After a relaxed breakfast, we transfer to Gisenyi on the shores of Lake Kivu for relaxation and activities on the lake. Lake Kivu is a beautiful lake bordered between Rwanda and Congo in western Rwanda. On the menu today is taking a boat ride to the Napoleon island, take a visit to the hot springs or simply relax at the beach or by your hotel.
You can also spend time exploring the Gisenyi area especially the fishing village. You learn and participate in the traditional fishing methods and fish preservation by the fishermen plying the waters of Lake Kivu.
Meal plan – Breakfast, Lunch & Dinner
Accommodation
Up market – Lake Kivu, Serena
Mid-range – Inzonzi lodge
Budget – Paradise Malahide
Day 8: End of the Rwanda Cultural Experience Safari
We hope its been worthwhile exploring Rwandan cultural heritage and community experiences with an addition of game drive and mountain gorillas in Rwanda.  After a late breakfast, we shall transfer to your hotel in Kigali or the airport for your flight back home.
Tour includes
Gorilla trekking permit
Community experiences
Ground transport per 4WD
Bottled water
Full board accommodation
Park entrance fees
Boat trips
Game drive
Service of an English-speaking driver guide
All mentioned activities except for the optional ones
Tour Excludes
Extras at the accommodation i.e. drinks, telephone, laundry etc.
Tips to porters and driver/ guide
Insurance
Gorilla Trekking Tips
Mountain gorillas live at high altitude and this may cause difficulties for some visitors. You should pace yourself and drink plenty of water.
Warm clothing is advised as the trekking is done at 1,700 m above sea level so is generally quite cold.
Recommended clothing is long trousers and long sleeved sweaters or shirts while in the forest to avoid insect stings.
Waterproof hiking boots are essential and rain gear useful.
Carry your day pack with lunch or some snacks.
Eating, drinking and smoking near the gorillas is forbidden – designated time and place will be communicated.
Photography is permitted, although you must not use flash
Porters are available to help you carry your day pack for a small charge.