This 20 days safari will give you an opportunity to experience the scenery, nature and wildlife of Uganda. You will start with Murchison falls national park the largest national park well known for its thunderous water falls. You will then proceed to Kibale forest national park where you will do chimpanzee trekking after which you will transfer to Kasese and start on the Mt.Rwenzori Hike/Mt. Stanley before transferring to Bwindi impenetrable national park and ending your safari in Uganda with a gorilla trek.
Safari Highlights
Chimpanzee Trekking
Gorilla Trekking
Rhino Trekking
Hiking Mt. Rwenzori/ Mt. Stanley
Bigodi Wetland Sanctuary
Game drives in Murchison Falls & Queen Elizabeth National Park
Boat Safari on River Nile
Boat Safari on Kazinga channel
Day 1: Arrival to Uganda
Your 20 days Uganda safari begins on this day with your arrival at Entebbe International Airport where you will be welcomed to Uganda by a Kagera Safaris representative. You will then be transferred to your hotel.
Journey time– 20 minutes
Meal Plan –Dinner
Up market – Hotel No. 5
Mid-range – The Boma
Budget – Secrets Guest House
Day 2: To Murchison falls national park via Ziwa Rhino Sanctuary

Have an early breakfast and depart for Murchison Falls National Park. The journey with a stopover at Ziwa Rhino sanctuary route to track Rhinos. You will receive a briefing about Rhino tracking from the ranger guide after which you will start the experience.
After this experience and photo session, the tour continues to the park with a stop at the 'top of the falls' where River Nile is forced through a 7-meter gorge with a thunderous fall.
Meal plan – Breakfast, lunch & Dinner
Journey time – 4 hours
Up market – Baker's Lodge
Mid-range – Pakuba Safari Lodge
Budget – Murchison River Lodge (Comfortable Camping tents)
Day 3: Game drives and Boat cruise on River Nile

Murchison Falls National park is the biggest in Uganda and offers fulfilling game viewing. The game drives start early morning right after breakfast which increases the chances of sighting different animals especially the predators that tend to go into hiding during the heat of the day. The game drive happen in the northern bank of River Nile, where we look out for giraffes, elephants, hartebeest, Buffaloes, Leopards, Lions and different bird species.
In the after-noon, the safari will continue on River Nile – Nile boat safari towards the mighty Murchison falls. The relaxed boat safari provides more opportunities for spotting a variety of animals and birds and falls from. You have an opportunity to watch the falls from below.
B, L & D
Day 4: Transfer to Kibale Forest national park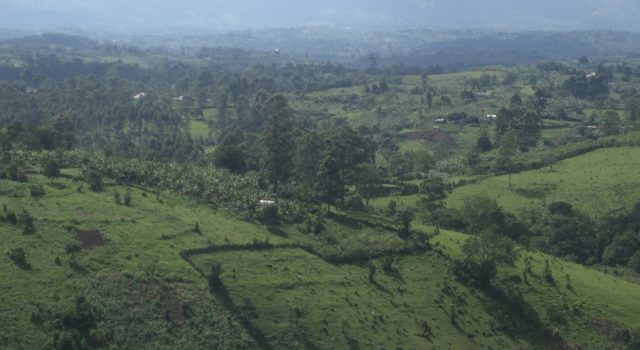 Kibale forest national park is the best safari destinations for chimpanzee trekking in Africa. Enjoy views of beautiful scenery and photography moments as you journey to the park. On arrival you will check in to your lodge and rest as you look forward to tomorrow's chimpanzee trekking activity.
Journey time– 6 hours
Meal plan – Breakfast, lunch & Dinner
Up market – Papaya Lake Lodge
Mid-range – Turaco Treetops
Budget – Chimpanzee Guest House
Day 5: Chimpanzee trekking and Bigodi Swamp walk

Today after breakfast you embark on the chimpanzee trekking activity, chimpanzees share 97% of man's DNA and are referred to as man's closest relatives.  The trek starts with a briefing from your ranger guide about your chimpanzee trek. The chimpanzee trek is an experience that offers you at opportunity to view these primates in their natural habitat. After locating the chimpanzees you are allowed to have one hour with them.
In the afternoon you will visit the Bigodi wetland sanctuary a fascinating area owned and run by the community. It is rich in bio diversity with several primates' species like mangabey, red tailed monkeys, and black & white Colobus monkeys. In addition to the wetland, you will visit the community for a coffee experience, banana beer brewing, basketry, medicine man etc.
B, L & D
Day 6: Transfer to Kasese

Today you will transfer to Kasese where you will overnight in preparation for your hiking experience that starts tomorrow morning. Enjoy the drive to Kasese as it winds by beautiful crater lakes and different farms owned by the community.
Journey time– 2 hours
Meal plan – Breakfast, lunch & Dinner
Up market – Equator Snow Lodge
Budget – Sandton Hotel
Day 7: Briefing and hike of Mt.Rwenzori/Mt.Stanley

After an early breakfast, you will be transferred to the briefing area where you will meet your guides. After this experience, you will then drive up to the trail head (1667m) and start the walk along a path that is above the Nyamwamba River to the UWA rangers post at 1727 meters. Today you will start the walk at  1,667 meters climbing to 3,171 meters (8.6 km).
After lunch you continue to climb steadily passing a rock shelter (2,785m) which enters through the bamboo zone and becomes steeper. As you get out of the bamboo zone you will be treated to magnificent views of hills and to the far end Lake George and Queen Elizabeth. Today you overnight at Samalira Camp at 3,147 meters.
Day 8: Hike up to Kiharo Camp

You will start with a hike crossing a small stream right after breakfast. The climb becomes steep for about 200 metres up a narrow moss covered ridge.  After a relatively short climb the trail becomes less steep as we pass over Chavumba then cross a small flat valley to climb up a steady ridge through moss covered trees and misty forests to the top of the ridge. Here we descend steadily and have lunch at Polies Rock Shelter.
After lunch we climb to the Nyamwamba River for 1.6km though old giant heathers covered in moss to Kiharo Camp.
Day 9: Hike past Nyamwamba River 

Today start the hike at 3380 meters and ascend past Bamwanjara pass and then descend to Kachope lakes. Enjoy the beautiful scenery of these mountain ranges. As you continue with your hike, you will pass by the Nyamwamba River and climb along the valley floor with giant lobelias. You will retire to the third camp at the end of the day which is at 4065 meters. Have dinner at the camp by the fire and then retire to bed.
Day 10: Transfer to Camp 4

This morning you start the day early. Enjoy the stunning scenery of the main peaks which you can see clearly on a good weather day – Mt Stanley, Mt Speke in the centre and Mt baker. At the end of the day you will climb to Camp 4 where you will retire for the night.
Day 11: Hike past Kitandara Lakes and overnight at Camp 5

Today's hike will be less strenuous as you will walk past Kitandara lakes and hike past the valley to Lake Bujuku and Mt Speke. Your night will be spent at camp 5 today as you take your well-deserved rest as you look forward to tomorrow's hike.
Day 12: Hike up to Magherita Peak and descend to Camp 4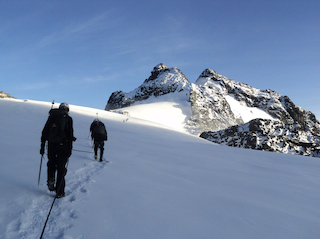 Wake up at 2 am so that you can hike up and catch the sun as it rises over Mt Baker for stunning views of the sun rise. Margherita glacier has suffered with global warming and as the outer edges of the glacier recede the ice is becoming steeper with one section of about 200 meters more than 60% grade. Combined with this much of the blacker has melted underneath causing caves under the ice and as it get thinner eventually caves in. So is necessary that clients understand and take advice of where the guides suggest to pass. 
For those clients with less mountaineering experience we suggest that you stay on Stanley glacier and climb up to a good vantage point on a rocky outcrop on the southern edge of Alexandra Peak to enjoy fantastic views over Congo and the lower mountain ridges
After ascending the peak at 5,109 metres you then pass directly down to Hunwick's Camp at 3874 metres.
Day 13: Hike to Kiharo Camp
The distance from Hunwick's Camp to the top of Olivers Pass is 3km The trail then cuts across below Weismann's Peak to the confluence of the Nyamwamba River which flows down thought Kilembe and Kasese to Lake George in Queen Elizabeth National Park.
After crossing the confluence the trail meanders down the valley to Kiharo Camp at which is situated in a deep valley with high cliffs and dense vegetation. On the way down the valley after each bog you will climb over a ridge of stones and earth which seems out of place but actually was pushed there by slow moving glaciers which eventually stopped moving, melted and left a pile of rocks and debris in front of where the glacier once stood.
Day 14: Descend past the Namusangi Valley

Today you will descend past the Namusangi valley as you pass through large areas of grass. The descent will take you past waterfalls, moss covered valley eventually you will enjoy amazing views of Mutinda peaks. Overnight will be at Mutinda Rock Shelter where the rangers will set up a camp fire and then you will have dinner.
Day 15: Last day hiking and Transfer to Queen Elizabeth NP

Today is the last day of your hike,  descend to Kilembe valley and Kasese town. Walk down the final distance through the montane forest to the ranger's post where you will receive a debriefing from the rangers and then end your hike.
Your driver guide will be waiting down for you to transfer you to your hotel.
Journey time– 1 hour
Meal Plan – B, L & D
Up market – Kasenyi Safari Camp
Mid – range – Twin Lakes Safari Lodge
Budget – Elephant Hab Lodge
Day 16: Game drive and Boat Safari

After your breakfast you will go for a game drive during which you will look out for sighting of elephants, water bucks, kobs and also look out for the elusive leopards and lions. This offers an excellent opportunity for photography moments during the game drive and opportunity to watch the animals feed and stroll in the national park.
In the afternoon you will take a relaxing boat ride on Kazinga Channel, you will have an opportunity to look out for different species of birds on the banks, hippos, crocodiles and many other experiences.
B, L & D
Day 17: Transfer to Bwindi Impenetrable National Park

On this day you will transfer to the home of mountain gorillas – Bwindi Impenetrable National Park. Bwindi impenetrable National Park is also home to bird species, butterflies, primates and mammals. As you travel enjoy the beautiful scenery to get a real feel of Uganda and enjoy the terraced hills of Kigezi highlands. Lunch will be along the way or at the lodge depending on the time of arrival.
Journey time– 4 hours
Meal plan – Breakfast, lunch & Dinner
Up market – Buhoma Lodge
Mid-range – Buhoma Haven Lodge
Budget – Ichumbi Gorillla Lodge – Standard room
Day 18: Trekking Mountain Gorillas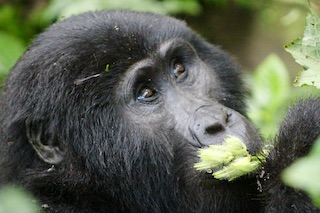 Today you will hike through the impenetrable forest in search of the endangered mountain Gorillas. After briefing from the ranger guide you start your hike into the forest, however some Gorilla groups are away from the briefing point so your guide will drive you to starting point.
Enjoy the day in the impenetrable forest, you have up to one hour with the gorillas once you locate them. You are advised to keep reasonable silence while watching them.
B, L & D
Day 19: Transfer to Kampala/Entebbe

Today morning you will transfer to Kampala from Bwindi impenetrable national park. Enjoy the beautiful landscape of several hills. You will have a stopover at the Equartor monument for craft shopping after which you will proceed to Kampala or Entebbe for overnight.
B, L & D
Journey time – 8 hours
Up market – Hotel No. 5
Mid-range – The Boma
Budget – Secrets Guest House
Day 20: Departure
Thank you for choosing to visit Uganda and allowing us plan your safari. We hope you had a fantastic time exploring this beautiful country. You will be transferred to the airport depending on your flight time.
B & L
Included in the Price

Park entrances
Chimpanzee Trekking
Gorilla trekking
Mt.Rwenzori Hiking/ Mt. Stanley
Ground transport per 4WD custom made for safari
Bottled water in the safari vehicle
Game drives
Boat rides
Full board accommodation as mentioned in the itinerary
Service of an English-speaking driver guide
Driver allowances and park fees for vehicle and driver
All mentioned activities except for the optional ones
Excluded in the price:

Extras at the accommodation i.e. drinks, telephone, laundry etc.
Tips to porters and driver/ guide
Insurance
Availability of accommodation, permits and activities is not guaranteed until confirmation.
Terms and Conditions – https://www.kagerasafaris.com/index.php/terms-and-conditions
Other Rwenzori Hiking Safaris
10 Day Hiking Rwenzori & Gorilla Trekking Safari
11 Day Summit Margherita Peak on Rwenzori Mountains
15 Days Hiking Rwenzori and Exploring Wildlife Safari