This 15 day Uganda birding & Primates safari in Uganda will take you to the major forests and national parks in Uganda. We will start with Murchison Falls National Park which is home to over 450 bird species and 76 mammal species with a wide range of habitats for birds. Kibale National Park protects a large block of rain forest that with excellent birding opportunities of over 300 bird species including the sought after Green breasted Pitta and has the highest concentration of primates in the World. The tour will continue to Bwindi Impenetrable National Park which is home to 23 of Uganda's 24 Albertine Rift endemics. We shall end with Lake Mburo national park which has varied habitats supporting over 315 species of birds.
Key Species
Malachite, Purple-breasted, Regal, Scarlet-tufted Sunbird's, Rwenzori Turaco, Archer's Robin Chat, African Green Broadbill, Handsome Francolin, Rwenzori Batis, Collared Apalis, Dusky Crimsonwing, Green breasted Pitta, Yellow-billed Barbet, Bar-tailed Trogon, Lagden's Bush-Shrike, Waller's Starling, Dwarf Honey-Guide, Oriole Finch, Doherty's Bush-Shrike, Red-headed Malimbe, Grey-headed Sparrow, Dusky Twinspot, Rwenzori Nightjar, Cassin's Hawk Eagle, Toro-Olive Greenbul, Black Bee-eaters.
Habitat
Forest, Acacia Savanna, grassland, Agricultural lands, Riverine Forest, Moist woodland, Borassus Palm Savannah, Papyrus Swamps, Lakes and rivers
Itinerary
Day 1: Arrive for the Uganda Birding and Gorilla Safari
On arrival at Entebbe international airport you will be received by a representative of Kagera Safaris to start your Uganda birding trip and there after transferred to your hotel for overnight. Depending on time of arrival, you have an opportunity to visit the Entebbe Botanical gardens
Journey time –  20 minutes
Accommodation
Up market – Hotel No 5
Mid-range – The Boma
Budget – African Roots Guesthouse
Day 2: Transfer to Murchison falls NP via Ziwa Rhino Sanctuary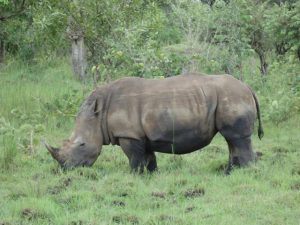 We start the day early driving to Murchison falls national park with a brief stopover at Ziwa Rhino Sanctuary. You have opportunities of birding en route stopping by the roadside whenever your guide sees birds of interest.
On arrival at Ziwa Rhino sanctuary, you will register and receive a briefing from the ranger guide before taking the trek to the Rhinos. Depending on their location, you might start right from office or drive part of the distance. After this we transfer to Murchison falls national park to continue birding in Uganda's largest national park. Depending on location of the lodge we might have some evening birding before retiring for the day.
Journey time –  5 hours
Meal plan – Breakfast, Lunch & Dinner
Accommodation
Up market – Bakers Lodge
Mid-range – Pakuba Safari Lodge
Budget – Murchison River Lodge (Tents)
Day 3: Birding in Murchison falls national park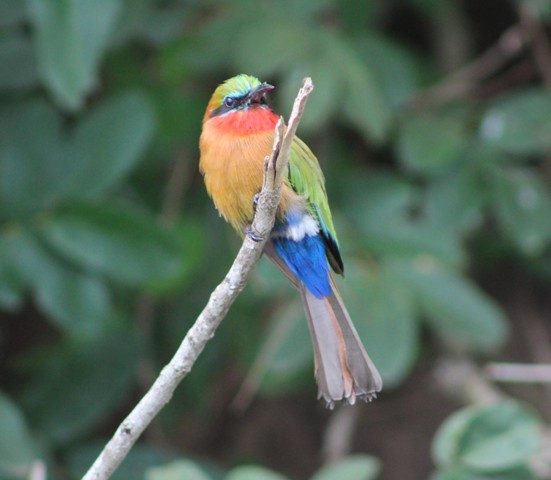 We have an early morning breakfast and then go birding on a game drive. We will carry packed lunch with us depending on location of lodge to maximize our time in the field sighting savanna birds along other wildlife.
We will look out;  Secretary Bird, Red-necked Falcon, Vinaceous Dove, Red-throated, Swallow-tailed and Carmine bee eaters, White-breasted Cuckoo-shrike, White-fronted black chat, Abyssian Ground hornbill, Abyssian Roller, Black-billed Barbet, Brown-backed Woodpecker, Spotted Morning Thrust,  Bronze-tailed Starlings, Northern Red Bishop, Red-winged Pytilia, Black-bellied Firefinches, Black-rumped Waxbill and many more.
B, L & D
Day 4: Birding to the Delta on River Nile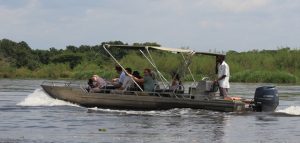 Take a morning boat to the delta in search of water birds. While on the boat, we will look out for; Little Grebe, Great White and Pink-backed Pelicans, Allen's Gallinule, Black Crake, African Crake, Black-crowned Crane, Egyptian, African Pygmy, and the Spur-winged Gooses, Storks like; the Saddle-billed, Open-billed. More birds include, Woolly-necked, the Little Bitterns, Night Heron, Black Heron, Goliath Heron, Purple Heron, Green Backed Heron, Common Squacco Heron, Great and Long-tailed Cormorants, the African and Eurasian Spoonbills, the Lesser Flamingo, Lesser Jacana, African Finfoot, Painted Snipe, Wattled Plover and more.
B, L & D
Day 5:  Birding to Kibale forest National Park
Today we journey to Kibale National Park which is home to 13 primate species and slightly over 300 bird species with the Green breasted Pitta being the most sought after. This is a long drive but there are a few good birding spots along the way which you will maximize – the major stop will be in the escarpment for some species like;  Beautiful sunbird, Chestnut-crowned Sparrow Weaver, Buff-bellied Warbler, Marsh Tchagra, Green-backed Eremomela, Foxy Cisticola, Cinnamon-breasted Warbler, Copper Sunbird, Long crested eagle, , etc.
Journey time –  7 hours
Meal plan – Breakfast, Lunch & Dinner
Accommodation
Up market – Papaya Lake Lodge
Mid-range – Turaco Treetops
Budget – Chimpanzee Guesthouse
Day 6: Kibale forest birding for Green breasted Pitta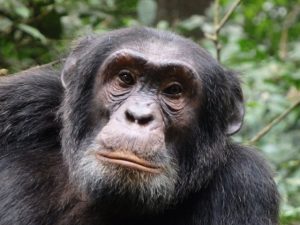 We will start birding early morning when the birds are active and beginning to feed. One of our key species we search for today is the Green breasted Pitta, other bird species include the Western bronze-napped Pigeon, Yellow-throated Nicator, White-headed Wood hoopoe, Red Headed malimbe, Yellow-spotted barbet, Dusky-blue Flycatcher, Great blue Turaco etc.
In the afternoon, we join other teams for chimpanzee trekking experiences. This will be time of finding the chimps on their afternoon feeding session after a brief rest from the morning feeding. This entire exercise can take a total of 3 hours, starting at 12 pm. Your tour guide will lead you to the briefing area where you will join other teams on the chimp trekking and a ranger guide to lead the way.
B, L & D
Day 7: Birding Bigodi Swamp & Transfer to Queen Elizabeth NP
Have breakfast and after transfer to the Bigodi Swamp for more birding. This is a community initiative to protect the buffer zones of Kibale forest giving the chimps and other wildlife from the forest a bigger home and helping control the human-wildlife conflict.
After this morning session, you will them prepare to leave for Queen Elizabeth national park which is home to 600 bird species, the biggest of any protected area.
Journey time –  2 hours
Meal plan – Breakfast, Lunch & Dinner
Accommodation
Up market – Kyambura Gorge Lodge
Mid-range – Twin Lakes Safari Lodge
Budget – Bush Lodge
Day 8:  Birding at the Mweya Peninsular & Kazinga Channel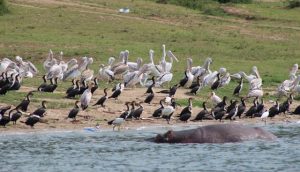 Today we will bird the Mweya Peninsular and Kasenyi area where most of the game drives happen and end with a boat safari on Kazinga channel in the afternoon.
Look out for; African Skimmer, Malachite Kingfishers, White-winged Terns, Swamp Fly-catcher, Grey-capped Warbler, Grey-headed Kingfisher, African Jacana, Pin-tailed Whydah, Martial Eagle, Gabon Nightjars. Great and Long-tailed Cormorants, Common Squacco Heron, African Skimmer, African Fish Eagle, Verreaux's Eagle-Owl, Sedge Warbler, Papyrus Gonolek, Papyrus Canary, Great white and Pink-backed Pelicans, African Mourning Dove, African Open-billed Stork, Yellow-billed, Egyptian Goose, a number of Gull species,  to mention but a few.
B, L & D
Day 9: Birding our way to Bwindi Impenetrable national park
Transfer to Bwindi impenetrable national park early morning for the Albertine rift species: Grey headed Negrofinch, Black billed weaver, Black necked weaver, Stuhlmann's starling, Pink footed puff back, Bocage's bush-shrike, Ludher's bush shrike, blue headed sunbird, Ross's and Black billed Turaco. There will be several stops birding through Ishasha sector of Queen Elizabeth as you transfer to your lodge arriving in the park later in the afternoon.
Journey time –  3 hours
Meal plan – Breakfast, Lunch & Dinner
Accommodation
Up market – Buhoma Lodge
Mid-range – Haven Lodge
Budget – Buhoma Community Lodge
Day 10: Birding & Gorilla trekking in Bwindi Forest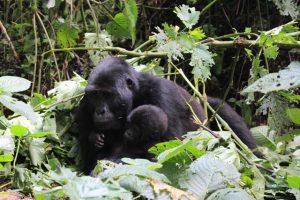 For those interested in Gorilla trekking, you will spend the morning watching these enormous creatures.
Otherwise we will be birding along the water fall trail for the Narrow-tailed Starling, Waller's Starling, Montane Oriole, African Golden Oriole Strange Weaver, Brown-capped Weaver, Dusky Crimsonwing, Yellow-bellied Waxbill, Magpie Mannikin, Yellow-crowned Canary, Thick-billed Seedeater, Streaky Seedeater, African Green Broadbill, Oriole Finch, Mountain Buzzard, Handsome Francolin, Black-billed Turacco, Barred Long-tailed Cuckoo, African Wood Owl. More species; Rwenzori Nightjar, Bar-tailed Trogon, Cinnamon-chested Bee-eater, (Western) Bronze-naped Pigeon, Red-chested Owlet, Tullberg's Woodpecker, African Broadbill, Western Green Tinkerbird, African Green Broadbill, Lagdens Bush-Shrike, Petit's Cuckoo-Shrike, Grey Cuckoo-shrike, Toro Olive-Greenbul, White-bellied Robin Chat, Olive Thrush, White-tailed Ant-Thrush, Grauer's Rush-warbler, Neumann's Warbler and Red-faced Woodland Warbler.
B, L & D
Day 11: Birding to Ruhija sector via "the Neck"
Today we transfer to Ruhija sector of Bwindi forest via 'the neck' a forest stretch linking Buhoma to Ruhija. Birds to look out for include; Yellow-billed Waxbill, Black Saw-wing, Chubbs' Cisticola, Grey Apalis, Augur Buzzard, Petit's Cuckoo Shrike, Black, Cinnamon-chested Bee-eaters, Mackinnon's Fiscal, Northern Puffbacks, Chestnut-throated Apalis, Red-throated Martin, Yellow White-eye, Yellow-bellied Kite, Speckled-rumped Tinker birds. African Stonechat, Grey Cuckoo Shrike, Stripe-breasted Tit, Mountain-masked Apalis, Red-faced Woodland, Montane Yellow Warbler, Northern Double-collared Sunbird, White-tailed Blue Flycatcher, Yellow-whiskered Greenbul, Lead-colored Flycatcher, Black-necked Weaver, Red-bellied Paradise Flycatcher, Yellow-spotted Barbet.
Journey time –  2 hours
Meal plan – Breakfast, Lunch & Dinner
Accommodation
Mid-range – Bakiga Lodge
Budget – Broadbill forest camp
Day 12:  Birding the Mubwindi Swamp trail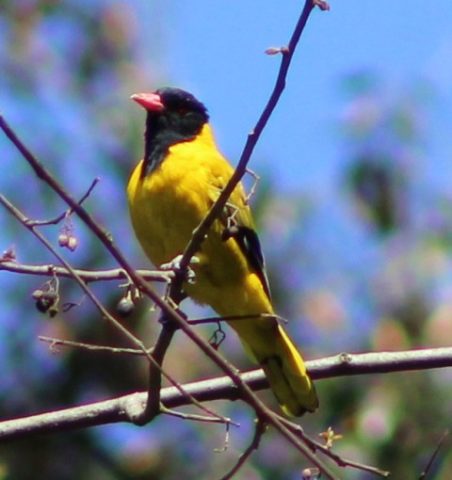 After breakfast we will take the trail that leads to the Mubwindi swamp which falls steep in the forest.  For anyone interested in this area, please be ready to hike down to the swamp and back up on a steep trail, enjoy watching and listening to some of the most difficult to find of all Albertine rift endemics.
Ruhija is the best place to bird for most of the albertine rift endemics: the beautiful Regal Sunbird, Archer's Robin-Chat, Grauer's Rush warbler, Grauer's broadbill & Caruther's cisticola, handsome francolin, African Hill babbler, Banded Prinia, Shelley's Crimsonwing, Collared Apalis etc.
B, L & D
Day 13: Bird watching to Lake Mburo National Park
After breakfast, we bird to Lake Mburo National Park with birding stops along the way before arriving at our lodging. Depending on time of arrival, you might first check in to your lodge or simply proceed the park for evening birding.
Journey time –  4 hours
Meal plan – Breakfast, Lunch & Dinner
Accommodation
Up market – Mihingo Lodge
Mid-range – Rwakobo Rock
Budget – Eagles Nest
Day 14: Birding in Lake Mburo National Park
Today after an early breakfast we leave and start birding. In the midmorning, we will take a boat trip on Lake Mburo after which we continue birding in the savannah and woodlands. Species to look out for include the; Red-winged Francolin, Blue-spotted Wood Dove, Brown Parrot, Barefaced Go-away bird, Blue Quails, Common Button Quail, White-headed and Black-billed Barbet, Greenwood Hoopoe, Blue-napped Mousebird, Blue-breasted and Shining-blue Kingfishers, Lilac-breasted Roller, African-grey Hornbill, the Nubian, Buff-spotted, Brown-eared, and the Grey Woodpeckers. Trilling, Stout, and Wing-snapping Cisticolas, Black-bellied Bustard, African-wattled Plover, Rufous napped and Flappet larks, Rufous-chested Swallow, Yellow-throated Longclaw, Black-winged Bishop, Chubb's, the Lesser and Great Swamp Warblers, Black Crake, Common Squacco, Striated, Goliath, Purple, Black-headed, Grey, and Black-headed Herons, Great White and Pink-backed Pelicans, the African Fish Eagle, among others.
B, L & D
Day 15: Birding Journey to Kampala/Entebbe Via Mabamba swamp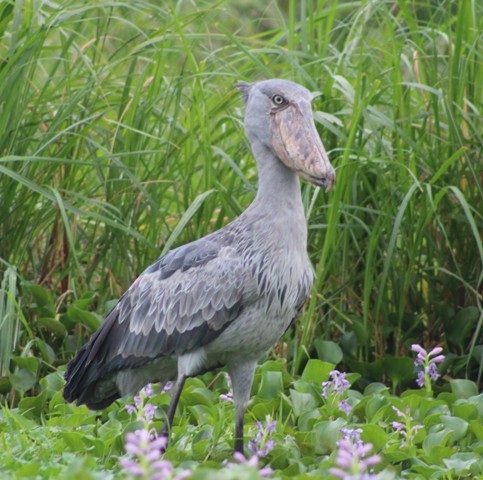 Today is the last day, we will bird our way out of the park. We will have a stopover at the Equator monument for our lunch before proceeding to Mabamba Swamp in search of the Shoebill after which you are transfered to your hotel or Airport.
Mabamba Swamp is the best place to see the shoe bill in Uganda which is often found patching in the floating vegetation. There is a variety of water birds in this area and other birds in the forest and agricultural lands nearby; Veilots's Black weaver, village weaver Orange weaver, Crowned Hornbill, Ross's Turaco, Great Blue Turaco,  Papyrus gonolek, Malachite Kingfisher, Pied Kingfisher, Shining Blue Kingfisher, Pied Wagtail etc.
Journey time – 5 hours
B, L & D
What to bring
Long trouser and long sleeved tops
Insect repellent
Garden gloves (for gorilla trekking)
Sun hut
Rain jacket
Waterproof hiking shoes
Day pack to carry lunch and water
Binoculars
Camera
Tour includes
Ground transport
Gorilla permit
Park entrances
Birding fees
Boat trips
Bottled water in the safari vehicle
Full board accommodation for two nights
Service of an English-speaking driver guide
All mentioned activities except for the optional ones
Tour excludes
Extras at the accommodation i.e. drinks, telephone, laundry etc.
Tips to porters and driver/ guide
Insurance
Other Uganda Birding safari
9 Days Birding Uganda For Albertine Rift Endemics
15 Days Uganda Forest Birding Safari
21 Days Birding Uganda and Gorilla Trekking Safari