This 12 days Uganda and Rwanda wildlife safari will offer you some of the best Eco -tourism wildlife experiences in both countries. The two countries have remarkable primate experience i.e. gorilla trekking, chimpanzees trekking and golden monkey trekking. In addition you have an opportunity to explore the Savannah national parks of Uganda for the Big five namely, Rhinos (at Ziwa Rhino sanctuary), Elephants, Leopard, Buffalo and Lions. This safari will also give you great opportunities for sighting bird species, crocodiles, Hippos while on boat cruise on the Victoria Nile in Murchison falls national park and Kazinga channel in Queen Elizabeth national park.
Highlights
Rhino tracking in Ziwa Rhino Sanctuary
Game drives
Boat safaris
Chimpanzee trekking
Gorilla trekking
Canopy Walk
Photo session & shopping at the Equator
Itinerary
Day 1: Arrival for Uganda & Rwanda gorilla and wildlife safari
Today you will be picked by a Kagera safaris driver guide from Entebbe international airport and transferred to your hotel for overnight. The hotel of choice will either be located in Entebbe or Kampala depending on time of arrival.
Meal plan – Dinner
Accommodation
Up market – Kampala Serena hotel
Mid-range – Cassia lodge
Budget – Forest Cottages
Day 2:  Transfer to Ziwa Rhino Sanctuary – Rhino tracking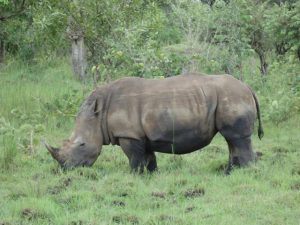 Ziwa Rhino sanctuary is located on the route to Murchison falls national park, making an appropriate stopover for one of the big five mammals. We leave early morning after breakfast, the plan is to arrive at Ziwa before the heat from the sun intensifies causing the Rhinos to take a nap in the shades of the trees. After a short briefing from the ranger guide on how to behave while in search of the Rhinos we start the trek into the bushes. In case the Rhinos are far from the briefing point, we shall drive part of the distance.
After this experience with the Rhinos, we leave for lunch at a restaurant not too far from the sanctuary. After lunch the wildlife safari continues to Murchison falls national park. Depending on location of your lodge, we will stopover at the top of the Murchison falls and see how the Mighty Nile forces itself through a narrow 7 meters gorge forming thunderous falls are among the strongest in the world. Otherwise the falls will be seen the next day after the boat ride on the Victoria falls. We hope to arrive at the lodge later that evening for overnight with anticipation of a full day of game drive and boat safari the next day.
Journey time – 5 hours
Meal plan – Breakfast, Lunch & Dinner
Accommodation
Up market – Bakers Lodge
Mid-range – Pakuba Safari Lodge
Budget – Fort Murchison (Tents)
Day 3:  Uganda Wildlife Safari in Murchison falls NP
Today awake with an expectation of an engaging day. After having an early breakfast, we leave for the northern banks of River Nile. The rooftops of the safari van will be open to provide great game viewing, we will look out for Hyenas, Lions, Leopards, Elephants, Jackson's Hartebeests, Oribi, Kobs, giraffes, among others. This area is an expanse of Savannah grassland with scattered palms providing a great habitat for the animals.
After having lunch, we take a boat safari on the scenic Victoria Nile that brings you to view the falls from the bottom. The boat ride offers opportunities for watching game associated with water such as crocodiles, hippos and those that come for water like elephants, buffaloes plus plenty of birds species.
Meal plan – Breakfast, Lunch & Dinner
Day 4: To Kibale national park – Uganda primate tours
After that experience in the Savannah plains of Murchison falls national  park, we leave for Kibale national park known as the primate capital of the world because of its high concentration of primates and the ease to see them. This long journey takes you through beautiful views of the countryside and colorful local markets in some places. With a stopover for lunch, we arrive at the lodge in the evening ready for chimp trekking the next day.
Journey time – 7 hours
Meal plan – Breakfast, Lunch & Dinner
Accommodation 
Up market – Papaya lake lodge
Mid-range – Turaco Treetops
Budget – Chimpanzee guesthouse
Day 5: Chimpanzee trekking in kibale forest national park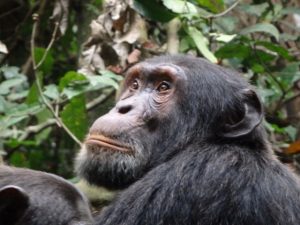 Have an early breakfast and drive straight to briefing point in the park at 7.00 am. The ranger guide will offer you a brief about the forest, what to expect while in the forest and the way to behave once in the forest. The chimps are generally moving all over the place which requires you to be fit and in position to keep following them as they search for food. The hike in the forest can take anything from a few minutes to about 4 hours depending on where they nested the previous night. Your ranger guide will lead the way as you hike through the forest.
You have chances of sighting other primates like red-tailed monkeys, black-and white Columbus monkeys, various bird species and mammals like Elephants, Buffaloes or wild pigs. Once you locate the chimps, you are allowed 1 hour in their presence and remember that flash photography is not allowed and so is eating or smoking in the presence of the chimps.
In the afternoon we visit Bigodi community.  This village walk will take you to the swamp which is home to different bird species, primates and plants. You will also visit the home for coffee experience, banana beer brewing, basketry and listen to the tales of the medicine man.
Meal plan – Breakfast, Lunch & Dinner
Day 6: To Queen Elizabeth national park – Uganda wildlife tours
After the great experience meeting the chimps who share 98.7% DNA with human beings, we travel to Queen Elizabeth National Park which is a 2 hours drive. Lunch will be at a restaurant in Queen Elizabeth national park after which we drive to Kazinga Channel which connects Lakes Edward and George for a boat safari. On this boat cruise, look out for Crocodiles, Hippos, Elephants, and several bird species especially the elegant Pied and Malachite Kingfishers. After the boat safari, we leave for the lodge for overnight.
Journey time – 2 hours
Meal plan – Breakfast, Lunch & Dinner
Accommodation 
Up market – Kyambura Gorge Lodge
Mid-range – Twin lakes safari lodge
Budget – Elephant Hab Lodge
Day 7: Transfer to Ishasha – tree climbing Lions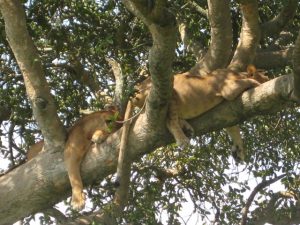 We continue exploring the immerse wildlife of Uganda by continuing our safari to Ishasha sector of Queen Elizabeth national park later in the afternoon. After an early breakfast, we leave for a morning game drive in the kasenyi section of Queen Elizabeth national park. The uniqueness of Queen Elizabeth national park comes from the back drop of mount Rwenzori and a host of several habitats for wildlife. We shall go all out searching for Lions, leopard, and more easily the Warthogs, Buffaloes, Elephants and buffaloes etc.
After this experience, we leave for Ishasha sector in the southern part of the Queen Elizabeth National park which is home to several families of lions that love to climb trees.
Journey time – 2 hours
Meal plan – Breakfast, Lunch & Dinner
Accommodation 
Up market – Ishasha wilderness camp
Mid-range – Ishasha jungle lodge
Budget – Enjojo lodge
Day 8: Transfer to Rwanda for Rwanda Gorilla Trekking
The next morning at 7 am, after breakfast we check out of the lodge and try our luck looking for the tree-climbing lions in case we missed them the previous day before leaving for Rwanda through Cyanika border and continue to Musanze/Kinigi – Rwanda arriving later that afternoon.
Enjoy the beautiful landscape of south western Uganda.
Journey time – 6 hours
Meal plan – Breakfast, Lunch & Dinner
Accommodation 
Up market – Five Volcanoes
Mid-range – Le Bambou gorilla lodge
Budget – Grace place hotel
Day 9: Gorilla trekking in Volcanoes national park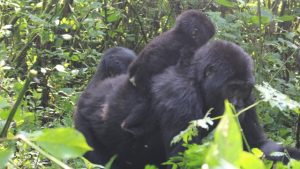 After an early breakfast you transfer to the park headquarters for briefing before your gorilla trek. Volcanoes National Park is a magnificent mountain range and home to the rare mountain gorillas. You should be at the park headquarters for briefing at 7.00 am to receive a briefing before your gorilla trek. Enjoy pure Rwandan coffee as you listen to the briefing with interludes of traditional dances.
After the briefing from the ranger guide you will be divided into different groups and you start your journey. The highlight of your trip will be spending an hour with the remarkably peaceful gorillas as they go about their daily life, feeding, playing, resting, and raising their young.
Afternoon you will visit a cultural village or community walk interacting with the Rwandan people.
Meal plan – Breakfast, Lunch & Dinner
Day 10: Golden Monkey trekking in Volcanoes national park
Today after breakfast, we transfer again to the briefing area but this time for golden monkey trekking. This is the same place we had the gorilla trekking briefing. The procedure is more or less like the gorilla trekking with briefing from the ranger guides before splitting into different groups depending on how many people are present. There are only two habituated groups of golden monkeys for tourism.
You will soon notice once you locate the golden monkeys that they are more active and this therefore requires you to be fit as you move to follow them. The experience will keep you on your toes as you watch find food especially the bamboo shoots and occasionally uproot post harvest potatoes from the gardens of people living adjacent to the park. Return to the lodge for lunch and later leave for Kigali to return to your hotel or take your flight.
Meal plan – Breakfast, Lunch & Dinner
Day 11: Transfer to Nyungwe forest
We start the journey to Nyungwe Forest through the winding roads of Rwanda. You will have great moments of photos as you explore the countryside of Rwanda and watch everyday Rwandans go about their daily lives. We arrive at the lodge later that evening ready to explore nyungwe forest the next day.
Journey time –  7 hours
Meal plan – Breakfast, Lunch & Dinner
Accommodation
Upmarket – One & Only Nyungwe Lodge
Mid-range – Emeraude Kivu Resort
Budget – EAR guest house
Day 12: Nyungwe forest canopy walk & End of your safari
In the morning after breakfast, we leave for Uwinka Visitor Center in nyungwe forest where you receive a briefing before taking on the Canopy Walk. The canopy walk lasts about 2 hours with a specialized park guide who takes you through the hike to this amazing experience. Children must be 6 years and above to join in on the canopy walk and they must be accompanied by adults. You will learn about Nyungwe forest and how it is the main catchment area for rain in Rwanda.
Enjoy the views of the forest canopy as you walk and celebrate nature and have some sightings of monkeys, birds and butterflies.This morning after breakfast, we check out the lodge and start journey to Kigali from the legendary Nyungwe forest for your departure flight. You will have a stopover over in Huye and visit the ethnographic museum before proceeding to the airport.
Journey time –  5 hours
Meal plan – Breakfast & Lunch
Tour includes
Ground transport per 4X4 vehicle
Park entrance fees
Game drives
Boat trip
Rhino trekking at Ziwa Rhino sanctuary
Chimpanzee trekking permit
Gorilla trekking permit
Canopy walk
Bottled water
Full board accommodation
Service of an English-speaking driver guide
All mentioned activities except for the optional ones
Tour excludes
Extras at the accommodation i.e. drinks, telephone, laundry etc.
Tips to porters, site guides and driver/ guide
Insurance
Optional activities
Gorilla trekking tips
Mountain gorillas live at high altitude you should pace yourself while on the trek and drink enough water.
Recommended clothing is long trousers and long sleeved sweaters or shirts while in the forest to avoid insect stings.
Waterproof hiking boots are essential and rain gear useful.
Carry your day pack with lunch or some snacks. Eating, drinking and smoking near the gorillas is forbidden – designated time and place will be communicated.
Photography is permitted, although you must not use flash
Porters are available to help you carry your day pack for a small charge.