"AROUND RWANDA SAFARI" 
KIGALI | NYUNGWE | VOLCANOES | AKAGERA PARK | KIGALI 
10 DAYS | 9 NIGHTS
ITINERARY HIGHLIGHTS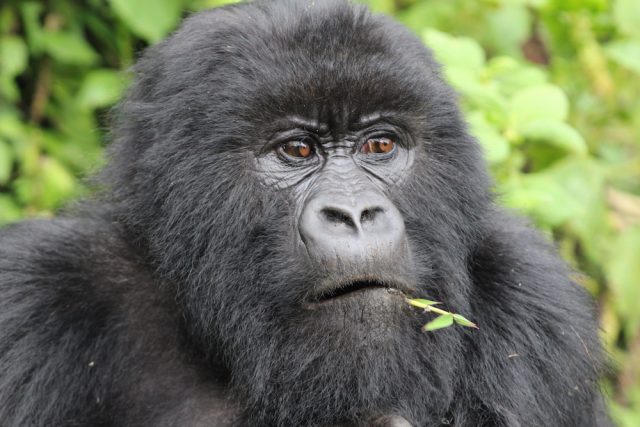 On this safari, enjoy the scenery, nature and wildlife of Rwanda. Start your trip with travel to Nyungwe national park with a stopover at the Ethnographic museum. In Nyungwe you will engage in chimpanzee trekking, colobus monkey trekking and canopy walk. Continue your safari to Volcanoes national park which is home to the mountain gorillas and golden monkeys among many other animals. Visit gorilla guardians village for a cultural experience after the gorilla treks. End your safari in Akagera national park which is home to the big 5 and several other animals and birdlife.
DAY 1: WELCOME TO RWANDA
Welcome to Rwanda the "land of a thousand hills." Our guide/ representative staff will be at the airport to pick you and transfer you to the hotel for check in and overnight. If you have an early morning flight – you will have a city tour of Kigali.
Bed & Breakfast (Kigali Serena Hotel)
DAY 2: EXPLORE KIGALI CITY
Drive through the fast growing neighborhoods of Kigali that are changing the face of the city. Visit the Nyamirambo women's Centre and see the amazing artisan work by these women. Purchase some products from them.
Visit the Kigali genocide memorial site commemorating the 1994 Rwandan Genocide. Kimironko market to buy crafts and also enjoy sights of Kigali.
Breakfast, Lunch & Dinner (Kigali Serena Hotel)
DAY 3: NYUNGWE NATIONAL PARK – ETHNOGRAPHIC MUSEUM
Transfer to Nyungwe forest in southern Rwanda after breakfast. Have a stopover for lunch in Huye formerly known as Butare. Huye hosts the ethnographic museum of Rwanda, here we will learn about the culture and history of the Rwandan people.
Proceed to your lodge for check in and overnight.
Breakfast, Lunch & Dinner (Nyungwe Top view Lodge)
DAY 4: CHIMPANZEE TREKKING | CANOPY WALK
After an early breakfast, leave for Chimpanzee tracking in Nyungwe forest. The forest is rich in botanical diversity and home to 13 species of primates including Chimpanzees, L'Hoest monkeys, and Columbus monkeys, with about 300 bird species and several butterflies. Your community guide will lead you into the forest for chimp trekking after briefing.
In the afternoon you shall go for the canopy walk which lasts approximately 2 hours after which you return to your hotel.
Breakfast, Lunch & Dinner (Nyungwe Top view Lodge)
DAY 5: COLOBUS MONKEY TREKKING | TO VOLCANOES NATIONAL PARK
This morning again we leave for the briefing point at Nyungwe forest. After briefing, the ranger guide will lead you into the forest for the Colobus monkey trekking. One of the habituated troops has many individuals, look forward to experiencing interactions of the monkeys as they groom, feed and play for each other. You are allowed 1 hour in their presence before you start the trek back.
Start the journey to Volcanoes national park with a stopover visit at the former Imbabazi orphanage and learn about the transformation work they do in this area.
Breakfast, Lunch & Dinner (Five Volcanoes Boutique Hotel)
DAY 6: GORILLA TREKKING | ELLEN DEGENERES GORILLA CAMPUS
Start the gorilla trek with a briefing from the ranger guide at the park headquarters. After the brief, join a gorilla group with guidance from your tour guide. Depending on location of gorilla family, you might have to drive to the trail head. After one hour with the gorillas, you start your hike out of the park. Your driver guide will pick you up and transfer you to the lodge for down time.
Visit the Ellen DeGeneres Gorilla Campus of the Dian Fossey Gorilla Fund to learn more about gorilla conservation work this organization does in Rwanda and DR. Congo.
 Breakfast, Lunch & Dinner (Five Volcanoes Boutique Hotel)
DAY 7: GOLDEN MONKEYS & GORILLA GUARDIANS VILLAGE
Golden monkeys are found in the Virunga volcanoes of Uganda, Rwanda and DR Congo. After a brief from the ranger guide, you will start your hike up in search of the golden monkeys. Enforcement officers join you to help in case you meet buffaloes which can be dangerous. The golden monkeys are more active than the gorillas and you will follow them as they move to feed. Like gorilla trekking, you are only allowed 1 hour with the golden monkey.
In the afternoon, visit the Gorilla Guardians village. Learn about the culture and history of Rwanda. Try out your bow and arrow shooting skills or basketry etc.
 Breakfast, Lunch & Dinner (Five Volcanoes Boutique Hotel)
DAY 8: TO AKAGERA NATIONAL PARK
We leave for Akagera national park in the morning after your breakfast. The journey to the park is about 5 hours depending on the stopovers along the way. On arrival at the park, we shall proceed to our accommodation for check in.
Have lunch and then leave for a boat trip on Lake Ihema watch Hippos and crocodiles in the water or by the shores.
You can then have a night game drive today or tomorrow in search of mostly the nocturnal animals that are difficult to see during the day.
Breakfast, Lunch & Dinner (Ruzizi Tented Camp)
DAY 9: AKAGERA NATIONAL PARK | GAME DRIVE
Akagera National Park is a Savannah park with Elephants, Hippos, Buffaloes and Lions. After an early breakfast we take a game drive in search of these animals, the game drive will take us to the northern part of the park where most of the animals prefer to inhabit. Look out for the Zebras, Giraffes and Impalas which are usually scattered along the game tracks.
Breakfast, Lunch & Dinner (Ruzizi Tented Camp)
DAY 10: DEPARTURE
Depending on your flight time,  you can visit the Umusambi village for a bird walk, explore more of the city or simply spend time at the hotel until your transfer time to the airport.
Breakfast & Lunch
***END OF YOUR SAFARI***
DATES
23rd Feb – 3rd March 2024
1st – 10th June 2024
23rd Sept  – 2nd Oct 2024
7th  – 16th December 2024
RATES AND INCLUSIONS – Prices are based on shared double/ twin rooms in US dollars

Prices from USD 7090 per person

Single Room Supplement – USD 1400

Solo travelers can be paired with other solo travelers. If you are interested in sharing a room, we shall try to pair you up with other solo travelers.

Number of Guests

This tour is limited to 12 travelers in total with 6 Pax per vehicle. We keep the groups small for an intimate experience while on this wildlife safari.

You can also make this tour Custom for you and your friends or family. Write to us.

The Package Includes:

●      Arrival and departure airport transfers

●      Ground transportation in 4×4 Safari Jeeps

●      Accommodation as shown in the itinerary

●      Meals as showed in the itinerary

●      Services of a qualified English-speaking Driver Guide

●      Water in the vehicle for all overland sectors

●      Kigali City tour

●      Ethnographic Museum

●      Chimpanzee Permit

●      Canopy walk

●      Colobus monkey trek

●      Gorilla permit

●      Golden Monkey permit

●      Gorilla guardians village

●      Conservation park fees

●      Game drives

●      Boat safari

●      Community experiences

●      Community fund

●      All relevant Government taxes

●      AMREF Evacuation

The Package Excludes:

●      International flights and applicable airport departure taxes

●      All passport and visa fees

●      Drinks and meals not specified

●      Laundry in some areas

●      Gratuities for guide/driver/hotel staff

●      Any extras and additional activities not mentioned in the itinerary

●      Travel/medical insurance

●      Charges incurred as a result of delays beyond our control.

●      All statutory increases beyond our control.

 
What to pack:
●      A small, lightweight day backpack
●      Light, waterproof hiking boots or shoes
●      Walking socks
●      Canvas or leather gloves (in case you need to protect your hands from 'spiky' vegetation)
●      Waterproof trousers/pants
●      Waterproof jacket or poncho, with hood (or waterproof hat)
●      Lightweight, quick-dry hiking trousers
●      Long-sleeved shirts and trousers
●      Short-sleeved shirts, T-shirts, and Shorts
●      A sweatshirt or sweater for chilly evenings and early mornings
●      Sunscreen & after-sun care
●      Insect repellent
Specialized 4×4 Vehicles
Our vehicles are comfortable on and off road as you explore Uganda and Rwanda. They are the best for wildlife viewing with open rooftops during game drives which offer 360-degree viewing.
Depending on group size, we use three seater, five seater or seven seater vehicles with each traveling having a window. On photography safaris, we use seven seater vehicles for four people to provide enough space for gear.
GORILLA PERMITS:
●      Please note we are not able to hold Gorilla Permits provisionally. We are only able to book Gorilla Permits on receipt of full payment for them. Once booked, Gorilla Permits are non-refundable and non-transferable. This applies for chimpanzee permits, golden monkey permits.
TERMS AND CONDITIONS
Payments Terms – A deposit of 50% is required when booking this safari. The remaining balance will be charged 30days prior the start of your safari. For any bookings within 30 days of departure, the full tour amount will be charged upon booking.
Availability of accommodation, permits and activities is not guaranteed until confirmation.  Please Read our Terms and Conditions – https://www.kagerasafaris.com/index.php/terms-and-conditions.
Physical Requirement
Trekking through the forest is a strenuous activity depending on the gorilla family you are allocated and where they nested the previous night.