This 10 Day Hiking Rwenzori Mountains and Gorilla Trekking Safari will give you a beautiful view of the Pearl of Africa. Explore the stunning Mount Rwenzori, you will however not be able to summit it but it will be an opportunity to enjoy the different vegetation. If you want to summit Magherita peak, you will need to spend more days on this tour. After the experience in the mountains of the moon, proceed to the land of Mountain gorillas in the Bwindi impenetrable national park.
Safari Highlights
Hiking Rwenzori
Gorilla tracking
Day 1: Arrival for your Rwenzori Hiking and Gorilla Trekking Safari

Our friendly guide will welcome you to Uganda at Entebbe airport and transfer you to your hotel in Entebbe or Kampala depending on time of arrival. Enjoy the fresh breeze from Lake Victoria – 2nd largest lake in the world.
Journey time – 20 minutes
Upmarket – Hotel No 5
Mid – Range: 2 Friends Hotel
Day 2: Transfer to the foothills of Rwenzori Mountains National park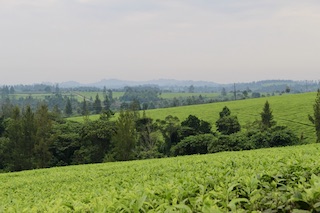 Today you will be transferred to Kasese and continue to the foothills of the Mountains of Moon – the Rwenzori mountains. You will have stopovers for pictures, bathroom and lunch before finally arriving at the foothills of the Rwenzori's from where you will start your safari. Y
Journey time – 7 hours
B, L & D
Upmarket – Equator Snow Lodge
Midrange – Magherita Hotel
Day 3: Start of your five Day Trek to Weismans Peak 4620m
Breakfast this morning will prepare you for the start of your trek. Your driver guide will transfer you to the starting point where you will receive a briefing from your guides about the guidelines of the national park and the hike. You start your hike as you walk through the tall trees in the afro montane forest zone. As you hike you will walk past bamboo thickets, flowers and many moss and lichen giving you a real feel of the surrounding vegetation. You will also look for for black and white colobus monkeys, blue monkey and the L'Hoest monkey which usually are hopping around the tree branches. Another sighting today will be of the Enock's falls which are a few meters away from the camp that you will be sleeping at, stop here and capture some good photos of the falls.
Sine Camp
Day 4: Hike to Mutinda Lookout

You will have breakfast this morning and then start another day hiking with your guides. You will head to the bamboo zone. This will be a steep climb and can sometimes be muddy and slippery however it is worth it as you will have beautiful experiences of the forest. You will stop over at Kalalama Camp and rest here then continue with your hike past several small streams and moss covered waterfalls.
The climb is past the valley with giant heather trees with trunks covered in green moss creating a misty atmosphere. The afternoon will be spent climbing to the top of the Mutinda Lookout for about 2 hours. Once you are at the top you will be treated to the stunning views across the Rwenzori Mountains, Kasese town and Lake George. Capture some good photos and memories while here and then descend back to the camp where you will spend the night.
Mutinda Camp
Day 5: Cross Mutinda Valley and Transfer to Bugata Camp

On this day you will leave the camp and cross over Mutinda Valley. The terrain in this area is muddy but there are boardwalks on the trail. Continue and climb up to the wide Namusangi valley which ends with beautiful views of the Mutinda peaks, continue to climb steadily to Bugata Camp which is above Bugata Lake and has great views across Lake Kopello to Weismann's Peak. This area has a wide range of vegetation from giant lobelias to everlasting flowers and giant ground sel.
Bugata Camp
Day 6: Climb Weismann's Peak 4,620 meters

Today you will hike up to Weismann's Peak and then descend. Your trek will start as you walk steadily across the high cliff above Bugata Lake and then to Lake Kopello as you will walk along the edges of the lake. Along the climb you stop to have beautiful views over the lakes along the valley. As you get closer to the peak it is very steep on solid rock. This is a difficult climb when snowing so you will use ropes for safety. Once you get at the top of Weismann's Peak you will have a great experience of the atmosphere. The peak is flat and has beautiful deep moss covering the rocks, if luck on a clear day you will have views of the main peaks Mt Baker, Mt Stanley and Mt Speke.
You will then leave the peak and descend to Kiharo Camp via the Nyamwamba Valley. This environment has varying thick and dense green vegetation. As you move downwards you will notice that the ground is made up of boggy areas where years go the glaciers sat and melted leaving a wall of big rocks. The valley is home to the red forest duiker so you might have a chance of sighting it. You will have dinner and sit by the campfire before retiring for the night.
Kiharo Camp
Day 7: Descend to Kasese via Nyamwamba Valley

Today marks the last day of your hike as you will walk down the Nyamwamba valley which has stunning views of the surrounding vegetation as well with the moss covered rocks along the river and the small waterfalls. Stop over by the river and capture photos if you like and continue with your hike and then you will follow a narrow ridge to bypass steep sections. Lunch will be at River side Rock Shelter. You will then end your great hike by transfer to your hotel in Kasese. Your driver guide will be ready to receive you at the end of your hike and transfer you to the hotel. On arrival take a shower, have dinner and take your well-deserved rest.
B, L & D
Upmarket – Equator Snow Lodge
Midrange – Magherita Hotel
 Day 8: Transfer to Bwindi Impenetrable national park
Today we start journey to the home of the gorillas in Bwindi impenetrable national park. This fulfilling journey takes us through the Kigezi highlands with great scenery of terraced hills and views of the impenetrable forest. Depending on the location of the sector you will have the gorilla trek, you will drive through the Ishasha sector of Queen Elizabeth National Park.
Journey time – 6 hours
B, L & D
Upmarket – Bwindi Lodge
Midrange – Buhoma Haven Lodge
Budget – Ichumbi Gorilla Lodge (Standard room)
Day 9: Gorilla trekking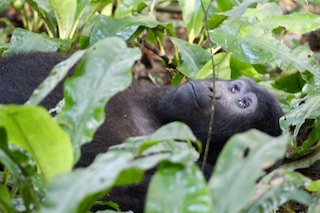 The highlight of your safari will be meeting the gentle giants of Bwindi National Park! Enjoy the fullness of the impenetrable forest abounding with life, host to several species of birds, butterflies, primates, mammals. After being allocated a gorilla family, you will receive briefing from your ranger guide after which you start the trek. Eventually with help of your guide who is also a park ranger, you will find yourself face to face with the enormous and rare mountain gorillas. You only have one hour with gorillas to capture your finest moment.
B, L & D
Day 10: Transfer to Entebbe
After an early breakfast you will start the journey to Entebbe for your night flight back home with a stopover for lunch and at the Equator Monument.
B & L
Tour includes

Gorilla permit fees
Hiking Rwenzori
Ground transport
Park entrance
Bottled water in the safari vehicle
Full board accommodation as mentioned in the itinerary
Service of an English-speaking driver guide
All mentioned activities except for the optional ones
Tour excludes
Extras at the accommodation i.e. drinks, telephone, laundry etc.
Tips to porters and driver/ guide
Insurance
Availability of accommodation, permits and activities is not guaranteed until confirmation.
Terms and Conditions – https://www.kagerasafaris.com/index.php/terms-and-conditions
Other Rwenzori Hiking Tours
10 Days Hike Rwenzori mountains Safari
10 Day Hiking Rwenzori & Wildlife Safaris
11 Day Summit Margherita Peak on Rwenzori Mountains
15 Days Hiking Rwenzori and Best of Uganda Safari