Entebbe town was the original capital city of Uganda and the entrance point for many missionaries that came to Uganda through Tanzania and Kenya. Entebbe hosts the only international airport in Uganda and also the official residence of the president, known as the state house. It is a peninsular on Lake Victoria and has many attractions in its smallness.
This Entebbe tour will give you options of the different attractions in this area. Our first stopover will be the Entebbe botanical gardens  which lies along the shores of Lake Victoria, they were established over 100 years ago. They are home to an array of amazing bird life, numerous indigenous and imported plants and trees and several monkeys jumping from one tree branch to another. You will find a site guide to take you on  a tour of this beautiful property.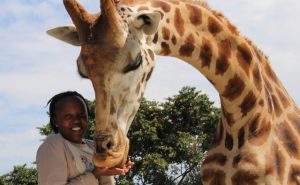 Our next stop will be a  tour of the Uganda Wildlife Education Center (UWEC), formerly known as the Entebbe Zoo. This education center is a champion in teaching conservation to the many school children and adults who visit it. It  hosts several animals of local origin and some from other continents like Asia. The bird species here are will give a keen bird watcher species they dream of in a town setting. At Uganda wildlife education Center, you will take take the 'behind the scenes' tour which allows you to interact with the animals more closely by getting involved in feeding them. This amazing experience allows you to learn more about their life and how they fit in the general Eco system in Uganda. The animals found at UWEC include; Lions, Rhinos, Giraffes, Buffalo, Crocodiles, Zebras, Kob, Impala, bush buck, water buck, Leopard, and Chimps etc. Most of these animals were rescued from accidents or poachers and others brought there for educational purposes.
The last activity on the Entebbe tour is the sunset cruise on lake Victoria. You will leave the pier at 5 pm to start this beautiful tour of lake Victoria. This boat trip lasts a total of about 90 minutes giving you views of Lake Victoria like you have never seen it before. Enjoy the beauty of Lake Victoria with small boats of fishermen scattered all over the place and those using the strings. Be sure to capture the sunset over lake Victoria on your camera.
Other One day Tours
1 Day Jinja Tour, Sezibwa falls and Mabira forest Hike
1 Day Boat trip to Ngamba Island Chimpanzee Sanctuary
1 Day Birding Mabamba Swamp tour