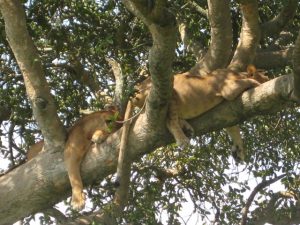 The famous tree climbing lions in Uganda are mainly found in the Ishasha sector of Queen Elizabeth National Park, western Uganda. This park is the most visited of all the Uganda parks. It is about 6 hours by road from Kampala, 1 hour flight from Entebbe and about 4,5 hours from Kigali. This sector is in the southern side of the park on the way to Bwindi impenetrable national park where you are able to have gorilla trekking safaris.
It is common knowledge that all cats climb and you will find lions in trees in Kidepo valley National park and even Murchison falls national park, however this is a rare occasion compared to Ishasha where they are mostly in trees. They tend to climb up the acacia trees after having a heavy meal as the sun starts warming up and or to watch their prey. The climb is also said to help them keep away from the ground which usually has many insects and flies.
You will enjoy the sight of these lions in the trees with no care in the world. If this is on your travel list then you ought to inform your tour consultant so that Ishasha sector of the Queen Elizabeth national park is included on your Uganda safari itinerary. You have an option of driving through the park without entering the Ishasha sector with the hope of sighting some on the trees along the road but this is very unlikely. Alternatively, you can leave the 'main' Queen Elizabeth park early and spend the day in the Ishasha sector in search of the tree climbing lions and return to your lodge later in the evening. Another option is to spend a night in Ishasha and visit the park both in the morning and evening to maximize the chances of sighting the tree climbing lions. You can take a safari to Queen Elizabeth national park as a weekend gateway from the city or as part of a longer Uganda safari itinerary.
Uganda Tours to Queen Elizabeth national park
3 Days Queen Elizabeth Park Wildlife Tour Uganda
6 days Uganda Gorilla and Wildlife Safari
10 Days Uganda Ultimate Primate Safari