Uganda is a top birding destination with a massive avian list of more than 1,080 recorded bird species which makes it a birding haven for a small territory of about 233,205.1 square kilometres. Uganda has one of the largest concentrations of bird species per square kilometer in Africa. Uganda hosts 50% of Africa's bird species and 11% of global ones. You can choose from the many possible Uganda birding safaris of different itineraries. Bird watching in Uganda is a popular activity for many travellers who choose Uganda. Hence, one of the top birding destinations on the continent for Africa birding tours. Its position at the Equator endows it with various ecological zones. The bio-diverse habitats host a density of bird species throughout the year. These range from highlands, rain forests, water bodies, savanna, woodland, and wetland. Birding in Uganda is often enjoyed in National Parks, forests, as well as wetlands.
Uganda Birding safaris give birding fanatics unforgettable Uganda bird watching experiences. Below are Uganda's top birding destinations;
Bwindi Impenetrable Forest National Park
Home to the endangered mountain gorillas, most people think of Bwindi Forest as a destination for Uganda gorilla trekking. However, this park which is a tropical forest on highland with several tree species and streams is a birder's paradise.  In 2011, the Park acquired an award for Africa's best birding destination. Bwindi is home to over 360 bird species among which many are endemic to the Albertine Rift valley and you want to take a Uganda birding safari here. Out of these, about 10 are globally threatened species, and 24 are Albertine Rift endemics. 5 of the species are endangered, whereas about 76 are Guinea-Congo biome species. And 68 of the species are tropical highland biome. The Park also hosts 4 of the Lake Victoria biome species.
Notable birds in Bwindi include; the Dusky twinspot, Black-headed Heron, Black-billed Turaco, Regal Sunbird, Kivu Ground thrush, Rwenzori Nightjar, African Green Broadbill (Grauer's broadbill), Doherty's Bushrike, Black Bee-eater, Rwenzori Batis, and Handsome Francolin. Other notable species include; the African Wood-owl, Bar-tailed Trogon, Grey Cuckoo-shrike, Dwarf Honeyguide, Western Green Tinkerbird, Red-throated Alethe, Mountain Yellow Warbler, and Grauer's Warbler, Chestnut-throated Apalis, Archer's Robin-chat and so many others.
Mabamba Bay Wetland
Mabamba Bay Wetland is one of the prime birding destinations in Uganda located less than an hour from Entebbe. The Ramsar site is known for the rare and vulnerable shoebill with less than 5000 mature individuals left in the wild. This is Uganda's most sought-after bird by many birding enthusiasts and non birders. Mabamba lies on the Northern shore of Lake Victoria, Northwest of Entebbe. It covers over 16,500 hectares of thick papyrus, wetland grassland, and water lilies. The Important Birding Area (IBA) is home to more than 260 bird species. These include resident, endemic, and globally threatened species. Key protected species in Mabamba include the Shoebill, Papyrus Gonolek, and Blue Swallow.
Other species in Mabamba include; the Red-bellied Paradise Flycatcher, rufous-napped Lark, Grassland Pipit and Lesser Jacana, Sooty chat, and African Purple Swamphen, Squacco Heron, White-faced Whistling duck, African Pygmy Goose, and African Jacana. More notable species included Blue-breasted Bee-eater, Winding Cisticola, Goliath Heron, Common Moorhen, White-winged Warbler, Spur-winged Lapwing, and Malachite kingfisher among others. A range of migratory Paleartics is also present from October to March.
Bird watching in Mabamba is done on a motorized local boat. The boat ride takes you through trails in the thick papyrus in search of bird species. Mabamba Wetland can be accessed via both Kampala and Entebbe. But, the easiest route to the bay is through the Nakiwogo landing site in Entebbe. You take a 10-minute ferry from the site to the Kasanje landing site. Thereafter, drive through farmlands to Mabamba bay.
Kibale Forest National Park
This Park is located in western Uganda and it is the popular primate capital of the world, it is home to 13 primate species with chimpanzee trekking as the prime activity.  Kibale is also a popular birding destination in Uganda. The Important Birding Area (IBA) is home to over 375 bird species. And of these, 60% of them are forest birds.  The most sought-after bird in this Park is the Green Breasted Pitta, and it is endemic to Kibale Forest.
Others include Cassin's Spinetta, Blue-headed Bee-eater, Masked Apalis, and Nahan's Francolin. The Park also hosts species like the African Pied Wagtail, Great Blue Turaco, Slender-billed Weaver, African Pitta, Tropical boubou, Abyssinian Groundthrush, Crowned Eagle, Afep Pigeon, Black Bee-eater, Blue-breasted Kingfisher, etc.
Attached to Kibale National Park is the Bigodi Wetland Sanctuary. This is home to more than 138 bird species. Thus, more bird species for birders who are interested in exploring Kibale. Bird species in Bigodi include; Papyrus Gonolek and Purple-breasted Sunbird. The wetland also hosts many Cuckoos, Weavers, flycatchers, Kingfishers, Woodpeckers, and Hornbills.
Semuliki National Park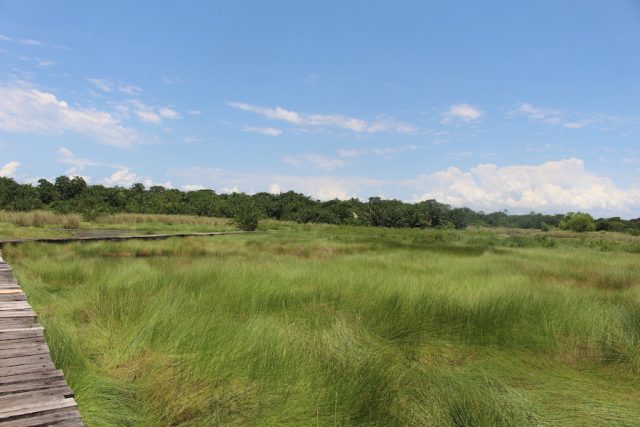 Semuliki National Park is located in western Uganda in the Albertine Rift Valley. The Park hosts more than 441 recorded bird species. It has grassland, rainforest, and riverine habitats, which are home to the Guinea-Congo biome species. These can be spotted while birding on the lower slopes of the Park. Because of its unique location – Semliki national park is home to the only Central African bird species in East Africa.
Bird species in Semuliki National Park include; Yellow-throated Nicator, Piping Hornbill, Congo Serpent Eagle, Long-tailed Hawk, Red-chested Sunbird, Ituri Batis, and Yellow-throated Cuckoo. Others include; Orange Weaver, Maxwell's black weaver, Blue-billed Malimbe, Dwarf Honeyguide, Swamp palm bulbul, African Piculet, White-crested Hornbill, Capuchin babbler, and Nkulengu rail, among others.
Murchison Falls National Park
Named after the great Murchison Falls, the Park is the largest National Park in Uganda. It is located in North-western Uganda. It also has the highest concentration of wildlife including four of the big five. And not only wildlife, but the Park is offers amazing birding safaris experience with more than 450 recorded bird species. It consists of, rainforest, wetland, savannah grassland, and woodland. The best natural habitats for Albertine rift endemic, savanna, and water birds. And these are best sighted during safari game drives and on a boat cruise along the Victoria Nile.
Murchison Falls is home to bird species such as; the famed Shoebill, Abyssinian Ground Hornbill, Red-throated Bee-eater, Northern Red Bishop, the African Jacana, Black-billed Barbet, Goliath Heron, Denham's Bustard, Pied Kingfisher and so many more. More species in the Park include; Senegal thick-knee, Piapiac, Palm-nut Vulture, Silverbird and Black-headed Gonolek, among others.
Queen Elizabeth National Park
The home to the tree-climbing lions in Uganda and the second largest National Park in Uganda located in western Uganda. Queen Elizabeth national park is home to about 612 bird species, the Park has the highest number of recorded bird species in Uganda. Its diversity of natural habitats has made it a top birding spot in Uganda. The bird habitats range from humid rainforests, acacia, woodlands, lakes, wetlands, and grasslands. The Park is home to globally threatened endemic and near-endemic species. Birders can encounter these species during a boat cruise along the Kazinga channel and on a game drive or safari walk.
Bird species in Queen Elizabeth National Park include; African Skimmer, Grey-headed Kingfisher, Verreaux's Eagle-owl, Swamp Flycatcher, African Fish Eagle, Long-tailed Cormorants, Martial Eagle, Papyrus Canary, Papyrus Gonolek, Gabon, and Slender-tailed Nightjars. Bird species like the Shoebill, White-winged Warbler, Thin-tailed Nightjars, White-winged Terns, Grey-ramped Buttonquail, Squacco Heron, Malachite Kingfisher, and Collared Pratincole, to mention but a few also call this Park home.
Major birding spots in the Park include the Mweya Peninsula and Kazinga channel. There is also the Ishasha Southern sector which thrives with tree-climbing lions. More spots include the Kasenyi plains, Katwe area, Maramagambo Forest, etc.
Lake Mburo National Park
This is the smallest savannah park in Uganda located in Western Uganda. Despite its small size, the Park has a diversity of wildlife and bird life. Lake Mburo is home to more than 350 bird species both native and migratory bird species and a great location for Uganda birding safaris. With several birding spots in the Park, birders get to encounter a variety of species. These range from forest birds to savannah birds, and waterbirds.
Notable bird species within Lake Mburo include; Red-faced Barbet (only found in Lake Mburo), Papyrus Gonolek, Grey-crowned Crane, Brown Parrot, African Fish Eagle, Yellow-breasted Apalis, African fin foot, Black-bellied Bustard, Long-tailed Cisticola, Saddle Billed stork, White-winged Warbler, Green Wood hoopoe, Emerald-spotted Wood dove, and Brown-chested Lapwing.
Other species in Lake Mburo include the Ross's Turaco, Red-headed Lovebird, Common Scimitar bill, Nubian Woodpecker, Rufous-bellied Heron, White-headed Barbet, Bare-faced Go-away bird, and Brown-chested Wattled Plover among many other species.
Kidepo Valley National Park
Kidepo valley national park is one of Africa's finest National Parks. It encompasses open savannah grassland, woodland, montane vegetation, and palm trees. The jewel is located in North-eastern Uganda at the border with Kenya and South Sudan. Kidepo harbors over 475 bird species, 100 of which are residents of Northern Uganda and Kenya. Thus, has the second-highest concentration of recorded bird species.
The Park also hosts the rarest species that are nowhere else in Uganda. For example, Clapperton's Francolin, the Karamoja Apalis, and the Rose-ringed Parakeets. Common species include Dark Chanting Goshawk, Red & Yellow Barbet, Ostriches, Little Bee-eater, and Kori Bustard. More species include; Black-breasted Barbet, Pygmy Falcon, Abyssinian Roller, Chestnut Weaver, Scarlet-chested Sunbird, Fox Kestrel, Golden Pitit, Jackson's Hornbill, Rufous chatterer, Purple Grenadier, and Fox Kestrel, etc.
Bird watching in Kidepo is best enjoyed at Apoka Camp. The spot offers spectacular birding experiences. Other spots include the edges of Narus and Namamukweny valleys.
Budongo Forest Reserve
Budongo Forest protects the largest natural rainforest in East Africa. It is Located south of Murchison Falls National Park at the border of the Albertine Rift Valley. Budongo is home to more than 700 chimpanzees, among other primate species. Thus, one of the famous chimpanzee trekking destinations in Uganda. Budongo forest is also a prime birding haven that thrives with over 360 bird species. Among these, 60 of these species are West or Central African birds. Two of the species in the forest are endemic to Budongo. That is the Puvel's Illadopsis and the Yellow-footed Flycatcher. Budongo Forest also hosts a range of Guinea-Congo biome species.
Bird species in Budongo include Cassin's Spinetail, Nahan's Francolin, Blue-breasted Kingfisher, and Ituri Batis. Species like the African Dwarf Kingfisher, Black-eared Groundthrush, Cassin's Hawk Eagle, and Crowned Eagle also call the forest home. More species include; Grey-headed Sunbird, Little Green Sunbird, Olive-breasted Greenbul, Lemon-bellied Crombec, etc.
The forests "Royal Mile" at Busingiro and Kaniyo Padidi are common bird-watching spots. A range of migratory bird species is also present in Budongo Forest from November to April.
Bokora-Matheniko Wildlife Reserve
Bokora-Matheniko Wildlife reserve is located in Northern Uganda, in the Karamoja region. The reserve stretches from Kidepo Valley to Bokora and Pian-Upe game reserves. Matheniko encompasses semi-arid grasslands, shrubs, and thorny thickets. Established as a hunting area, the reserve is well known for harboring predators. But, Matheniko also hosts hundreds of bird attractive species.
These include; Ostriches, Pygmy Falcon, Lemon Dove, Egyptian Vulture, Bronze-napped Pigeon, Grey-cuckoo Shrike, African hill Barbler, Dusky Turtle Dove, Abyssinian Ground Hornbill, and Cattle Egret. Species such as the Cattle Egret, Black-headed Plover, Ethiopian Swallow, Mountain Yellow Warbler, and Verreaux's Eagle, among others.
Best time for Birding in Uganda
Birding safaris in Uganda take place throughout the year. The dry and wet season each have a different positives. In the dry season,  June – September,  there is generally less rain and plenty of food for the birds in the wilderness. If you are looking for migrant birds, November to April is the ideal time to visit Uganda for birding and it is also the time when most birds are mating.
Also, destinations that host the Albertine Rift endemics are best visited in May and June. This is their time for nesting and breeding.
Examples of Uganda Birding Safaris
9 Days Birding Uganda For Albertine Rift Endemics
14 Days Birding Uganda Safari for Albertine Rift Endemics