Good News from Gorilla conservation in Rwanda, the country of a thousand hills. The 2016 Kwita Izina, baby gorilla naming ceremony will take place on the 2nd of September 2016 at Kinigi on the foothills of Volcanoes national park – great place for gorilla trekking in Rwanda and volcano hiking.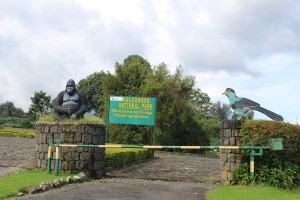 History of Rwanda gorilla naming;
The Kwita Izina, baby gorilla naming ceremony was officially launched in 2005 to expand the awareness of conservation efforts for the endangered mountain gorillas. Although, this ceremony had been there but in a quiet way, the Rwanda development Board decided to step in to give it a huge legitimacy and support.
Naming a new born baby has been part of the Rwandan culture and tradition so the more reason it has been taken on and modeled on these species making it a national brand known as the kwita Izina.
This Rwandan event since its launch has not only been about a celebration of newly born mountain gorilla babies, but also serves to raise awareness of the importance of the protection of species and their habitats at community, national, regional and international levels.
Why you should attend the Rwanda baby gorilla naming ceremony;
Celebration Conservation efforts. This event which happens in September aims at not only celebrating the efforts put in conservation but also plays a significant role in the ongoing programs of monitoring each Gorilla individually in the family it is in and also its habitat.This has also helped highlight their Eco systems and biodiversity and the critical need for us to preserve them.
Twin Babies. Say what, this occurrence is not only rare but it is totally adorable. The excitement in high seeing as the twins were born in Rwanda for the third time round with the first being in 2005, the second time in 2012 and this year something that is a blessing to the conservation efforts.
Conversation on Conservation Forum (29-30 August). This high-level 'Conversation on Conservation' forum returns after a successful launch in 2015. It will provide a unique platform linking conservation with sustainable tourism, embracing all layers of the value chain, from community to governments, private sector to NGOs. The Main objective of this Forum (COC) is to discuss common challenges in Africa including but not limited to debating best solutions and ideas through group workshop forums; present proposals for a High-level VIP Panel for conversation / debate; and agree on resolutions, outcomes and commitment to implementation.
Celebrating and launch community projects. These Igitaramo celebrations have resulted from the tourism sharing scheme. This is the way Rwanda Development Board intends to thank the communities especially nearby the national parks for helping them in their conservation efforts. These annually celebrations have been planned near each of Rwanda's three major national parks.
Tourism and Conservation Exhibition (28-29 August). This is a platform that will bring together top quality tourism buyers looking for new African travel markets and regional tourism boards and conservationists showcasing their products. It is aimed that this platform will provide networking opportunities throughout the two hosted lively presentation. It will also be open to the general public on Sunday when the local consumers get to learn about Rwanda's domestic tourism products and services and will also benefit from special offers being promoted at the different exhibition stands.
Naming Ceremony (2nd September). The gorilla naming ceremony is the climax of the Kwita Izina week and will feature cultural performances and renditions from local entertainers. This event convenes over 20,000 guests in Kinigi at the foothills of the Volcano Mountains in the Northern Province of Rwanda. Every year important players from both the conservation and tourism industries attend the event.
Naming a mountain gorilla baby is considered a great honor. Baby Namer's are carefully chosen to include individuals both globally and locally that have made a great contribution to conservation efforts both in Rwanda and the world.