While you visit Volcanoes national park in Rwanda for gorilla trekking consider to add on a visit to Iby'Iwacu cultural village now known as the Gorilla guardians village to explore the culture and lifestyle of the Rwandan people. The cultural village started as a response to gorilla poaching which was carried out by some members of the community and was on the increase in-spite of the park recruiting more rangers for the protection of the mountain gorillas.
It was later discovered that the poaching was partly due to increased land pressure with increased population. The snares in the forests which led to gorilla deaths were not directed to the gorillas but rather to the antelopes which were a source of food to especially the Batwa community that lived in the forest before it was declared a national park. Most of the Batwa did not have a source of livelihood after leaving the forest. This cultural village provides the much needed income as they share stories from their former life in the forest and how they are coping today.
The community involved with the cultural village now feels part of gorilla tourism because they benefit directly from the tourism dollar. The conservation initiatives by the cultural village are aimed at providing a sustainable livelihood for the community members so that their lives are improved and they in turn commit to conserving the endangered mountain gorillas.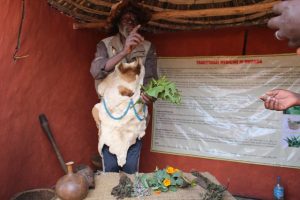 The cultural village gives you a chance to meet local people, in their environment, learning and experiencing their culture, traditions, and day-to-day lives. You have opportunities for being at the cultural village and or visiting their homes and experiences life in a Rwandan home. There is no better way to understand and learn about a country than interacting with its people.
Some of the activities offered by the cultural village include; community walks, traditional dances and music, visit a traditional healer, a local banana brewing process, hunting /techniques, artisans and craft making by women, men and children, etc.