Most travelers who choose a safari to Uganda and Rwanda have gorilla trekking as top on their priority list of things to do. Many others interested in gorilla tours keep away from pursuing this dream because the gorilla safari comes off as expensive due to the gorilla permit fee. There are ways of planning and taking this 'once in lifetime' experience on many peoples bucket list whilst keeping within ones budget.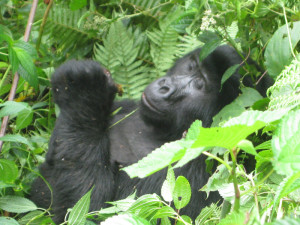 Some of the ways to have an affordable gorilla tour is to choose an affordable lodge for your gorilla safari. Generally, most of the lodges are within an hour's drive to the national parks or within the park or on the park boundaries. You soon realize that the distance from the park will not affect your gorilla trekking experience negatively; you can opt for a basic lodge outside the park that is less expensive. Alternatively choose a community lodge, which allows you to contribute directly to community development and conservation while you save on lodging for your gorilla watching experience.
The other option for an affordable mountain gorilla safari is joining a group, which usually brings down the gorilla trekking price with shared costs. This could be with a group of strangers (group dynamics will be at play) or friends and family with a similar desire of watching the mountain gorillas in their natural habitats. Some people choose to ditch group travel for an option of backpacking where they use public transport and camping – bringing the cost, much lower but can be hectic with the unreliable transport systems to some of these destinations.
If you do not have particular months in which you must travel, you can take a gorilla trek in the off-season or green season with discounted gorilla permits – in the months of April, May, and November. This applies for Uganda gorilla safaris in Bwindi impenetrable national park and Mgahinga gorilla national park. Please be advised that this is a promotional offer and therefore you should first confirm it before booking your safari. The offer is currently available for booking in 2016 and 2017. We invite you to book your discounted gorilla safari to watch the mountain gorillas in either Mgahinga gorilla national park or Bwindi impenetrable national park in these months.